A good friend of mine has two sweet little children who both have June birthdays. Instead of the time, money and stress of two parties, we realized that this year it would be just as fun to have one joint party. Since the oldest, (a little boy) is just turning three, and the youngest is a little girl turning one, neither is old enough feel like they're missing out on having their "own" party.
I spent a day thinking about what party themes could be appropriate for both a boy and a girl and had lots of fun brainstorming…
Ladybugs and Lizards,
Pirates and Princesses,
Trucks and Tiaras,
in the end, the winner was…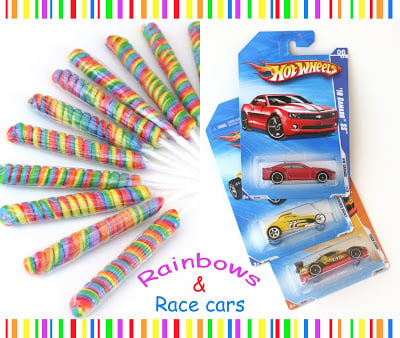 I thought this theme could work well together by using primary colors for both the rainbows and race cars. I designed a two simple graphics (using PhotoShop), and then got to work on invitations, cupcake toppers and water bottle labels. Next, I began my search for fun favor, food and decorations ideas. Here are a few of the ideas I've gathered.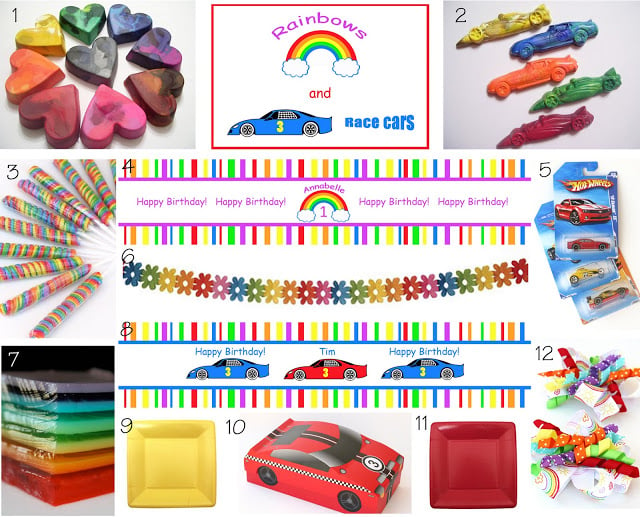 1. Heart crayons (from
Lil Boo & Co.
along with every other cute shape you can think of!)
3. Rainbow swirl pops, purchased from Party City (photo Glory Albin)
4. Water bottle label (Glory Albin)
5. Hot wheels cars, favors for the boys (photo- Glory Albin)
8. Water bottle label (Glory Albin)
10. Race car box, purchased from Target (photo- Glory Albin)
12. Rainbow hair bows (made by me, I've posted the how-to's
HERE
)
All photos by Glory Albin, or used with permission.
I'll look forward to sharing the party photos with you in June.