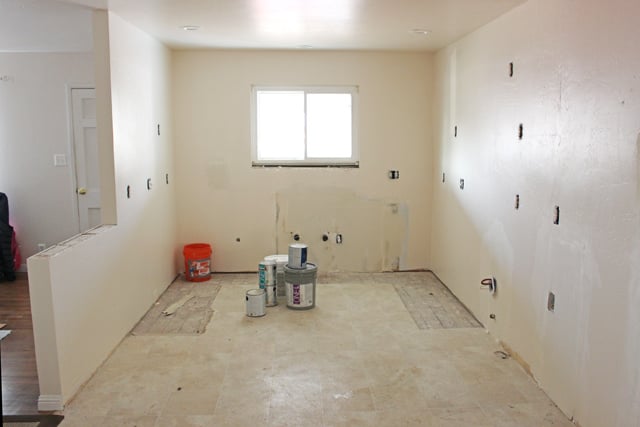 Welcome to the reveal of my dream white kitchen!
Well, this photo (above) isn't quite it, but this is how my kitchen looked just a couple weeks ago!
I hope you didn't all give up on me while I was taking a break from posting for the last couple months. We embarked on a full kitchen (and family room) remodel in mid-December and I was without a functioning kitchen for about 7 weeks.
Needless to say, I'm very excited to get back in the kitchen and do some baking!  But before I dirty up my new kitchen too much I thought you'd like to see the finished results of our project!
Just to clarify, when I say "our project" my husband and I did not do the work ourselves.  We just designed it and payed for it  =)
A little note – All of the before and after photos were taken using only the natural light in the room. In my "new" kitchen I have lots of great lighting, including under cabinet lights (which I LOVE), but the artificial light is much harder (for me) to photograph without it adding an off hue to the photos.

I have lots of mixed feelings about this post… I am SO happy with my new kitchen, it's something I've worked for and dreamed of for many, many years!  But I know the feeling I've always had when I would see a beautiful kitchen on-line (or even at a friends house) and knew it was so out of reach for me at the time.  It was not a good feeling, not a nice feeling.  It was some combination of sadness, jealousy, and ungratefulness.  I'm embarrassed to admit how many times I've cried like a spoiled brat because I didn't have a kitchen I loved.
On the other hand, I have always taken some pride in the fact that I've baked everything you see on this blog in my "old" kitchen.  I "showed off" my old kitchen in one of my most personal posts, The Glorious Truth because I wanted people to know that having a pretty or perfect kitchen is not required to make beautiful and delicious food.
I'm going to ramble for a minute because I feel like I want to explain a bit of our backstory.  My husband and I have been married for 19 years and we have lived in this same house for 13 of those years.  Our house is 1450 square feet, was built in 1958 and has a grand total of ONE bathroom.  It's old and outdated, but it's what we can comfortably afford.  It's our home and we are happy to live in the town we live in (where the cost of housing is above average).  We choose to send our girls to private school, and that choice has also meant that we will likely live in this same house for quite a few more years.  We drive used cars and most of the furniture in our house was either given to us, or was purchased from garage sales or Craig's list.  Now, most of the time I feel VERY blessed and that's because I am indeed VERY blessed!  We have almost never had to worry about purchasing food or paying our bills, we have everything we need and really so much more!  But, I LOVE interior design and it has always been a very sensitive issue for me to not have a home, or furniture that I felt represented my style or choices in any way.  This is the first time in my life I have been able to chose exactly what I wanted. This new kitchen is truly "me".  It's my design, my choices, my style.  I love looking at it and I'm proud of it.  In addition to being pretty, it's SO much more functional than our old kitchen, and it was designed for my exact needs.
After the cabinet guys delivered our new cabinets one of them said, "Enjoy your new kitchen, you deserve it".  I'm not sure I agree with that.  I don't know how anyone could "deserve" a new kitchen.  People "deserve" to be safe, "deserve" love, "deserve" access to clean water… I don't think anyone "deserves" quartz counters or a pantry with slide out shelves.
I guess what I'm saying is I feel very grateful, very blessed and I fully acknowledge that I do not "deserve" this kitchen.  My husband and I have worked hard for it, saved and planned for it, but it's still a huge luxury and I feel very humbled to get to enjoy it.
Issues with the "old" kitchen I wanted to improve upon…
Limited storage – I had no pantry of any kind so food storage was a big issue.  Any canned food, pasta, etc. was stored on a shelf in the garage.  Because the shelves inside my old cabinets were fixed in place, there was no place to store tall items such as cereal boxes, bottles of oil, etc.
The small cabinets above the microwave and above the fridge were useless due both to their small size, and also because the doors did not open without a lot of effort (meaning pulling the door off of the track it was supposed to slide on).
As you can see from the photos, above my old kitchen cabinets was a built-in soffit… in other words a foot of unusable space all the way around my kitchen.
Sink area – Stained, and in very poor condition (as you'll see from the photos below)
Appliances – Old, small and outdated.  Now to be fair, our microwave, fridge and stove worked perfectly well.  This is where being a spoiled American comes into play.  It was annoying for me to have a fridge that had the freezer on top and fridge portion below because I am very tall, so the most used portion of the fridge was down very low.  Did it kill me?  Nope.  Do I love having a new fridge with the freezer on the bottom?  Yes!
Tile counters – The counters (along with most of the rest of the kitchen) were original to the house, which was built in 1958.  There is really no amount of cleaning that can combat 50+ years of use.  In addition, tile counters are less than ideal for rolling dough (as I do quite often).  If you look closely at the "before" photos you'll see I kept a small marble slab on the counter, this was where I would roll out any cookie/pie/bread dough.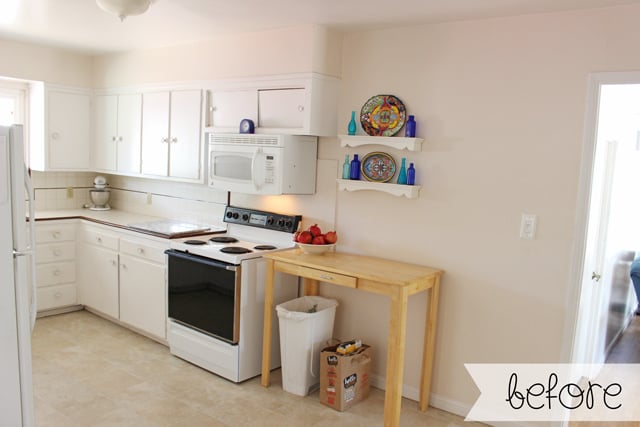 Before (above) – Cute, but old.  Free standing stove, ill-fitting microwave, no place to hide trash & recycling.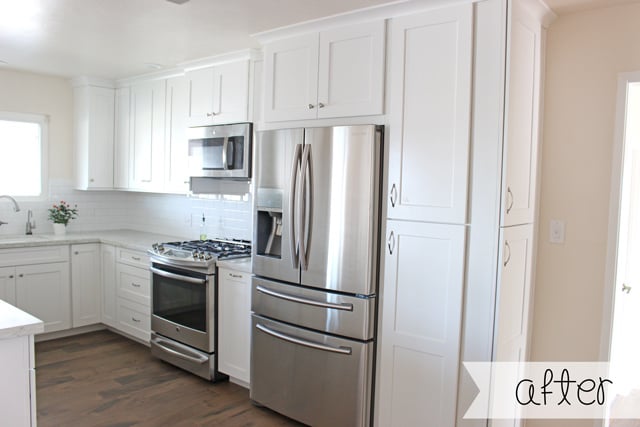 After (above) –
Fridge (Samsung French Door Counter Depth Fridge) -I love not having to bend over to find our most used items, this is also the first time I've ever had a fridge with water and ice on the door!  I'm very happy we went with a counter depth fridge so it doesn't stick out too far or overwhelm the space.
Range (GE Profile Dual Fuel Range) – This is the first time I've had a gas stove and I really never knew what I was missing!  It's so fast (to heat up), and much more adjustable that my very old electric stove.  I'd considered a double oven style, but ultimately decided I'd rather have one large oven.
Cabinets – I finally have food storage!!  To the right (in the photo) of the fridge is a wall pantry.  The lower half has pull-out shelves and the upper portion is just adjustable shelves.  The little cabinet on the far right (the end of the cabinet) is a little goodie I'm going to make you wait on for now because it deserves it's own post. Above the fridge is storage for my baking sheets and large platters (pictured later in this post).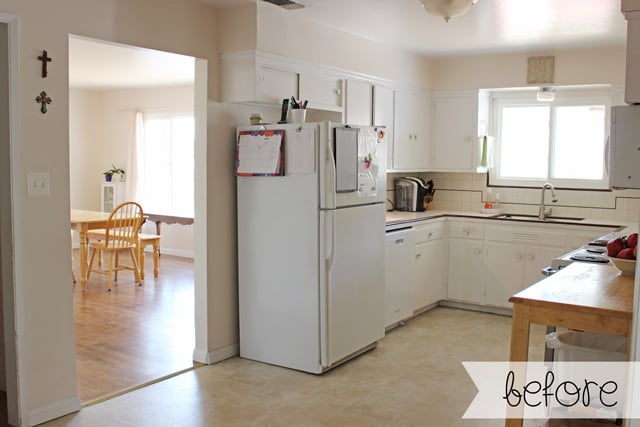 Before (above) – The room you see through the doorway/opening is our dinning room, which I also call our "front room" because it's the room you enter from the front door.  As you can see, if someone was in the kitchen they were pretty cut off from anything happening in the front room.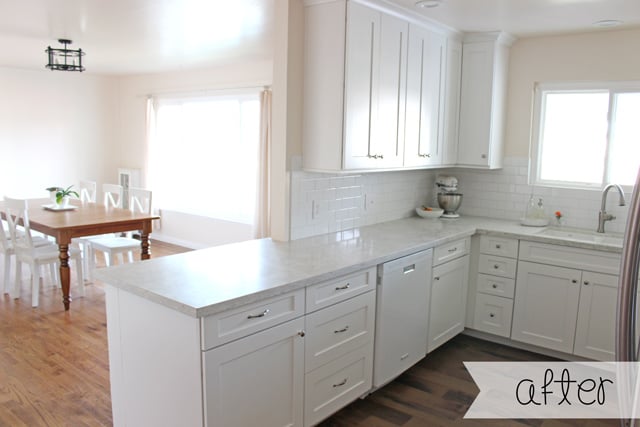 After (above) – This is the before/after combo I might love the most!  We move the fridge "across the street" as I keep saying (to the other side of the kitchen), cut down a portion of the wall to counter height, and removed the framing that was above the original doorway/walkway so it's now open all the way to the ceiling.  Now people in the kitchen and the front room can interact, and people in the front room can get food/drinks/etc off the kitchen counter without even coming in the kitchen!  Also, this open peninsula is now my baking area, and I can roll out cookie dough without hitting my head on cabinets!
You might also notice (or hopefully not notice) that our dishwasher is white.  We had purchased a new dishwasher less than 6 months before starting this renovation and couldn't justify replacing it.  Although our new fridge, range and microwave area all stainless steel I was hoping that since the dishwasher is on the other side of the kitchen it would still look ok to keep the white one.  I'm actually quite happy with the decision and love that the dishwasher just blends in with the white cabinets.
Yes, I have a new dining table and chairs too  =)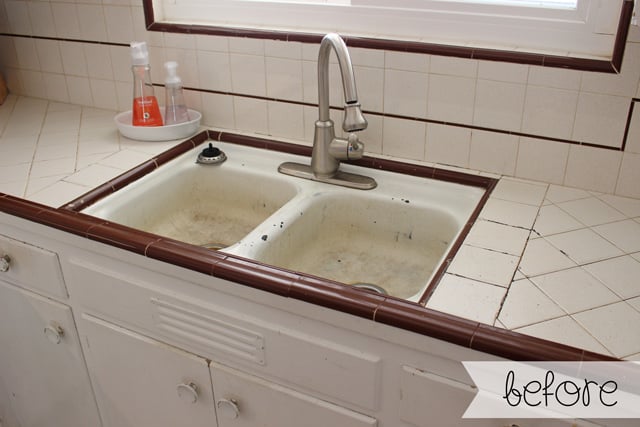 Before (above) – The sink area in my old kitchen was sad to say the least.  Believe it or not, the sink area in this "before" photo above is clean… well as clean as it could be.  No amount of bleach, scrubbing or steaming were able to do much for this very old, very worn sink and tile.  I was always very embarrassed to have guest wash their hands here.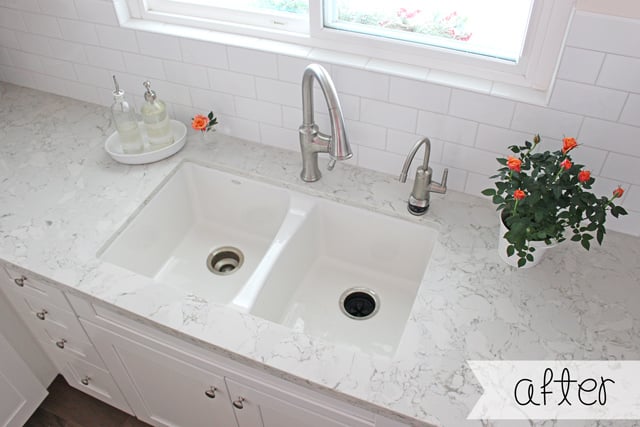 After (above) – I could not love my new sink area more!  I know that people have strong feelings about whether they like a sink to have two basins or one, and white versus stainless steel.  But this is where personal preference comes in.  I REALLY wanted a white sink.  I have already discovered that I have to be a bit careful when washing pots so I don't mark up the sink, but I'm still happy with my choice.  It's just so pretty!  Additional upgrades I'm really enjoying are having a garbage disposal for the first time ever and the small faucet on the right is a reverse osmosis water filter.

A few of my favorite new features…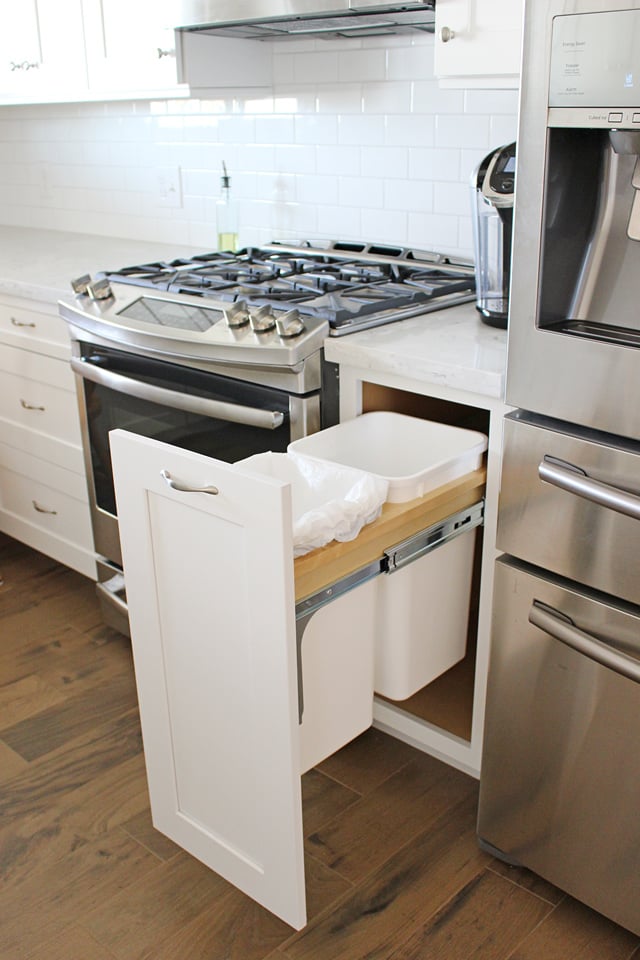 Pull out trash & recycling bins (above) – I guess it sounds weird, but I have dreamed of having this for a very long time!  I LOVE not having a trash can out!  I also made sure to chose an area for this pull-out that guest can get to easily without having to come all the way into the kitchen (as they would if the trash was under the sink).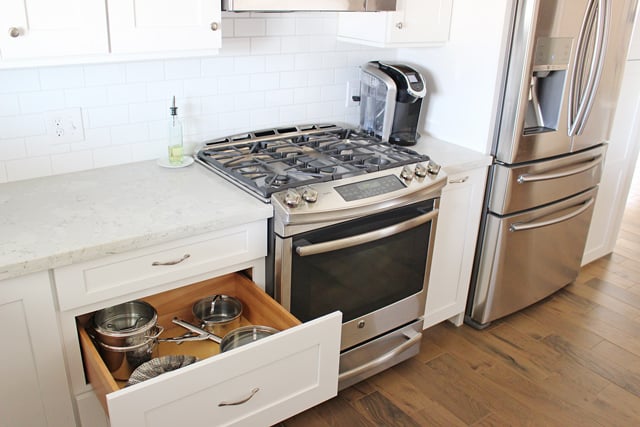 Drawers for pots and pans (above) – No more getting down on my hands and knees to get a pot from the back of a low shelf, yay!!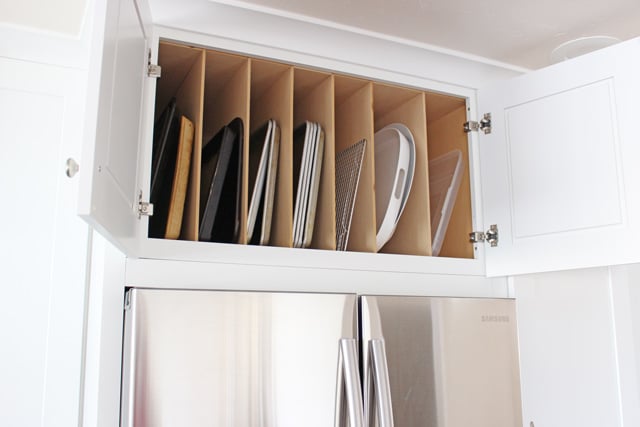 Baking sheet & large platter storage (above) – As you can imagine, I have quite a few large baking sheets and am so excited to have a place to store them (this is above the fridge)!  Now it might be important here to note that I am 5'11" tall, so this is perfectly accessible for me, but might not be convenient for shorter cooks.
Notes on remodeling –
Decide what you really want.  Think about problem areas in your kitchen and plan how they can be solved.  Measure your dishes, pot and pans, or anything special that you need to plan a space for.  As the plans come together really think about how each cabinet will be used, what you will put in it, and if it will serve your needs.  One big advantage of living in a house quite a while (for us, 13 years) before remodeling is I had LOTS of time to dream about and plan what I really wanted and needed.
It will cost more and take longer than planned.  Sorry, it's true.  I read this exact statement from several sources before our remodel but was SO sure I had planned and organized every detail.  I was wrong.  We didn't have any huge problems with our renovation, but there were a couple things that my husband and I had thought included installation, but did not, and that bumped up the cost.  In fact, we had plans to improve one other small area of our house, but had to take that off the list in order to complete the kitchen.  The timeline was pushed back a couple times due to a couple cabinets that came in the wrong sizes and had to be re-ordered.
Costs – I debated with myself as to whether or not it was helpful or appropriate to share the cost of our kitchen renovation.  I know I'm always very curious when I see a renovation how much things cost, so I could potentially save up to do something similar, or so I at least have an idea what I'm looking at.  So I truly hope this information is helpful to you simply as a guide.  Certainly material and labor costs can vary quite a bit based on a variety of factors.  I'm breaking down the costs of each element because if you are not starting from scratch (as we did), you could certainly do a similar renovation for much less.  Needless to say, if you are able to do any of the work yourself you could save quite a bit as well.  For simplicity, I've rounded costs to the nearest $10.00.
$5,500              Construction – Demo, install can lights, move electrical and gas, install sink faucet, garbage disposal & appliances, drywall, texture & paint, install under cabinet lighting, install baseboards
$13,500            Cabinets $11,000 + installation $2,500
$5,300              Appliances – (Fridge, stove & microwave – we kept our "old" dishwasher because it was actually less than a year old)
$1,180               Sink- sink $600, faucet $200, garbage disposal $380
$3,600              Counter – Quartz counter & installation
$950                  Back splash – tile & grout $270, installation $680
$2,090              Flooring – tile & grout $990, installation $1,100
_________________
$32,120             Total
I hope you've enjoyed this tour!  I look at this kitchen everyday and can't quite believe it's mine! And yes, I really do love white this much!  There were a couple people who questioned if I didn't want some color in the back-splash or an accent somewhere, but I am 100% happy with my choices.  It's clean and bright and totally ME  =)  The warmth in the color of the flooring, and the bit of color in the quartz counter is just perfect to me.  I'm very excited to be able to decorate with fresh flowers and/or seasonal accents without having any colors in the kitchen to fight against.  I'm certainly not saying everyone's kitchen should be white… just mine.