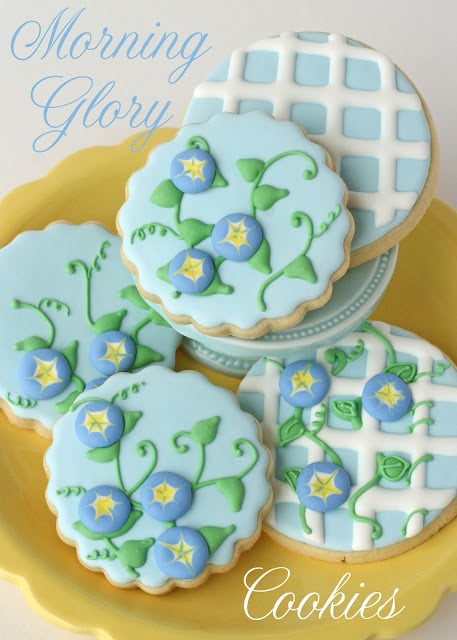 One of my favorite things about spring is seeing flowers in bloom everywhere I go.  Daffodils have recently bloomed in our neighborhood, and this week I spotted some tulips (one of my favorites) in a neighbor's yard.  I have lots of buds on my lilac tree, I always look forward to those fragrant blossoms!
One of my longtime (internet) friends, Haniela, loves flowers as much as I do.  She also loves cookies… it's no wonder we're friends!  Haniela thought it would be a fun idea to gather all of her cookie loving friends and make a beautiful, edible flower bouquet!  Each cookie maker was assigned a flower to bring to life in cookie form!  I was given Morning Glories… any easy choice (since my name is Glory!)  I'd never seen morning glory cookies before, but looked forward to the challenge.  To me, one of the main features of morning glory flowers is the fact that they grow as a vine.  I wanted to incorporate the vine, as well as the blossoms onto a cookie.
Here are my morning glory cookies…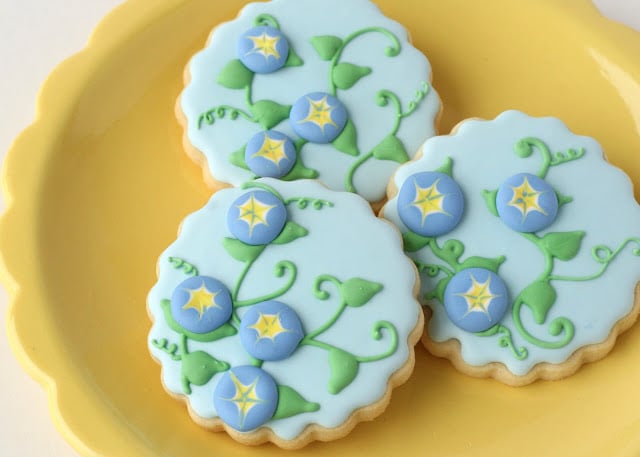 I'm not entirely sure these would be easy to identify without the title of this post (Morning Glory Cookies)… but I gave my best effort!  My husband wasn't familiar with morning glories and said, "… is that what they look like, blue dots on leaves?"  Well, like I said, I did my best!  =)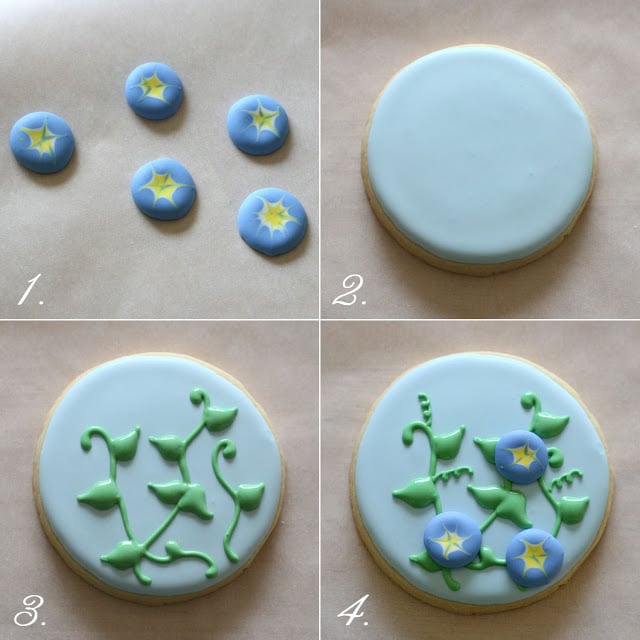 ~ How to Decorate Morning Glory Cookies ~
1.  Create royal icing transfers.  Pipe a nice full circle of medium consistency blue icing onto a piece of parchment paper.  Immediately add a dot of white icing, then a dot of yellow icing, in the center of the blue.  Working from the center, use a toothpick to drag the white and yellow color toward the edge of the blue dot.  Allow the transfers to dry several hours before removing from parchment.
2.  While the royal icing transfers are drying, outline and flood your cookies, and allow them to set as well.
3.  When your base icing has set (2-4 hours), use green icing to draw morning glory vines and leaves.
4.  While the leaves and vines are still wet, add your flower transfers.  Add small vine details as desired.  Allow to dry fully before eating or packaging.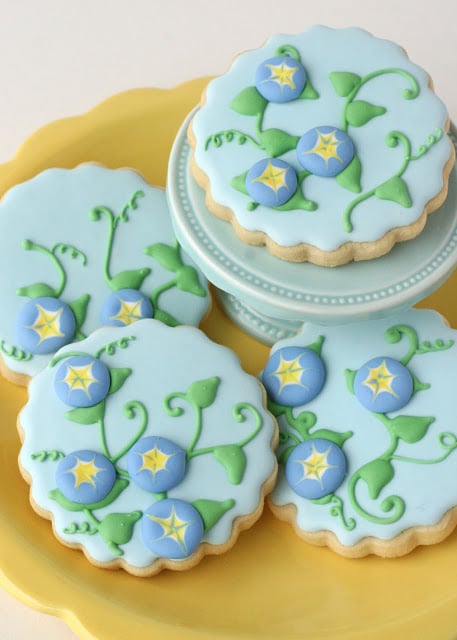 Now here's the fun bonus… the most beautiful (and delicious!) collection of flowers ever!
Each cookie below was made by a different cookie artist.  Please take some leisurely time to enjoy each post, linked below.
1. Black Eye Susan by Lisa, The Bearfoot Baker
2. Carnation by Meaghan, The Decorated Cookie
3. Cherry Tree Flower by Pam, Cookie Crazie
4. Daffodil by Georganne, LilaLoa
5. Daisy by Stephanie, Ellies Bites
6. Dogwood by Marian, Sweetopia
7. Gerbera by Paula, Vanilla Bean Baker
8. Hyacinth by Amber, SweetAmbs
9. Hydrangea by Kim, The Partiologist
10. Iris by Cristin, Cristin's Cookies
11. Lavender by Liz, Arty McGoo
12. Lily of The Valley by Hani, Haniela's
13. Lotus by Marlyn, Montreal Confections
14. Morning Glory by Glory, Glorious Treats
15. Orchid by Ali, Ali Bee's Bake Shop
16. Pansy Nicole, Life's A Batch
17. Poppy by Callye,  SweetSugarBelle
18. Sunflower by Bea, Cancun Cookies
19. Tulip by Lorriane, LorrainesCookies
Thanks to Haniela for dreaming up this beautiful project!
Take some time today to smell the flowers!