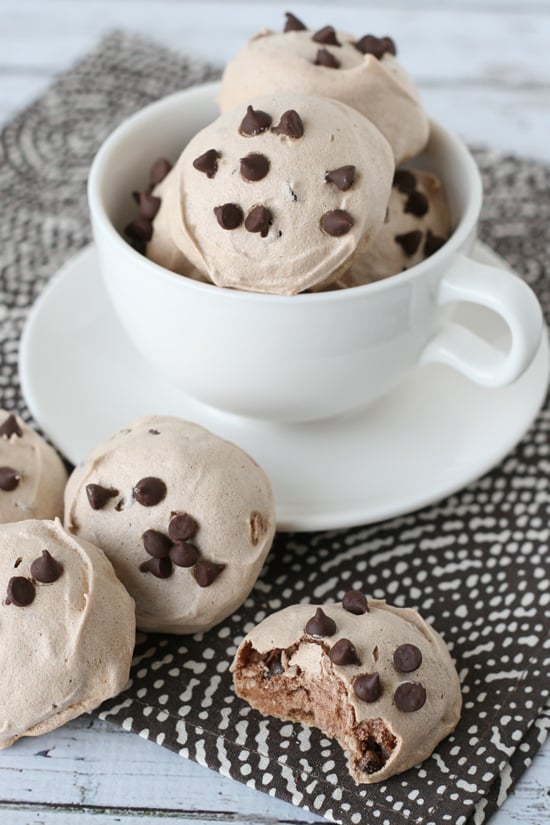 What's a better way to start off the new year than with coffee and chocolate? =)
These Mocha Chocolate Chip Meringues are sweet, crisp, light as air, and simply delicious!
If you've never had a meringue cookie they are quite different from a traditional cookie (such as a chocolate chip cookie, etc). Meringues are made from egg whites, sugar, and whatever flavoring you chose and are light, crisp little puffs sweetness and air.
Feel free to adjust the recipe by omitting the coffee and simply making delicious chocolate chip meringues.
Once you try these simple and sweet little treats, you'll want to make them again and again!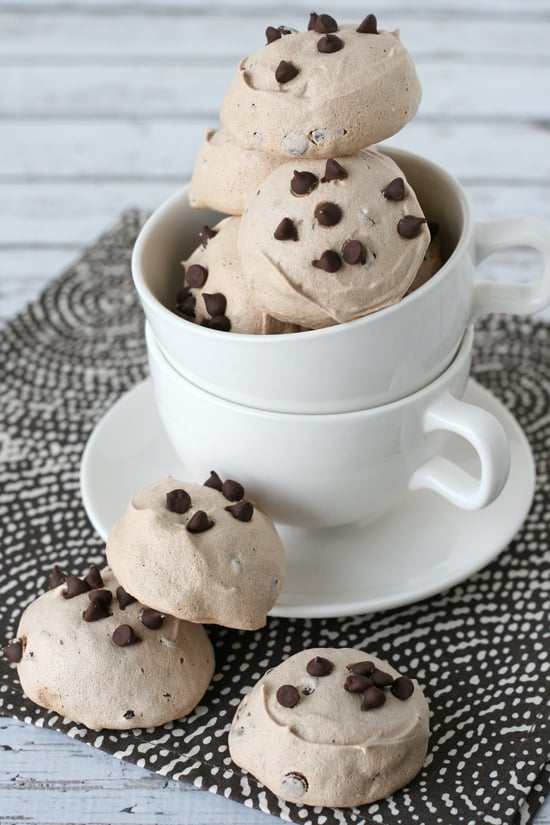 If by chance you're cutting calories, these little treats are quite low in fat and calories compared to a traditional cookie. Also, they're gluten free and could be easily made dairy free by choosing dairy free chocolate chips.
Happy baking!
How to Make Mocha Chocolate Chip Meringues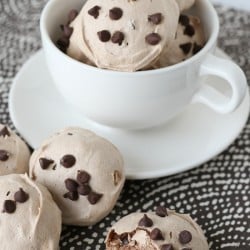 Mocha Chocolate Chip Meringues
Coffee and chocolate are a delicious combo in these light-as-air cookies!
Ingredients
2

egg whites

at room temperature

1/8

teaspoon

cream of tartar

1/2

cup

sugar

1

tablespoon

hot water

1

teaspoon

instant espresso powder

2

teaspoons

unsweetened cocoa powder

1/2

teaspoon

vanilla

3/4

cup

mini chocolate chips
Instructions
Separate 2 eggs and set aside the yolks for another use. Allow the whites to come up to room temperature. If needed, set the bowl of egg whites into another bowl of hot water.

Line two baking sheets with parchment paper and set aside.

Dissolve 1 teaspoon instant espresso powder into 1 Tablespoon of hot water, stir and set aside.

In the bowl of an electric mixer, add the egg whites and begin to whip on low speed.

When the whites are slightly foamy, add the cream of tartar, then continue to beat on low to medium speed until soft peaks form (when the whisk is lifted from the egg whites).

VERY slowly, add the sugar, a tablespoon at a time, while mixing. Increase mixer speed to medium.

When the eggs have reached the stiff peak stage (a stiff peak forms when the whisk is lifted from the mixture), slowly add the prepared espresso, the cocoa powder and the vanilla.

Blend until well combined.

Preheat oven to 300*F.

Stop the mixer, and use a spatula to gently fold in the chocolate chips, reserving a few to add on top of the cookies.

Use a 2 Tablespoon cookie scoop (or work with two spoons) to scoop batter onto the prepared baking sheets. Add a few chocolate chips on top of each cookie.

Bake both baking sheets of cookies in pre-heated oven at 300*F for 10 minutes, then gently switch the position of the baking sheets (move the bottom sheet to the top) and bake an additional 13 minutes. When the timer goes off, DO NOT open the oven. simply TURN OFF the oven, and leave the cookies undisturbed for at least one hour (up to overnight).

Gently peel cookies off of parchment, and store in an airtight container.
Notes
To ensure the egg whites whip up properly, be sure no egg yolk get into the whites, and be sure all bowls and utensils used are very clean and oil-free. Additionally, follow the other steps of the recipe carefully, including bringing the egg whites to room temperature, beating the whites slowly at first, and adding the sugar a little at a time.
Nutrition
Calories:
62
kcal
Carbohydrates:
11
g
Protein:
1
g
Fat:
2
g
Saturated Fat:
1
g
Cholesterol:
1
mg
Sodium:
11
mg
Potassium:
11
mg
Fiber:
1
g
Sugar:
10
g
Vitamin A:
17
IU
Calcium:
9
mg
Iron:
1
mg