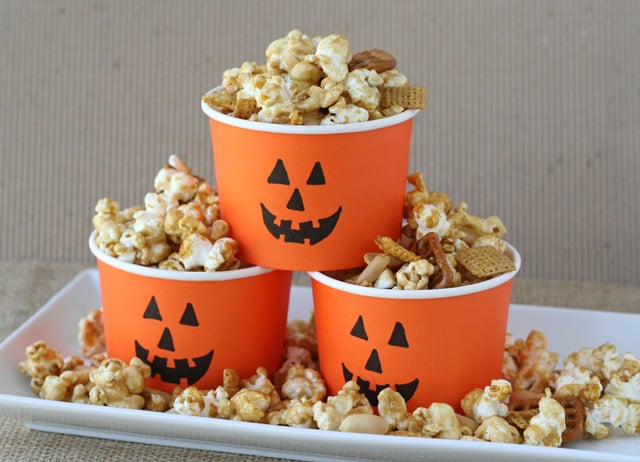 Caramel corn is a special treat my family really loves! Any given evening, when we have time to watch a little bit of TV or a movie as a family, we pop popcorn (and top with butter), or make caramel corn.
I love caramel corn, and I love it even more with "stuff" in it! Cereal (my favorite is corn chex), pretzels, nuts or M&M's make delicious additions to an already delightful treat!
Some fun packaging makes a bag of caramel corn a great little gift or favor. I made this batch for the teachers at my girls' school. I'm planning to make it again (and package it the same) for a school field trip to the pumpkin farm later this week.
The orange snack cups (shown) were in the $1.00 section at Target, and I drew faces on them with permanent marker.
The one downside of this homemade caramel corn is that does take a bit of planning. It takes about 45 minutes, or so, from start to finish, before you get to eat it. But the finished sweet and crunchy caramel corn will last 3-4 days (in a sealed container), so you can make it ahead of time.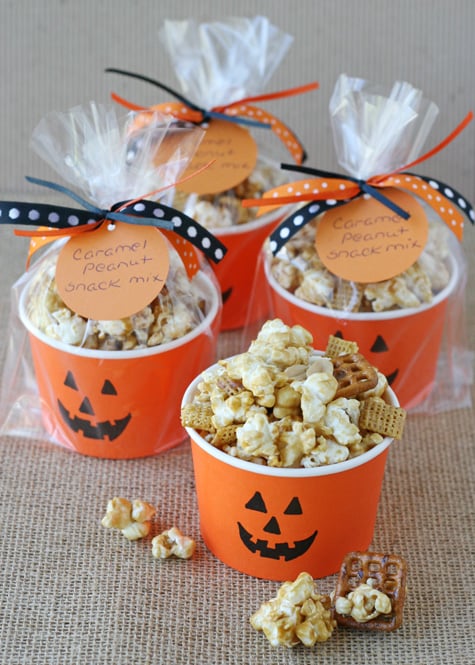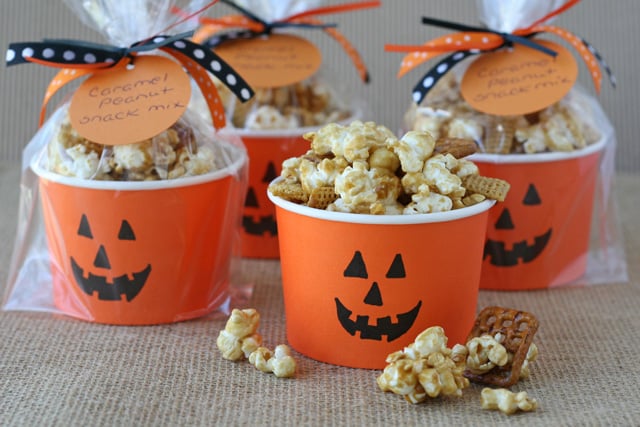 Happy snacking!
How to Make Homemade Caramel Corn
Homemade Caramel Corn
Add cereal, pretzels, or nuts of your choice to create a delicious mix!
Ingredients
1

cup

butter

1 1/2

cups

brown sugar

1

teaspoon

salt

1/2

cup

corn syrup

1/2

teaspoon

vanilla

1

teaspoon

baking soda

12

cups

popped corn

3-5

cups

cereal

pretzels, or nuts of your choice
Instructions
Pop popcorn, and place in a large roasting pan. Mix in any desired additions (cereal, pretzels, nuts, etc).

In a medium saucepan, add butter, brown sugar, salt and corn syrup.

Cook over medium-high heat (not high), stiring occasionally until the mixture begins to boil.

Boil 5 minutes, or until the mixture is a deep amber color, stiring occasionally. Set a timer, and do not leave the kitchen. The mixture can burn quickly. Keep the stove temperature just high enough to keep the mixture boiling, and no more (this may be medium, or medium-high). If you prefer to use a thermometer, the mixture should be about 234*F, or soft ball stage.

After boiling 5 minutes, remove pan from heat. Add vanilla and stir (the mixture will hiss). Add baking soda, and stir well (the mixture will foam and expand).

Pour caramel over popped corn (or any other ingredients you choose), and stir to coat.

Bake caramel corn in a pre-heated 250*F oven for about 25-30 minutes. Every 10 minutes, remove from oven, stir well and return to oven.

Spread the baked caramel corn onto a couple of cool baking sheets, or a waxed paper lined counter, to cool. Cool about 5 minutes. Eat immediately, or store in a sealed container 3-4 days.
Notes
If you want to include M&M's, candy corn, or other candies, add them after the caramel corn has baked, and cooled.
Nutrition
Calories:
186
kcal
Carbohydrates:
44
g
Protein:
2
g
Fat:
1
g
Saturated Fat:
1
g
Cholesterol:
2
mg
Sodium:
307
mg
Potassium:
125
mg
Fiber:
3
g
Sugar:
32
g
Vitamin A:
244
IU
Calcium:
43
mg
Iron:
3
mg