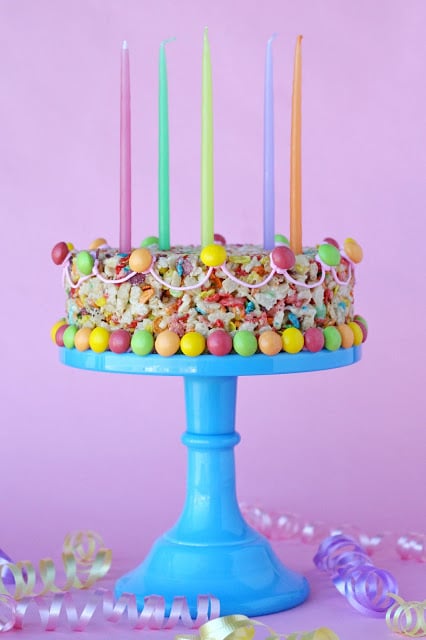 I've been on a bit of of Rice Krispies Treat kick (most recently with these Oreo Rice Krispies Treats) and wanted to make another fun, kid friendly option.  I've made Krispy treats with Coco Pebbles before (pre-blog), but wanted to try fun and colorful Fruity Pebbles!  I thought the rainbow colors looked so celebratory already, that they would be perfect for a cake.  This would be a fun cake for a birthday, and especially perfect for those who are on Gluten-free diets (please check the cereal packaging for ingredients).  I was recently sent some candy from Wrigley, including lots of Skittles, and knew they would be an easy and colorful decoration.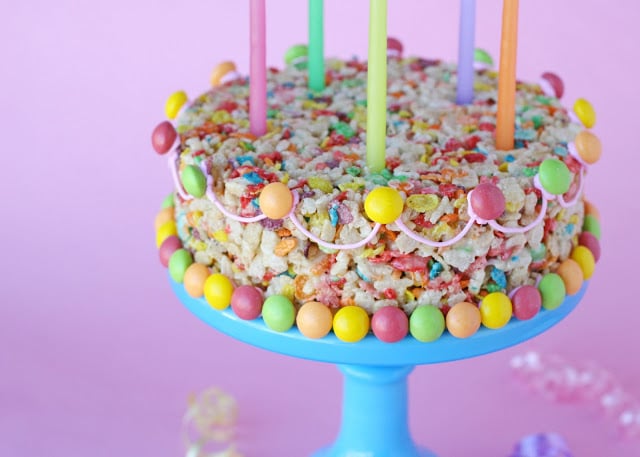 In addition to the colorful large cake, I made a cute little baby "cake" too…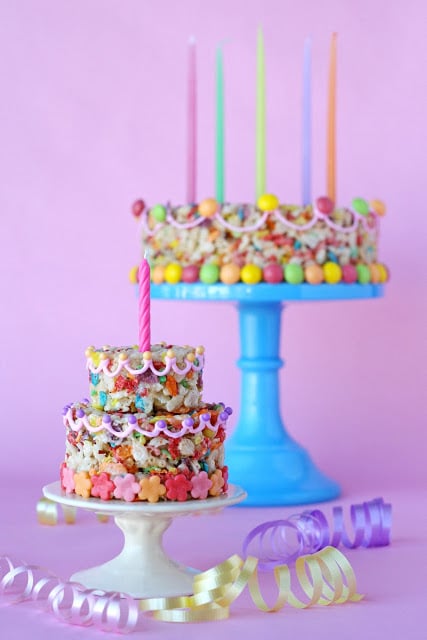 This would be a sweet option for a birthday boy or girl to get their own little "cake".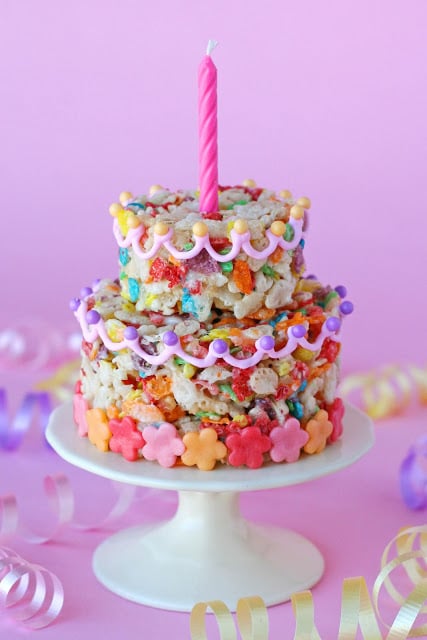 Fruity Pebbles Treats
3 Tablespoons butter
4 cups mini marshmallows (or about 40 regular/large marshmallows)
3 cups Rice Krispies cereal
3 cups Fruity Pebbles cereal
Directions ~
Prepare your dish (either a 9″ x 13″ casserole dish, or a cake pan of your choice) with non-stick cooking spray.  To make the cakes shown I used a 6″ cake pan (3″ tall) and also used two measuring cups to make the mini cakes (I used a 3/4 cup and 1/3 cup).
In a large, microwave safe bowl put the marshmallows and butter.  Microwave about 3 minutes, or until marshmallows are large and puffy (make sure your bowl is large enough, the marshmallows will at least double in volume while heating).
Meanwhile, pour the cereals into a large bowl and gently mix.  When the marshmallows are melted, stir with a spatula that has been sprayed with non-stick cooking spray.  As soon as the marshmallows and butter are smooth and incorporated, pour over cereal, and mix quickly.   Once the cereal and melted marshmallows are mixed, pour/scoop the mixture into your prepared dish.
Press into dish or cake pans, smoothing the top with the oiled spatula.
Allow to cool about 20 minutes.  Cut and enjoy!
*To decorate as cakes-  I used royal icing to attach the candies and added the little swag,  (candy melts or frosting would work as well).  For the mini cake I warmed a few Starburst candies, rolled them out and cut them with a mini flower cutter.  I also decorated the mini cake with some candy pearls.