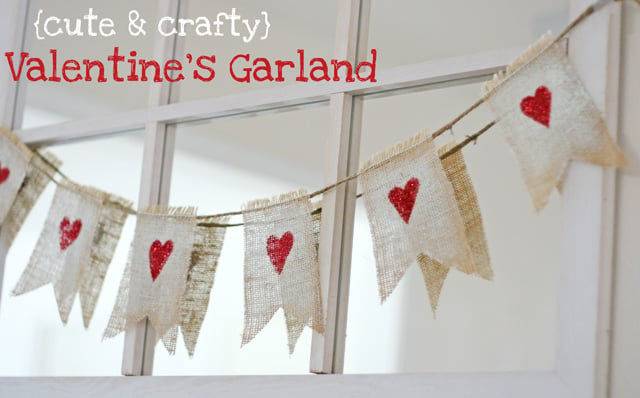 Now that all the decorations for Christmas have been put up (well… most of them at least!), the house looks a little bare.  This cute little Burlap Valentine's Garland is perfect to add a little cheer to a window, wall, or mantel.
For this craft, I enlisted the help of a talented and crafty friend, Kristine C.   Kristine designed and assembled the garland pictured.  The original inspiration for this garland is from Etsy shop, Funkyshique.
This cute and crafty garland is quite easy to make… in fact, make two and share one with a friend!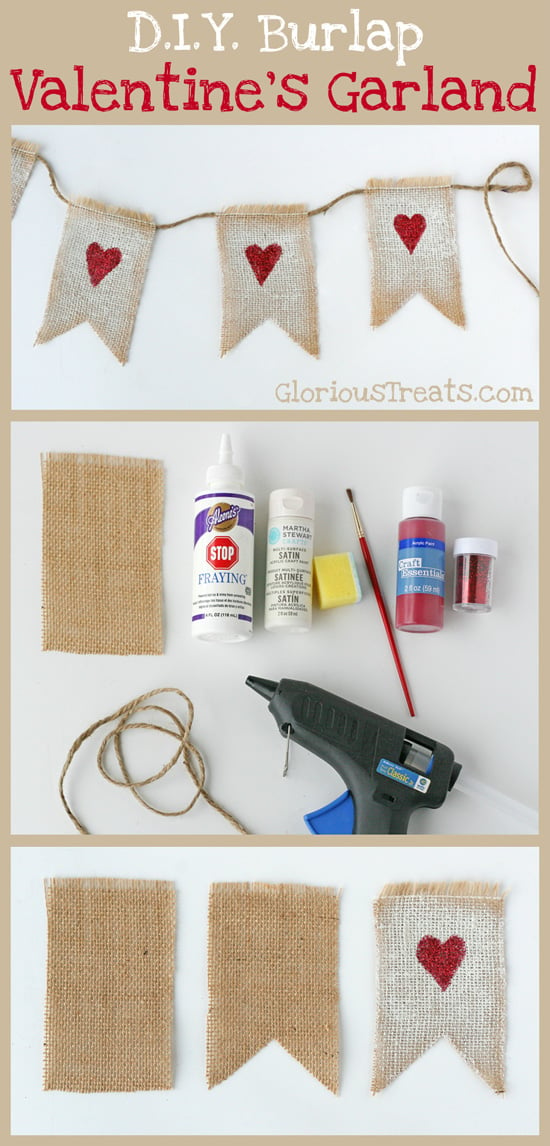 Let's get started!
You'll need…
Burlap (less than 1/4 yard)
No-fray fabric treatment (as pictured above)
White craft paint
Sponge, or sponge brush
Red craft paint
Red glitter
Small paint brush
Thick twine/jute (available in craft or fabric stores, or The Tomkat Studio shop)
Hot glue gun
Valentine's Garland Directions ~
1.  Cut burlap into small rectangles (ours were 3.5″ x 5.5″).  For our banner we used six rectangles.  Cut as many rectangles are you'd like for banner.
2.  Cut a notch (as pictured) into the rectangles, creating a flag.
3.  Use the no fray fabric glue along the edges of the burlap.  This step is optional, but will help the banner last more than one season.  Allow glue to dry.
4.  Using a small sponge, or sponge brush, paint the burlap flags white.  Add as much or as little paint as you'd like, to achieve the look you want.  Allow to dry.
5.  When the white paint is dry, use red paint and a small paint brush to paint a heart in the center of the flag.  You can freehand the heart shape (as we did), or if you'd prefer you could use a marker to trace the shape first, then fill in with the red paint.
6.  While the red paint is still wet, sprinkle red glitter onto hearts.  Shake off excess glitter.
7.  When the paint is all dry, use hot glue to glue each flag along a piece of jute twine (leaving some excess twine on either end for easy hanging).
You're done!
Hang the garland in your kitchen window, along your mantel, or anywhere in your home or office that needs a little love.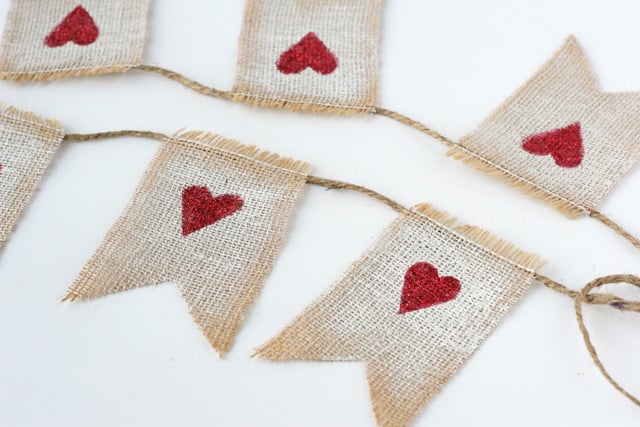 Happy Crafting!