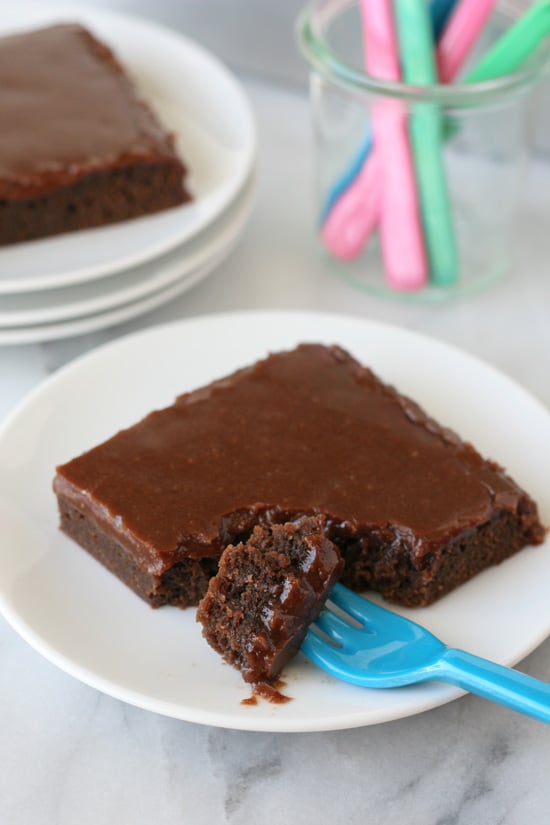 This Chocolate Fudge Cake recipe might need the sub-title "for chocolate lovers only". This cake is rich, dense, sweet and oh so chocolaty!!
One glance at the recipe and you'll see the first clue… yes, the recipe does call for one full can of Hershey's syrup! =)
But before we get to the recipe, this cake has a story…
When I was 11 years old my mom paid $2 at a homeschool conference for the name and address of a pen-pal for me… another 11 year old girl. I lived (and still live) in California and my new pen-pal, Sala, lived in North Carolina. I wrote the first letter. On the front of the envelope I drew a bear, along with the words "Let's be friends". A short while later I received my first letter from Sala, and on the front of the envelope she drew two bears and the text, "I'd like to be friends".
From those first letters in 1989 we continue to write back and forth, often several times a week. Our letters were sent in envelopes that were mini works of art… covered with drawings and stickers! I'm surprised the post office could find the addresses around all of the color!
My mom also began communicating with Sala's mom from time to time, and for my 13th birthday it was planned that my mom and I would fly to North Carolina and stay with Sala and her family for 2 weeks. It was my first flight, and I was so excited to meet my friend!!
My 13th birthday was going to be celebrated in North Carolina, and Sala's mom, Affie, asked what kind of cake I would like. My answer was (and will always be) "chocolate". The morning of my 13th birthday I was presented with this delicious Chocolate Fudge Cake, a cake that would from then on be called "North Carolina Chocolate Cake" in our house!
As the years passed, hundreds of more letters were exchanged between Sala and I. Six years after my visit to North Carolina, Sala flew out to California to be a part of my wedding. Another several years (and more letters) passed and I flew across the country to attend her wedding. We are now both mother's to two sweet girls. In fact it didn't occur to me until just this moment, but my oldest daughter is nearly 11… the same age I was when Sala and I first became friends!
We still live on opposite sides of the country, and we don't write letters as often as we did as children, but Sala and her family will always hold a very special place in my heart.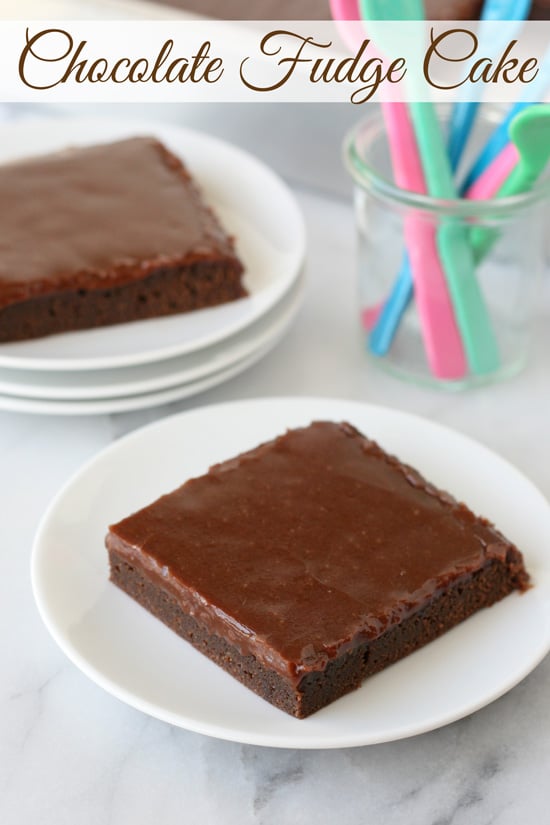 This rich and delicious cake is the recipe we turn to when only CHOCOLATE will do! The texture is more dense than a traditional cake… it's somewhere between a cake, brownie and fudge.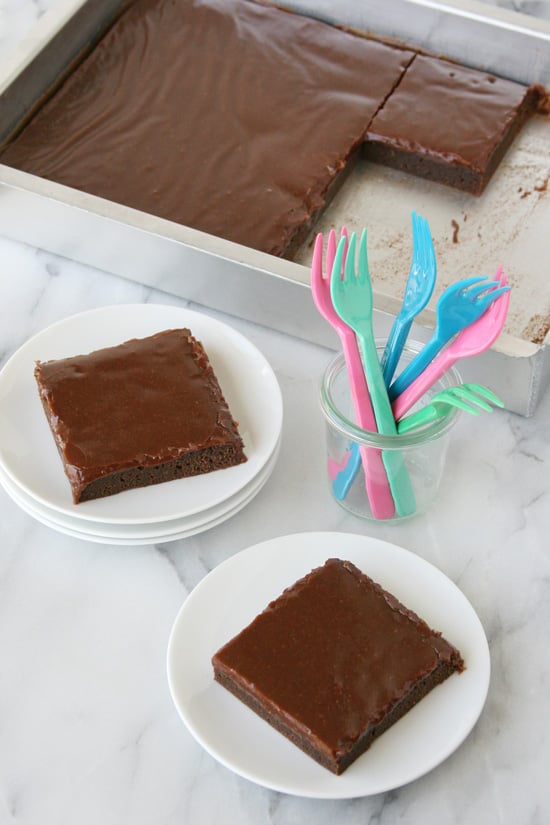 Share this cake with the chocolate lovers in your life!
How to Make Chocolate Fudge Cake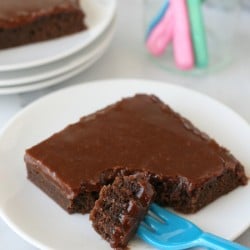 Chocolate Fudge Cake
This rich, dense cake is sure to satisfy any chocolate craving!
Ingredients
Cake
1/2

cup

butter

1 stick

1

cup

sugar

1

teaspoon

vanilla

1 1/2

cups

Hershey's chocolate syrup

1 16oz can

4

eggs

1/4

teaspoon

salt

omit if using salted butter

1

cup

flour
Frosting
1

cup

sugar

1/2

cup

butter

1 stick

1/3

cup

milk

1/2

cup

chocolate chips
Instructions
In a large saucepan heat the butter and sugar until melted and well combined.

Remove pan from heat and add vanilla and chocolate syrup.

Add eggs and beat well (with a spoon or whisk).

Add salt and flour and stir until fully combined.

Pour batter into a greased 9"x13" pan.

Bake in a preheated 350*F oven for 20 minutes, or until a toothpick inserted in the center comes out with a few moist crumbs, but no wet batter.

As the cake cools a bit, make the frosting.

In a saucepan, heat the butter, sugar and milk until it comes to a boil (stirring as needed).

Remove pan from heat and add chocolate chips. Do not stir for a minute or so and the chocolate chips will melt on their own. After a minute or two, stir to fully combine all ingredients.

Pour icing over the (still warm) cake, using an offset spatula to spread as needed.

Allow cake and icing to cool fully before cutting.
Notes
From everything I've read, Hershey's syrup is the same in a can or in a plastic bottle. If you can not find a can, feel free to use syrup from a bottle. Also, yes, 16 fluid ounces is 2 cups, not 1-1/2 cups as listed in the recipe. For some reason the 16oz measurement on the can of syrup is weight, not fluid ounces.
Nutrition
Calories:
233
kcal
Carbohydrates:
50
g
Protein:
3
g
Fat:
2
g
Saturated Fat:
1
g
Cholesterol:
43
mg
Sodium:
91
mg
Potassium:
113
mg
Fiber:
1
g
Sugar:
40
g
Vitamin A:
92
IU
Vitamin C:
1
mg
Calcium:
34
mg
Iron:
1
mg