Chocolate Cupcakes in a Jar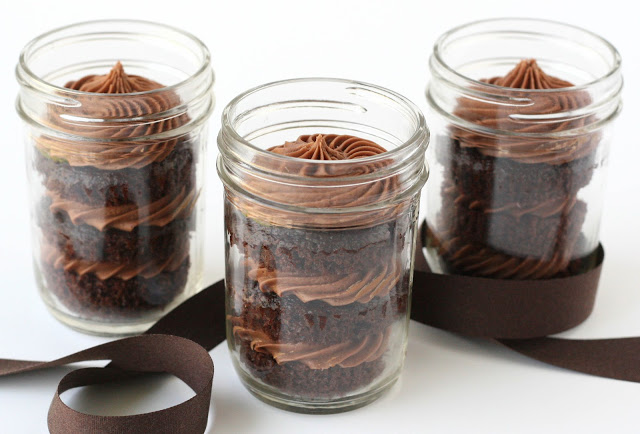 Recently, I've been dreaming up lots of delicious and creative combinations for variations on Cupcakes in a Jar.  The first ones I made last year were Chocolate with Vanilla Frosting, then I made Red, White and Blue for the 4th of July, delicious Orange Creamsicle, and then simple Halloween Cupcakes in a Jar.   But when it came down to it and I had some time to make some this week,  what did I make… chocolate!  Not super creative or original, but oh so delicious!  Sorry, but given the choice I'll always choose chocolate… and if you can add the word "double" in there (as in "double chocolate"), then I'm really all in!  So that's what I have for you today, Double Chocolate Cupcakes in a jar.
I used my favorite Chocolate Cupcake Recipe and Chocolate Cream Cheese Frosting.
Of course these could be made with any combination of box mixes, or recipes.
How to make Cupcakes in a Jar ~
Bake cupcakes as directed by the recipe, using paper liners.  Cool cupcakes, remove paper liners, and slice cupcakes in half (horizontally).
Prepare frosting as directed.  For easy (and pretty) assembly, fill a large piping bag with frosting (or a large ziplock bag, with the end cut off).
Layer cupcake halves and frosting in 8 oz jars (I usually buy mine at Wal-Mart, also available on-line at The Jar Store).  Each jar will have 3 cupcake halves (or 1 1/2 cupcakes).
Serve open, or top with the lid for travel or gift giving.  Store, covered with lids, in the refrigerator up to 3 days (maybe longer, but I can never seem to wait!).  Best when eaten at room temperature.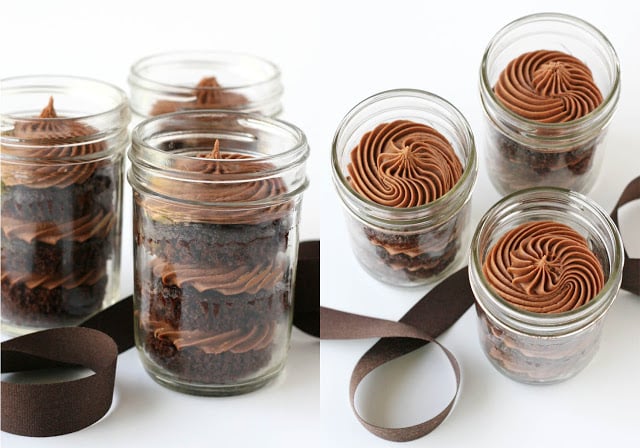 In my mind, Double Chocolate Cupcakes could be considered medicinal, under certain circumstances… so feel free to save a few toward the back of your fridge to use "as needed", or share with a friend in need  =)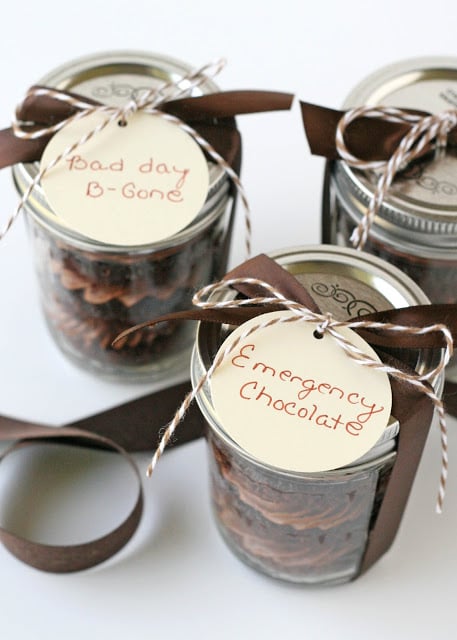 I'm also excited to add that my cupcakes in a jar are featured in this weeks Women's World Magazine!  Below is a peek of the magazine and the (full page!) article featuring my photos and recipe suggestions.  The issue is on stands now, and is marked as the May 28th edition.  And yes, I know that magazine covers often share quite conflicting headings.   I'm not sure these cupcakes will help you get "slim" even while drinking tea… but you could try to enjoy them while running in place!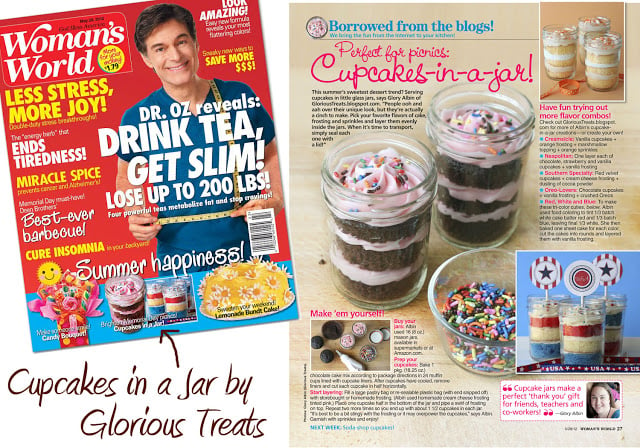 Happy Baking!