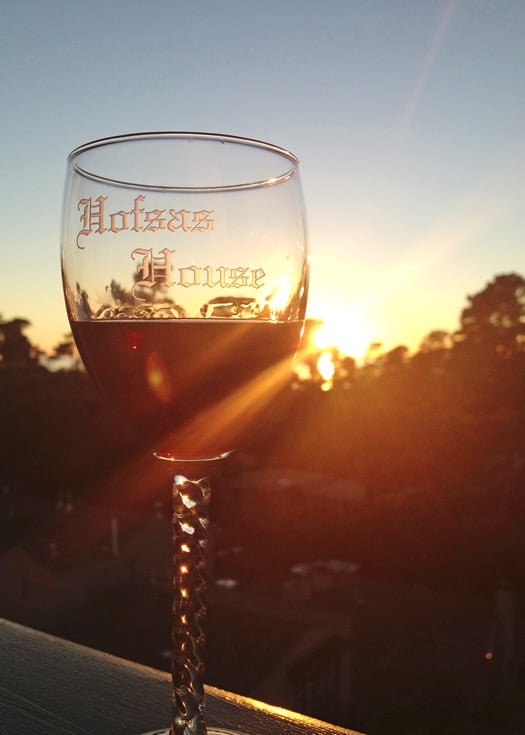 My family and I recently enjoyed a little getaway to Carmel-by-the-Sea, California.  Carmel-by-the-Sea (also simply called Carmel) is a beautiful little town on the central coast of California, near Monterey.  Although we live in California and I've visited Monterey a few times, I'd never been to Carmel.  We were invited by the Hofsas House Hotel to come enjoy this quaint town and it was such a relaxing getaway!
Working from home (as I do) has many advantages, but it also makes it very difficult to ever truly get away from work.  Sometimes it's good for me to really get out of the house for a few days!  And there is just something extra special about being near the ocean… it has such a way setting things back into perspective.
While in Carmel, we stayed at the Hofsas House Hotel, a family owned inn with a European flair.  My girls were pretty thrilled to discover we had a two bedroom, two bath suite with a balcony and fireplace!  It was so nice to have some separate spaces for everyone… and especially great that I could sleep in and the rest of the family could watch TV in the other room!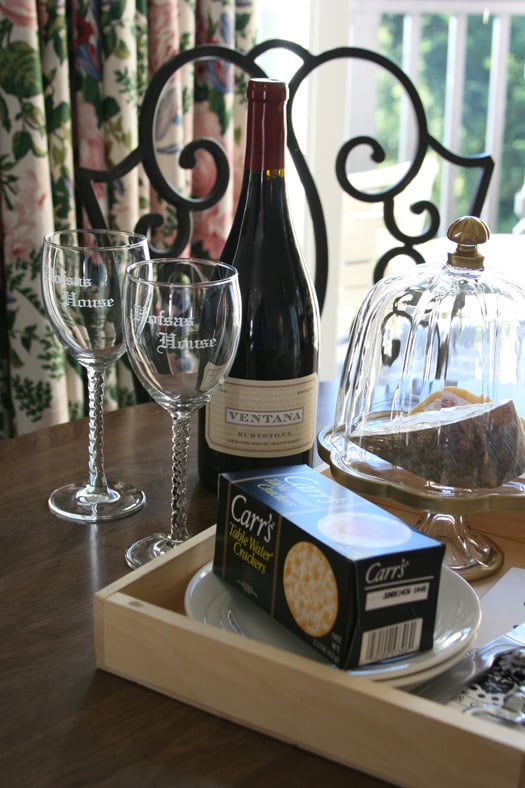 We kicked off the weekend in style by enjoying the wine, cheese and crackers that were waiting for us in the room.
The girls had a great time exploring the suite…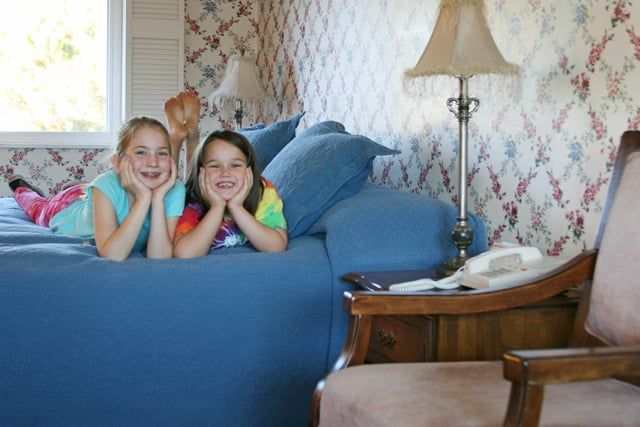 The ocean view from our balcony was a special surprise!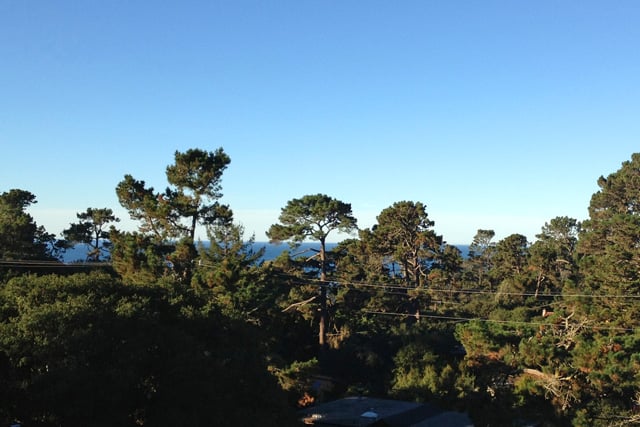 The view was beautiful during the day, but extra spectacular at sunset!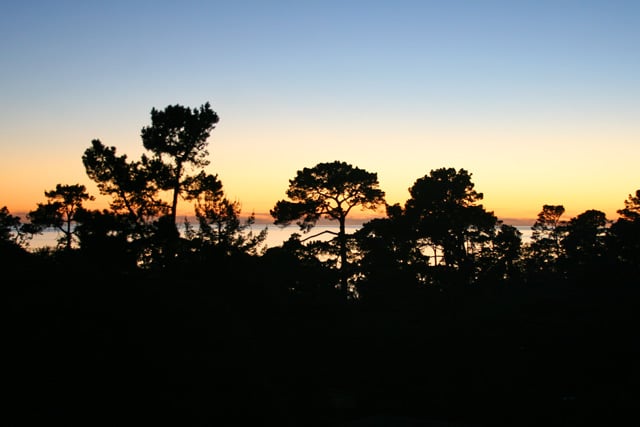 The first full day of our stay we drove to Monterey (about a 20 minute drive) and spent the day at the incredible Monterey Bay Aquarium.  I had only been to the aquarium once before, and the rest of my family had never been, so it was a great family experience!  The Monterey Bay Aquarium is world famous for it's incredible exhibits that include sea otters, octopus, hundreds of gorgeous varieties of fish (including HUGE tuna!), and one of its most famous exhibits is a huge and beautiful room that showcases jellyfish (that may sound creepy, but it's really incredibly beautiful!).  The aquarium has exhibits and areas of interest for people of all ages, but I think they do an especially good job of creating fun places for young children.
My one bit of personal advice if you're planning a trip to the Monterey Bay Aquarium is to make dining reservations ahead of time at Cindy's Waterfront (their in-house restaurant).  There are two dinning options at the aquarium, a large café (cafeteria style) and Cindy's Waterfront.  The café has lots of options (an upgrade from most large "parks"), but can be a bit loud and crowded for my preference.  The restaurant (Cindy's Waterfront) is very reasonably priced for the incredibly well made food, and for me it was the perfect break in the middle of a busy day.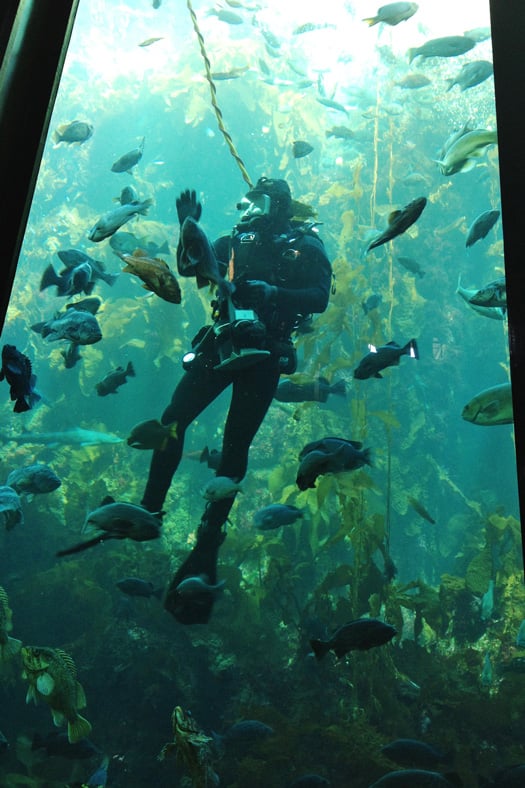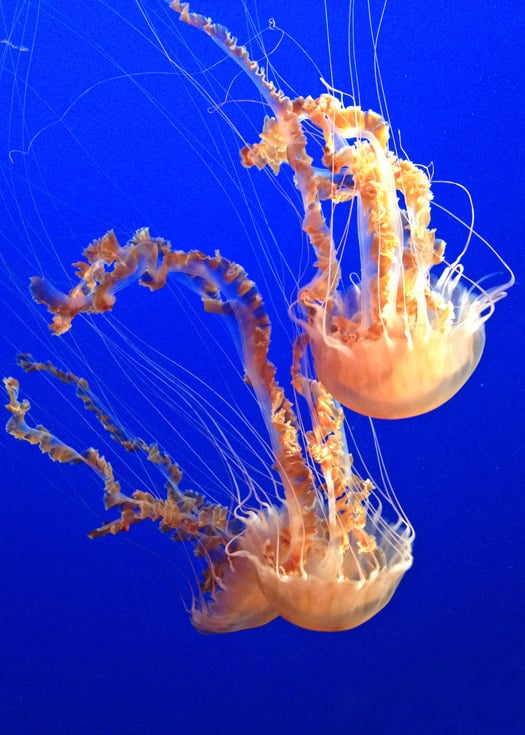 The second day of our Carmel trip I tracked down the best bakeries in town (I'm sure you're not surprised!).  I visited Pastries and Petals and Café Carmel, both walking distance from the Hofsas House Hotel.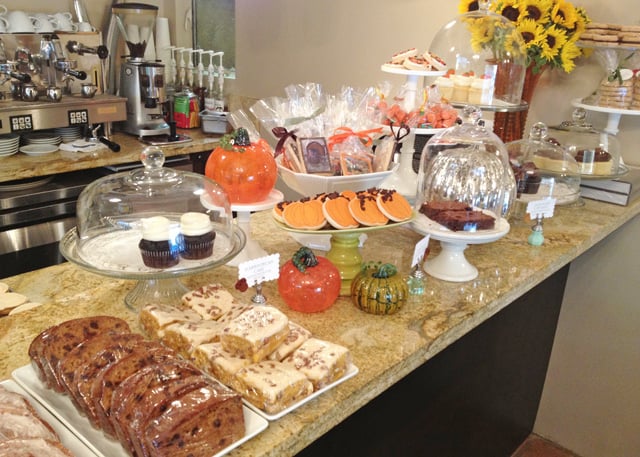 Patries and Petals (pictured above and below) is a small bakery and café a block or so off the "main drag", but is beautiful and certainly worth a stop!  In addition to the beautiful selection of treats, I was especially taken by the gorgeous collection of cake stands and glass domes used to display many of the selections.  In addition to the bakery sweets (cupcakes, cookies and bars), they also have a small but delicious looking selection of breakfast and lunch sandwiches and salads, as well as a full espresso bar.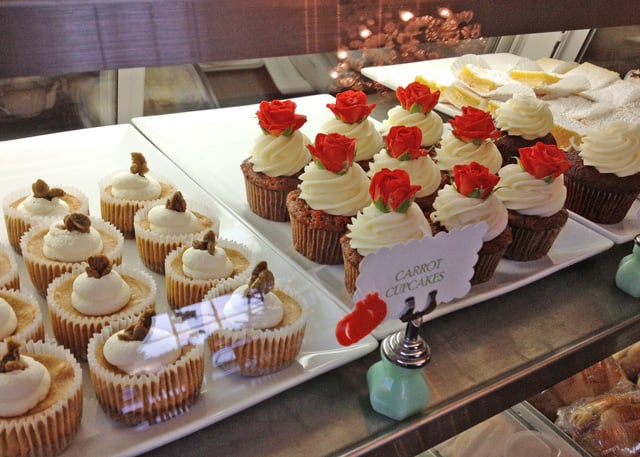 Café Carmel (below) caught my eye with one of the most beautiful bakery window displays I've ever seen!  Doesn't this look like the perfect fall dessert buffet?  Café Carmel also makes sandwiches and salads to order.  I'd suggest taking your order to go and heading down Ocean Street to spend the day on the beach!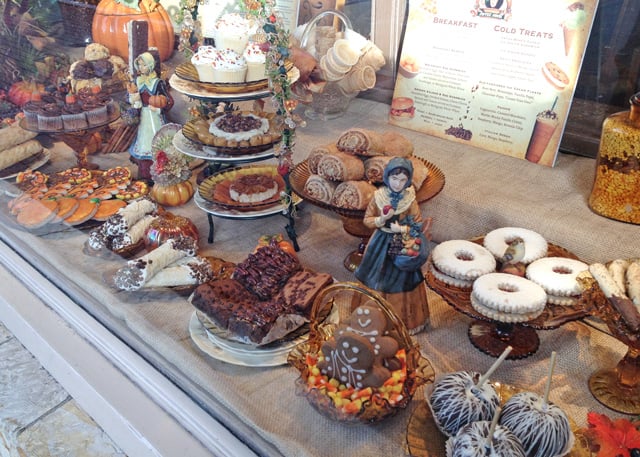 While in Carmel we enjoyed dinner at two of the local restaurants (both walking distance from the Hofsas House Hotel).
The first night we ate at Mundaka, a Spanish tapas restaurant.  Many of the menu items were new to me, and we ordered several different items to all share as a family.  Our favorites were the Mini Lamb Burgers,  Calabacin (Shredded zucchini, almonds and dry jack cheese) and the Crema Cantalana (butterscotch crème brulee).  The next night our youngest (Joy, 6) said "Can we eat dinner like we did last night?"  I asked her what meant and she said she liked sharing everything as a family and getting to try lots of things.  =)
The next night we headed to Flaherty Seafood Grill, a restaurant specializing in fresh, wild caught fish.  We were warmly greeted and enjoyed several delicious dishes until we were more than full!  I ordered an Artichoke and Salmon Pasta dish that I had to fight my girls for (we all loved it!).  Hubby tried the local specialty, Sand Dabs, as well as clam chowder (always one of his favorites!) and enjoyed them both.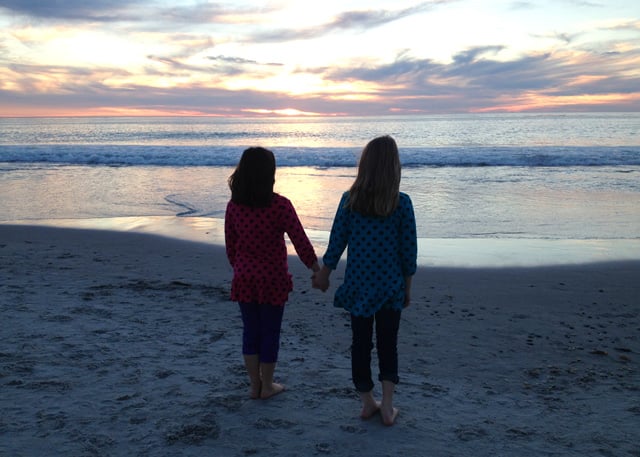 A few more notes about Carmel-by-the-Sea…
Carmel is an extra dog friendly town, and the beach is "leash free".  We saw a lot of happy dogs!
Carmel caterers to wine and art lovers, and has numerous wine tasting rooms and art galleries.
We enjoyed walking from the hotel to many of the shops and restaurants in town.  Carmel is designed to be a very "walkable" town, but may not be the best option for strollers or wheelchairs, as many of the sidewalks are quite uneven or narrow.
Carmel is a beautiful, quaint town that we found perfect for a relaxing, recharging weekend.  Simply follow Ocean Street to head to the beautiful, mile long, white sand beach.  We spent several hours just letting the girls play in the sand and water, and it was one of my favorite parts of the weekend!
Special thanks to the Hofsas House Hotel for hosting us, we can't wait to visit again!
I'd love to hear from you… where are some of your favorite vacation spots?  Is there a hidden gem in your area?  Do you seek out the ocean, or is it the mountains or city you love?