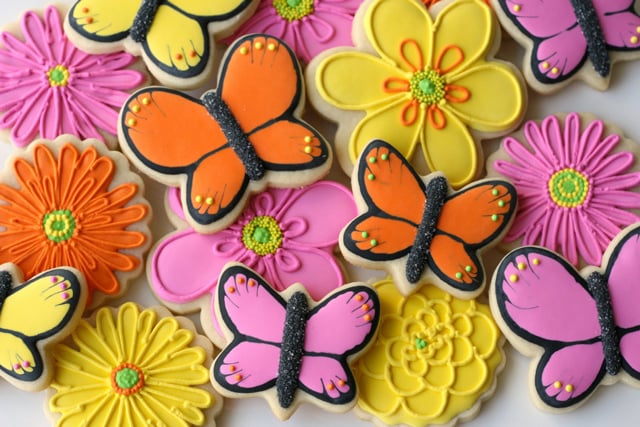 My mom is an incredible gardener. Over the years my mom has transformed several drab front yards, and rocky/hilly/untamed backyards into gardens worthy of a magazine cover.
My mom loves flowers, butterflies, and birds, and has spent thousands of hours creating gardens full of all of these.
Late last summer my mom (and dad) hosted a backyard BBQ and asked if I could bring a plate of cookies to share. I gladly agreed, and it took very little time to decide on the designs. Bright flowers and vibrant butterflies seemed the perfect fit.
I have since made these designs for a few other occasions, and they are always well received. The colorful palette is perfect for a birthday, get well and most any spring or summer party.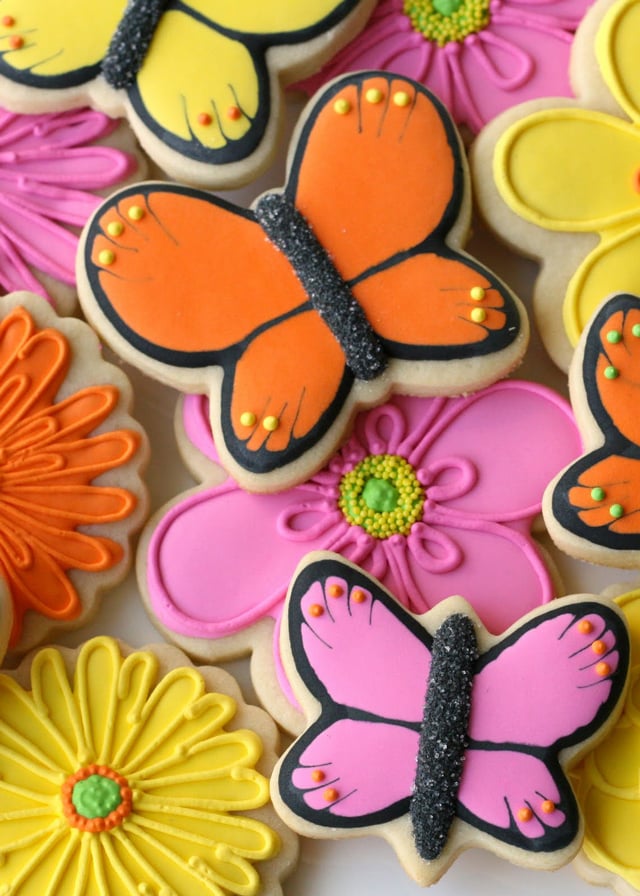 Would you like to make some pretty butterfly cookies?
Let's get started!
To make this set of cookies I mixed icing in colors of…
bright pink, yellow and orange (thinned to about the consistency of corn syrup), black (thinned the same as your main colors), and accent colors of yellow and bright green (in a stiff consistency).
Step 1. Pipe black icing around the edge of each wing.
Step 2. Fill in with the color of your choice (bright pink shown)
Step 3. While the icing is still wet, drag a toothpick from the edge of the wings, toward the center of the wings (as shown). Set cookie aside and dry fully (6-12 hours).
Step 4. When the icing on the wings is completely dry, add black icing down the center of the butterfly to create the body.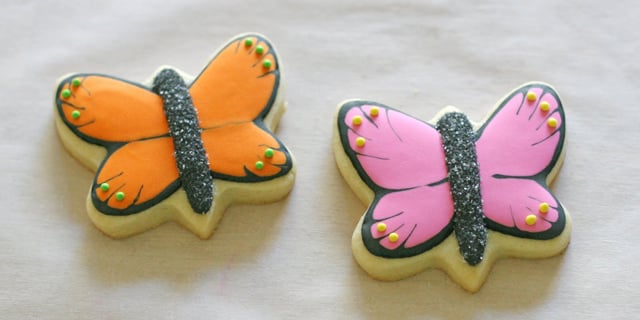 Step. 5. While the black icing (body) is still wet, cover with white sanding sugar (if desired).
Step 6. Add dots of an accent color toward the edges of the wings.
Allow to dry, then share with someone special.
Happy summer and happy cookie decorating!