Pina Colada Cupcakes Recipe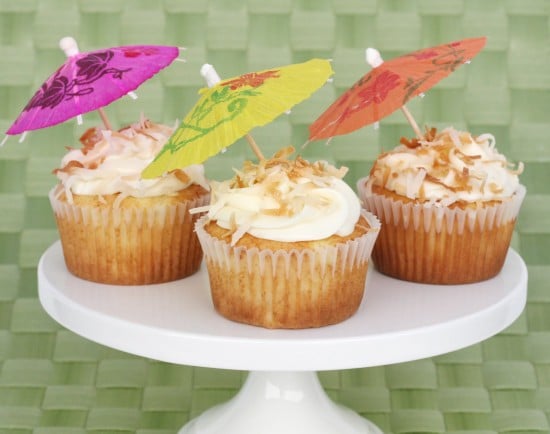 These Pina Colada Cupcakes are like a tropical vacation for your taste buds!
I've been playing with this recipe for over a year, and I'm very happy with the final results!
I'll be doing a dessert display for a big luau party this weekend and wanted to perfect this recipe before the party.
I took this batch to a church pot luck tonight and got lots of great reviews!
The Pina Colada effect comes from matching a Pineapple Cupcake with Coconut Cream Cheese Frosting.
Although if for some (crazy!) reason you don't like coconut, these cupcakes would be delicious with Vanilla Cream Cheese Frosting (and maybe a small slice of fresh pineapple).
PIN IT NOW to save for later!
Pineapple Cupcakes
(recipe by Glorious Treats)
2 1/2 cups flour
1 1/2 teaspoons baking powder
1/2 teaspoon baking soda
1/2 teaspoon salt
3 eggs
1 3/4 cups sugar
2/3 cup vegetable oil/extra light olive oil/etc
1 teaspoon vanilla extract
3/4 cup (full fat) sour cream
1 1/2 cups canned crushed pineapple (drained slightly)Directions-
1.  Mix flour, baking powder, baking soda and salt in a medium bowl and set aside.
2.  In a large bowl, using an electric mixer on medium speed, beat the eggs and sugar until slightly thickened and a light cream color (about 2 minutes).
3.  On low speed, mix in the oil and vanilla until blended.
4.  Add in the pineapple and sour cream and mix until fully incorporated.
5.  Add the flour mixture and blend until just combined and smooth.
6.  Line a cupcake pan with 12 paper liners and fill about 2/3 full.
7.  Bake cupcakes in a pre-heated 350*F oven for about 22 minutes.
8.  Remove from pan and cool on wire rack.
9.  Frost with Coconut Cream Cheese Frosting (recipe below)
Note – If using light or non-fat sour cream, increase the vegetable oil to 3/4 cup.
Recipe yields 24-28 cupcakes.
Coconut Cream Cheese Frosting
(this is just a slight variation on my Cream Cheese Frosting recipe, but I'll add it to this page as well, so it's easy to find)½ cup (1 stick/8 Tablespoons) butter (cool)
8 oz. cream cheese (directly from fridge)
1/2 teaspoon vanilla extract (always use pure vanilla extract if possible)
1 1/2 teaspoons coconut extract (you may want to start with just 1 teaspoon of coconut extract, you can always add more, but you can't take it out!)
4 cups powdered confectioners sugar
1 Tablespoon Dark Rum
-OR-
1 Tablespoon heavy cream, heavy whipping cream or milk
Directions:
*Place butter in a large mixing bowl and blend until smooth. Add cream cheese and blend until well combined, about 30 seconds.
*Add vanilla extract, coconut extract and powdered sugar (1 cup at a time) and blend on low speed until combined. Increase to medium speed and beat until it begins to get fluffy.
*Slowly add the heavy cream or rum.
*Beat until fluffy, about 1 minute.
*Use at once or keep refrigerated. (This frosting will keep well in the refrigerator for several days, but you may need to re-beat it for the best texture.)
For added flavor and texture, top frosted cupcakes with toasted coconut.
(To toast coconut- lay about 1 1/2 cups sweetened flaked coconut on a baking sheet and bake at 375*F about 4-5 minutes).
Decorate cupcakes with fresh pineapple, maraschino cherries or paper umbrellas.
PIN IT NOW to save for later!

Happy baking!