{Recipe} Perfectly Chocolate Cupcakes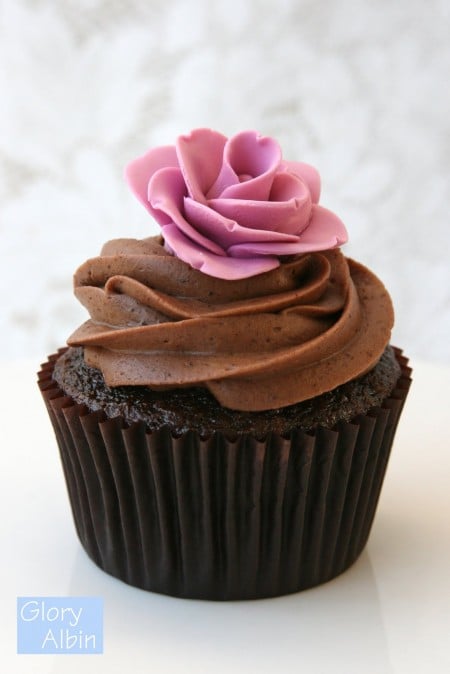 I love chocolate…
So naturally, when I started experimenting with baking cupcakes from scratch (several years ago) I began a quest for the perfect chocolate cupcakes.  I worked through several dozen recipes and of course, didn't have too much trouble finding people willing to eat my "experiments."
I finally found a recipe titled Hershey's "Perfectly Chocolate" Chocolate Cake, hmm, "…Perfectly Chocolate", sounds about right to me!  The first time I made it, I used Hershey's unsweeted cocoa (as the recipe calls for).  They turned out pretty good.  The next time I made them, I used Ghirardelli brand unsweetened cocoa, and… perfect!  The Ghirardelli brand gave a much deeper chocolate flavor.  So I'd highly recomend using either Ghirardelli brand unsweetened cocoa, or the best quality brand you can find.  You can really taste the difference.  Since discovering this recipe, I've made it dozens and dozens of times.  And every time, it's delicious!  The cake has a nice light and fluffy texture and a rich chocolate flavor.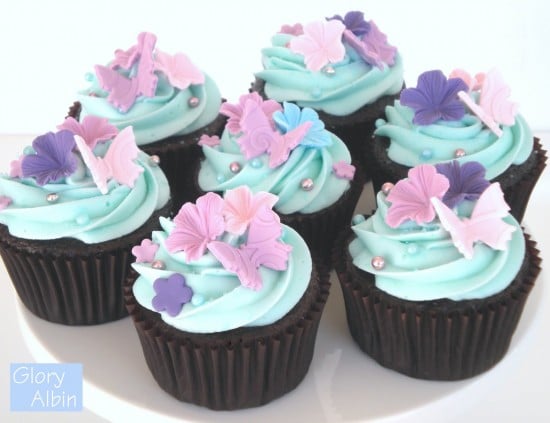 Perfectly Chocolate Cupcakes
(makes 24-27 standard sized cupcakes)
2 cups sugar
1 3/4 cups all purpose flour
3/4 cup unsweetened cocoa (best quality available)
1 1/2 teaspoons baking powder
1 1/2 teaspoons baking soda
1 teaspoon salt
2 eggs
1 cup whole milk
1/2 cup vegetable oil
2 teaspoons vanilla extract (best quality available)
1 cup boiling water
Directions-
Line muffin tin with paper liners.  Heat oven to 350*F.
In a large mixing bowl, stir together sugar, flour, cocoa, baking powder, baking soda and salt.
Add eggs, milk, oil and vanilla.  Beat on medium speed for one minute.
Stir in boiling water (the batter will be thin, don't worry, this is right).
Fill liners 2/3 full with batter.  (I usually put the batter into a large measuring cup with a pour spout, and then pour the batter into the liners.)
Bake cupcakes for aproximately 18-22 minutes.
Cool completely on wire rack before frosting.
Recipe source- Hershey's
Try the recipe HERE for either vanilla or chocolate (my favorite!) cream cheese frosting.