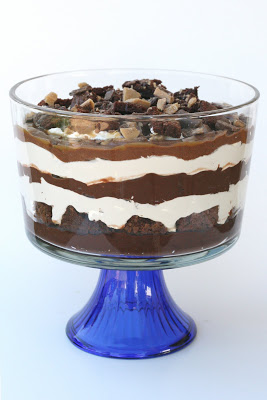 See this pretty thing… it's really as delicious as it looks!  And the best part?  It's super easy!
All you need is five ingredients.  Here they are…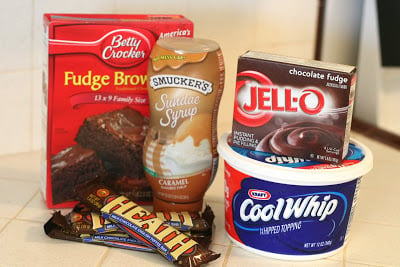 Brownies
Chocolate Pudding (2 large boxes)
Cool Whip (large container)
Caramel Sauce
Heath Candy Bars (4 regular sized bars)
Directions-
1.  Prepare brownies according to directions on box.  Any box or recipe will work, I usually bake mine in a 11″x 17″ jelly roll pan so that they bake nice and thin and get even a little crispy. For this recipe you want them fully cooked, or even slightly over-baked. Once you layer all the other ingredients it will get mushy fast if your brownies are already soft and gooey.
2.  Once the brownies are baked and cooled, cut up into small, bite-sized pieces.
3.  Prepare (instant) chocolate pudding according to directions. There should be two (large) boxes of pudding in the photo. If you want to fill a trifle dish you'll need two (large) boxes.
4.  Crush the Heath candy bars into small, bite-sized pieces.
5.  Now you're ready to layer…
Spoon about a third of your pudding into a trifle dish.
Add a layer of brownie pieces.
Sprinkle around some of the crushed Heath.
Drizzle on some caramel sauce.
Top with about half of the cool whip.
Repeat.
For the top layer, I usually put the pudding, a small layer of cool whip and then add a few brownies, Heath pieces and caramel sauce to decorate the top nicely.
I don't think there is really any wrong way to layer the ingredients.  It's just one layer of delicious on top of another.
Keep in the refrigerator until just ready to serve.  This should not be assembled more than about an hour or two before it will be served, or the brownies and candy will get too soft, and it will just be one big bowl of mush (still yummy, but not quite as nice to eat).  I often bake and cut up the brownies and prepare the pudding the night before I'm going to assemble the triffle.  Then the day I'll be serving, it only takes a short amount to time to assemble.  This is perfect for pot-lucks and BBQ's.  I always get rave reviews!
I mean, how could you not love this…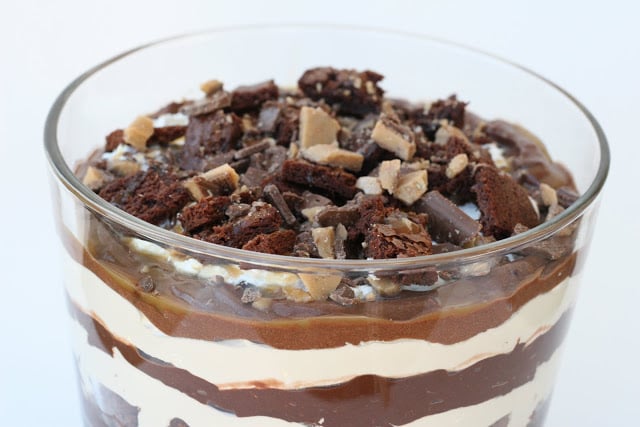 If you'd like to dress it up a bit for a dinner party, simply layer the ingredients in individual dishes.  It looks fancy and no one has to know how easy it really is!
Shopping notes-  The trffle dish is from Wal-Mart (I got this one with a blue stem several years ago, but I know they still sell the same style, but all clear)
The individual dessert dish is from Crate and Barrel ($2.50 each)
Additional notes-  I didn't create this recipe, but I've been making it for several years and I don't remember where I first saw it.  There are lots of similar recipes available in books and on the web.
Enjoy!