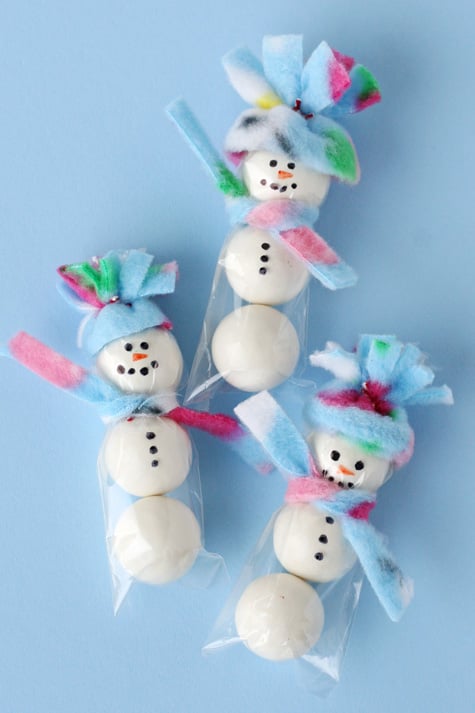 I've been a busy little bee this week working on lots of fun Christmas treats!  I'm looking forward to sharing lots of cute and delicious things with you over the next few weeks.
Last year, I stumbled upon this adorable Gumball Snowmen Craft from Nothing But Country.  I added it to my Christmas Pinterest Board, and have been waiting to give it a try!  I love the way they turned out…they are just so cute!
These sweet little guys would make adorable little favors, or treats to share with school friends.
As you can guess (from the title), the little bodies are made from white gumballs.  The hats and scarfs are made from scraps of fleece, and the face and buttons are added (on the outside of the baggies) with a permanent marker.
There is a great step by step tutorial on the original source site, Nothing But Country.
I will add that these are a little tedious to make… so if you want to make 50 for all your kids class mates, you may want to start more than the night before!
Want to see even more snowman cuteness?  Here are a few more sweet snowmen projects..
Cute Snowman (and gingerbread) Face Cookies, by Bakerella.
Doughnut Snowmen, by A Little Tipsy.
Melting Snowmen Cookies, by The Decorated Cookie.
Happy crafting!