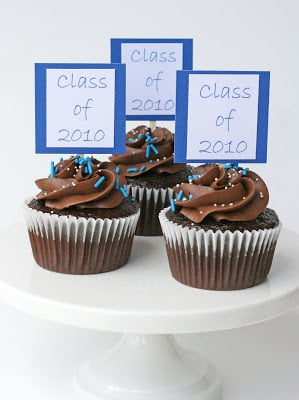 Today I made some graduation cupcakes for a friend's son.  Sorry if this post is a bit too late for many of you with graduates in the house.  I know some of the graduations in our area are today, and some are over the next two weeks.
I made my favorite chocolate cupcakes (recipe HERE), with delicious chocolate cream cheese frosting (recipe HERE).  I made some cupcake toppers in the school colors.  I simply printed out the message "Class of 2010" onto white card stock, then backed them with a square of scrapbooking paper and glued them to a bamboo pick (you can also use wooden coffee stir sticks, or lollipop sticks).
I also made some little diplomas by rolling a piece of parchment paper and tying with a small ribbon (wired ribbon works best to keep the paper from unrolling).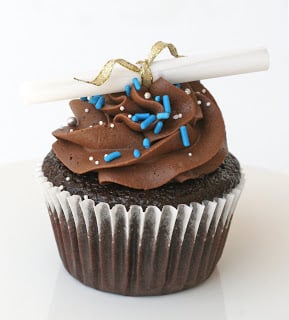 A third style topper I made was a graduation hat (using my Cricut paper cutting machine).  For those of you with a Cricut, I used the Locker Talk cartridge.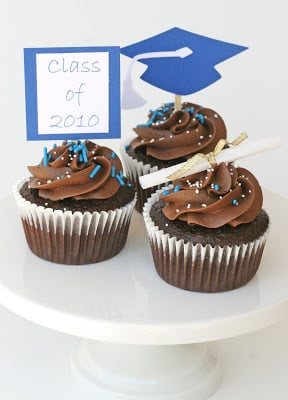 Below are a couple more versions of DIY (do-it-yourself) toppers I made for family and friends last year.  For the yellow set with flowers (below) I downloaded the image of the school mascott and printed it out on white cardstock.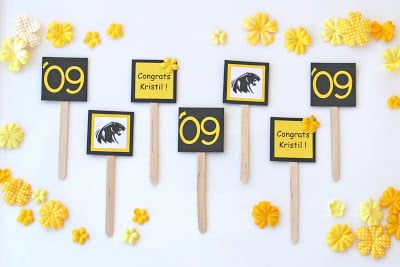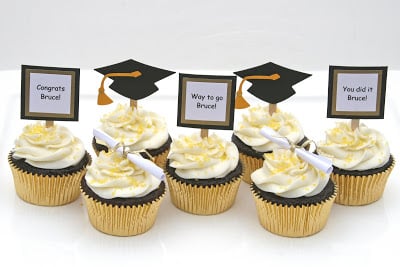 Congratulations 2010 graduates!