A few nights ago as I was drifting off to sleep… dreaming of future blog posts.. an idea hit me!  Everyone once in a while I impress myself  =)  I thought of a cute, creepy and funny kids snack perfect for Halloween treat bags.  And here it is….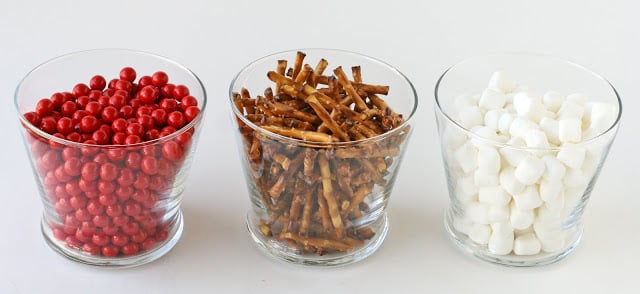 Wait… you don't think red candies, pretzels and marshmallows are fun and creepy?
How about now….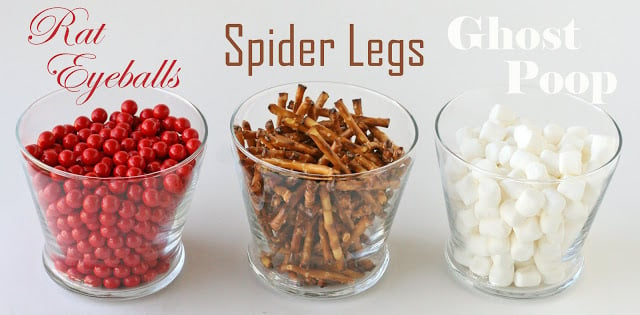 Cute right??  Now I should apologize a bit here… I know you're used to me posting pretty, elegant, lady-like treats, but I've got to let my hair down every now and then! =)  And I can pretty much guarantee that you will never again see the word "poop" in any of my blog posts!
But I'll have to tell you, as I was making us these little treat bags, my 7 and 4 year old sweet little girls were cracking up, asking for "more spider legs please.." and "can I have 3 more rat eyes".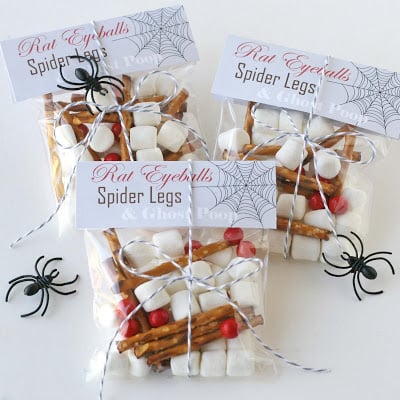 I created a special (free!) printable bag topper just for these cute and creepy treats.
Simply follow the link below to get your…
Printable Creepy Halloween Treat Bag Topper
I would recommend printing them onto white cardstock, then use a paper trimmer to cut them.  The finished size of each topper will be 4″ wide and 3″ tall.  Fold them in half (lenghtwise), then use double sided tape to attach them to the bags.  Before I added the tags I folded the bag over a couple times and stapled it closed.
To make these Halloween treat bags you'll need…
Red candies (I used sixlets)
Pretzel Sticks
Mini Marshmallows
Small clear treat bags
Printable topper (link above)
Gray twine (optional)  I used twine from The Twinery, in stone.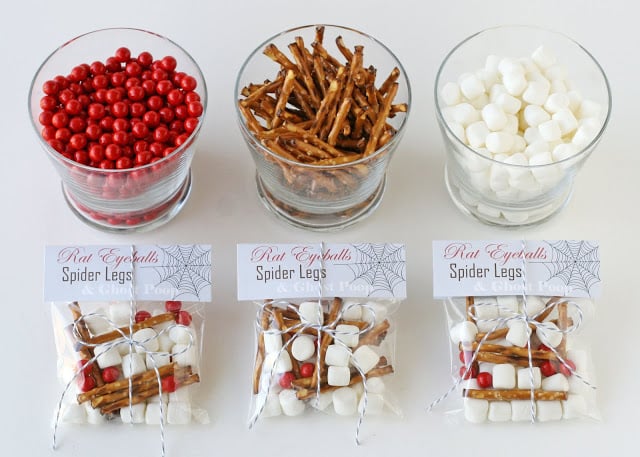 I've posted a cute Halloween packaging idea in the the past, if you're looking for something a little less gross.
Happy Snacking!
I'm linking this post to Tidy Mom's- I'm Lovin It post.