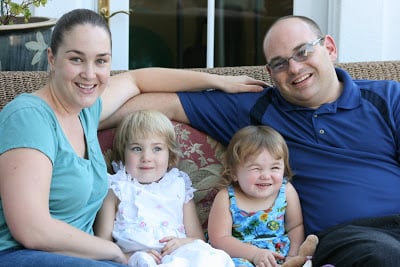 Hi! I'm
Glory
, the creator of Glorious Treats. I'm so glad you're here! I am a 33 year old mother of two sweet girls, and wife to my high school sweetheart. We live in beautiful Northern California.
If you're new to Glorious Treats, let me give you a little tour…
You'll get to see a photo of my
super fancy
kitchen in one of my favorite posts,
The Glorious Truth
.
A little more about me…
I have always love art, color and design and growing up wanted to be an Architect, interior designer or fashion designer. I ended up as a florist =) I spent about 8 years as a floral designer, and will always hold a deep love in my heart for flowers. After quiting my job as a florist to stay at home full time with my two girls, I felt an almost instant need to find another creative outlet. Baking soon filled that need. I have always loved making pretty food, and knew most of the baking basics (thanks to my mom), but I was now filled with a new passion for decorative baking. I took a few classes through my local parks and recreation department, and then began scouring books and the internet for recipes and ideas. Soon, family and friends began lining up to sample my "experiments". This passion for baking that began about 4 years ago continues to burn strong, and I am so happy to be able to share my passion with you here, on Glorious Treats.
In addition to baking, I love party planning, photography, gardening, scrapbooking and most anything "crafty" =)
If you have something nice to say, or just want to say "hi", feel free to contact me at glorioustreats@gmail.com
I assure you, I do read each and every e-mail I receive, but I may not have the time to respond to each one. If you e-mail me and I don't reply, please understand that all this baking means I have lots of dishes to do too… in other words, I have demands on my time outside of this blog. I do my best to balance my time well, but sometimes I fail! If you feel strongly that I should reply to your e-mail, feel free to e-mail me a second time.