Hot Spinach Dip
Warm, cheesy and delicious… this Hot Spinach Dip recipe is the perfect appetizer or snack!
This dip is a favorite in our house!  We've enjoyed it while camping, entertaining at home or just as part of dinner.
This recipe can be mixed up ahead of time, and then heated up whenever you're ready to enjoy it.
It's mild enough for kids to enjoy, but wonderfully flavorful and creamy… perfect for all ages!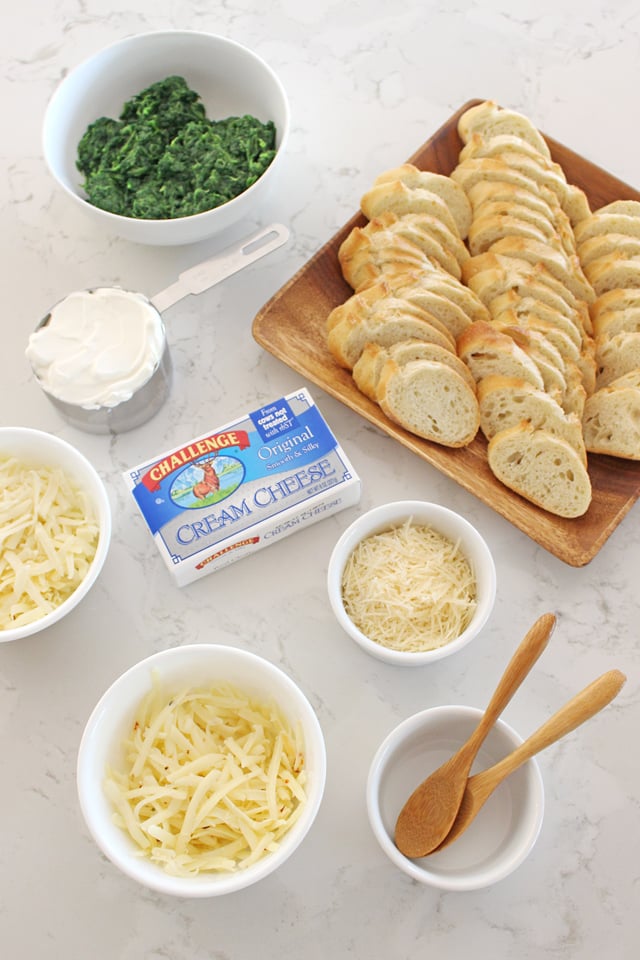 I'm excited to be partnering with Challenge Dairy to bring you this delicious recipe!
Challenge butter and cream cheese are my go-to ingredients for so many of my favorite recipes!
I love knowing that Challenge dairy products are made using fresh, local milk and cream with no hormones, additives or fillers!  Just fresh, pure ingredients!
This fall, as you're planning tailgating parties, holiday menus and more, reach for Challenge products to create delicious recipes you'll be proud to share with family and friends!
If you plan to bring this Hot Spinach Dip along for outdoor meals, including camping and tailgating, simply mix up the ingredient at home and bring to your event in a cooler.  When you're ready to heat it, simply add the dip mixture to a small pan (and cover with a lid or foil) and it can be heated on a BBQ or on a grate over a fire (stir often so it doesn't burn on the bottom).  I like to line the pan with foil for easy clean up!
PIN IT NOW to save for later!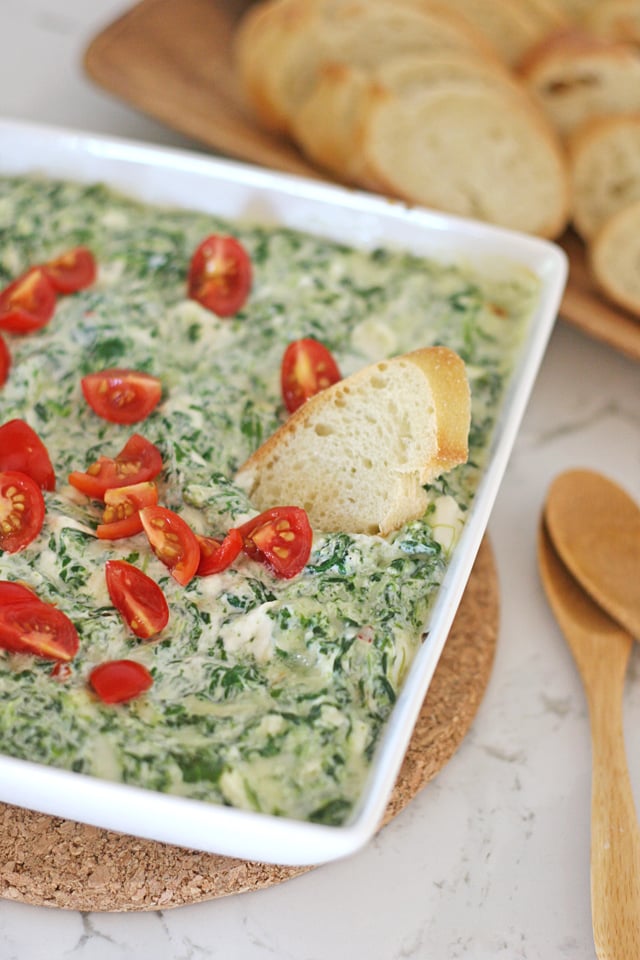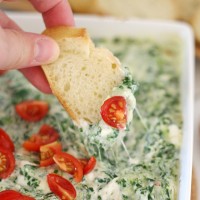 Hot Spinach Dip
Warm, cheesy and delicious!
Ingredients:
1 pkg. (8oz.) Challenge cream cheese, room temperature
1 cup sour cream
1 (10 oz.) package frozen chopped spinach, thawed & drained of excess water
3/4 cup freshly grated Parmesan cheese
1 cup grated pepper jack cheese
1 cup grated mozzarella cheese
1 1/2 teaspoons garlic powder
1/2 teaspoon salt
1/4 teaspoon pepper
1/4 cup freshly diced tomato (optional)
Fresh bread, chips, crackers or raw veggies (for dipping)
Directions:
Preheat oven to 350°F.
In a large bowl, add all ingredients except tomatoes and stir well to combine.  The cream cheese needs to be room temperature if you are stirring the ingredients by hand.
Spread dip into an oven safe dish, cover with foil (or lid) and bake at 350°F for 15-20 minutes, or until melted and warm throughout.
Top with diced tomatoes (if desired).  I like to add the tomatoes after the dip is baked, but you are welcome to add them before if you like.
Enjoy dip with fresh bread, chips, crackers or raw veggies.
All of the ingredients for this dip can be mixed up in advance (and kept in the fridge up to two days) and then warmed up when you're ready to enjoy it! If adding tomatoes, do not add until the day of serving.
I like to serve this dip with warm bread. If desired, slice a baguette, then wrap in foil and heat in the oven along side the dip.
The pepper jack cheese adds the perfect amount of flavor and spice to this recipe, if using plain jack instead, I might suggest adding a bit of red pepper flakes.
I used Challenge brand cream cheese, but feel free to use any high quality brand of your choice.
Recipe Source - Glorious Treats
PIN IT NOW to save for later!
Happy dipping!
Disclosure – I created this recipe in partnership with Challenge Dairy.  Partnering with brands I love allows me to provide you with high quality content at no cost to you.  I only work with brands I use and love.  All images, text and opinions are my own.