Chewy Ginger Molasses Cookies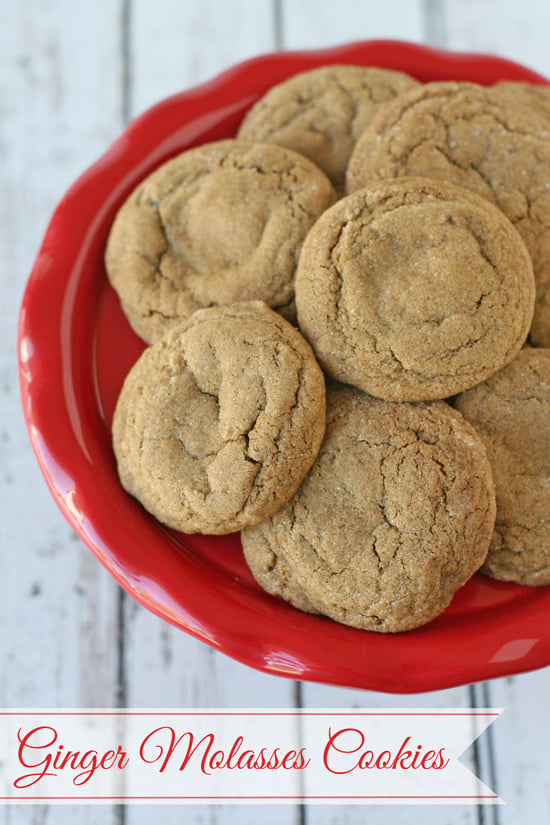 These soft and chewy Ginger Molasses Cookies are a perfect holiday treat, and they're so delicious you'll want to make them all year round!
These yummy cookies have all of the ingredients for a perfect holiday cookie… ginger, cinnamon, sugar and of course butter!  =)
For these cookies I used Challenge Unsalted Butter, as I do in most all of my baking.  Using good quality butter in your baking really makes a difference.  Challenge Butter uses Real California Milk and it's no wonder they know how to make delicious butter… they've been making it for over 100 years!
Ready to make some cookies?  Let's get started…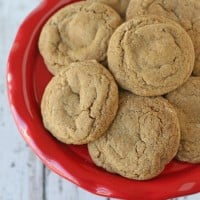 Chewy Ginger Molasses Cookies
Yield: Makes apx. 24 cookies
These soft and chewy cookies have a delicious balance of spices.
Ingredients:
2 1/4 cups all purpose flour
1 teaspoons ground ginger
1 teaspoon ground cinnamon
1/2 teaspoon ground cloves
2 teaspoon baking soda
1/4 teaspoon salt
3/4 cup Challenge unsalted butter, softened
1/2 cup sugar
1/2 cup (packed) brown sugar
1 egg
1 teaspoon vanilla
1/4 cup molasses
2-3 tablespoons sugar (for rolling cookies in)
Directions:
In a large bowl combine the flour, spices, baking soda and salt. Whisk together.
In the bowl of an electric mixer, blend the butter until smooth, then add both sugars and beat until well combined.
Add the egg and vanilla and continue to blend.
Add molasses and blend until combined.
Slowly add flour mixer, while mixing on low. Blend until just combined.
Scoop batter using a 2 tablespoon sized cookie scoop, and roll into balls in your hands. Roll balls of dough into a small bowl of sugar, then place 2 inches apart on a parchment paper lined baking sheet. Flatten cookie balls slightly.
Bake cookies in a pre-heated 350*F oven for 8-10 minutes. Cookies are done when they are slightly puffy and cracked. They will deflate a bit as they cool. Cool cookies on the baking sheet for a minute or so, then move to a cooling rack.
Note – Recipe updated Dec. 2017 with two minor changes. I increased the baking soda to 2 teaspoons (from 1 teaspoon) in an effort to make sure to get those nice cracked tops that are characteristic of molasses cookies. Also, I reduced the ginger from 2 teaspoons to 1 teaspoon to make sure it doesn't over power the other delicious flavors.
Feel free to dress up these delicious cookies by dipping half of the cookie in white chocolate, or adding some white chocolate chips.
These chewy ginger molasses cookies stay soft and fresh for several days, but they never last too long in our house!
Disclosure – I created this recipe as part of an ongoing partnership with Challenge Dairy.  Partnering with brands I love allows me to provide you high quality content at no cost to you.  I only work with brands I use and love.  All images, text and opinions are my own.