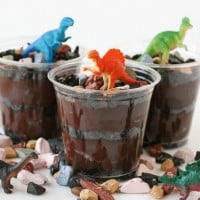 Dirt, Worms, and Dinosaurs
Print Recipe
Chocolate pudding

Oreo cookies

crushed (put Oreos in a large plastic bag, and whack them with a rolling pin)

Gummy worms

if desired

Chocolate rocks

I bought these at my local grocery store

Toy dinosaurs
Prepare the chocolate pudding (as directed by the package).

Put a layer of crushed oreos in the bottom of your serving dishes. Add a layer of pudding.

Add another layer of crushed oreos, lay a gummy worm in the "dirt" if desired. Add more pudding. Top with crushed oreos.

Add a few chocolate rocks, and a dinosaur toy.