Tea parties are one of my favorite kinds of parties to plan. I have two girlfriends that I have known for many years, and we always make a point to visit tea houses wherever we go. In addition to enjoying tea (and lunch) at tea houses, we each enjoy hosting tea parties at home. There is just something so special about a party where everything is dainty and pretty and well thought out.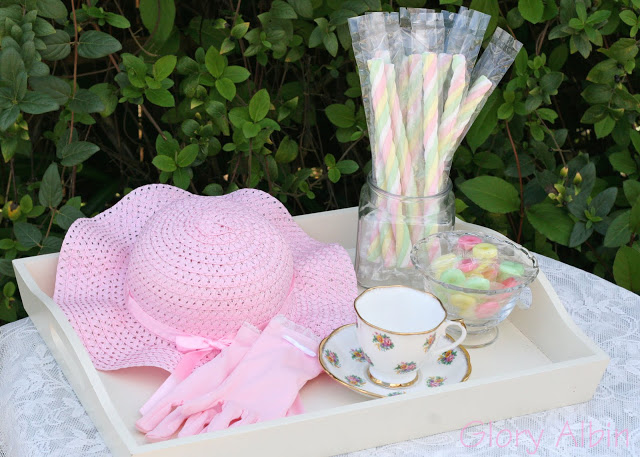 I've been gathering ideas for a tea party I'm going to help a friend host for her 4 year old daughter's birthday in Septemeber. A pastel color scheme always seems to be a natural choice for tea parties for either little girls or adults. This brings me to the reason I'm writing today… Easter is the perfect time of year to gather some supplies for a tea party you may be hosting later in the year. From candy, to dishes to table linens, this is the best time of year to find things in beautiful pastel colors.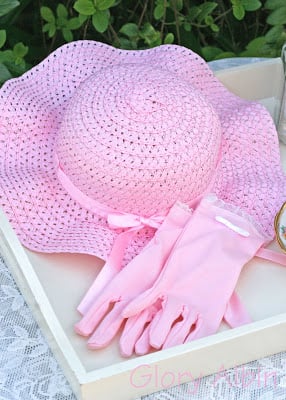 Last year I saw some perfect little girl hats and gloves in the dollar section of Target, and I've been waiting for them to come back. This week I saw them in stock again, and made sure my friend picked some up for her daughter's party. At $1.00 each, they are worth stocking up now and hanging on to. If we were to wait until fall to start looking for some pretty hats, we'd have to pay at least 4 times the cost of these. The hats and gloves are cute as it, but we are going to use the hats as not just a favor, but also an activity. We'll have each little girl chose a hat, and then decorate them with pretty ribbons and artificial flowers.
For any party, planning ahead and finding items that can be used in multiple ways, are great ways to save money and avoid last minute stress.
Photo details- Top photo- pink hat and gloves (Target), pastel candies (Dollar Tree)