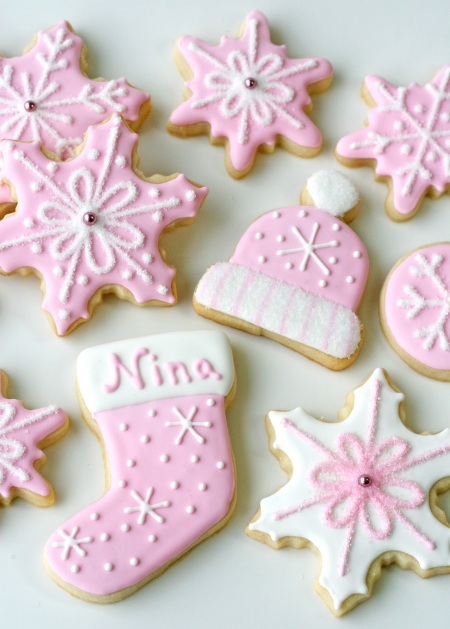 Last month a good friend of mine had her first baby.  A sweet little girl named Nina.  Nina's mommy and I have been friend since becoming pen-pals at age 11.  I live on the west coast, and she lives on the east coast, but we have met in person several times, attended each other's weddings and continue to keep in touch through letters (hand written and e-mailed).  I wanted to send something special as a baby gift, so I made a little blanket, and some cookies to match.  The blanket is made of the softest possible material (my two girls kept trying to steal it from me!), and is made into just a tiny little blanket (18″ square) with lots of pretty ribbons around the edges.  I hope it will be a special blanket little Nina likes to carry around or snuggle with.  The cookies included a sweet little personalized Christmas stocking, a hat and lots of pink snowflakes.
My sugar cookie recipe is HERE.
And lots of tips for decorating cookies with royal icing is HERE.