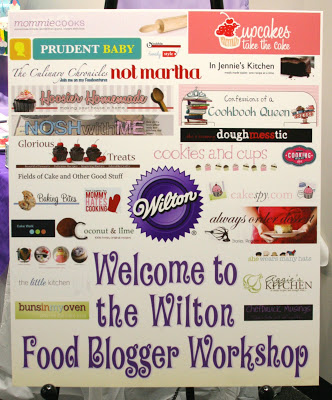 The words "Business trip" and "Cake" rarely go together, but when you're a food blogger, fun things like that can happen!  I was recently invited by the Wilton company to attend the Wilton Blogger's Workshop, held outside Chicago, Illinois.  I gladly took the opportunity to meet up with many talented bloggers, and learn more about the Wilton company.  Since I frequently visit the cake decorating section of my local craft stores, I'm quite familiar with many of Wilton's great products.  Their huge selection of products can be purchased everywhere from Wal-mart to Michael's, and the full line of products is available on their site, Wilton.com.
The day of the workshop, our group of 25 bloggers traveled (from our hotel) to the Wilton Headquarters (Woodridge, Illinois).  We started the day with a decorating workshop, where we brushed up on decorating basics and piping skills, and enjoyed demos of some of Wilton's newest products.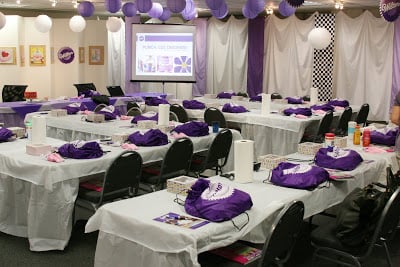 We were greeted with a goodie bag full of all the decorating supplies we'd need for the day.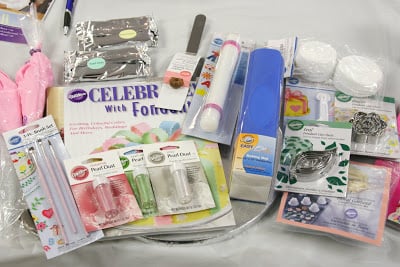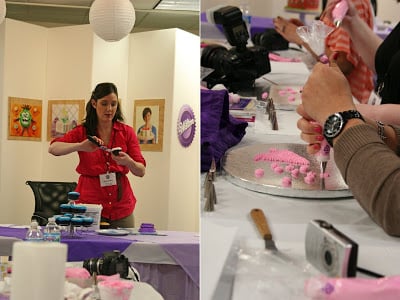 Later in the day we were split into groups (of three) and participated in a good natured cake decorating contest.  We were given a cake (a fake cake) already iced, and had one hour to decorate it as desired (using a variety of Wilton supplies provided).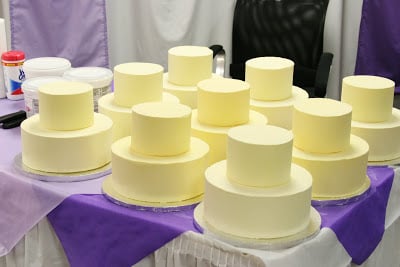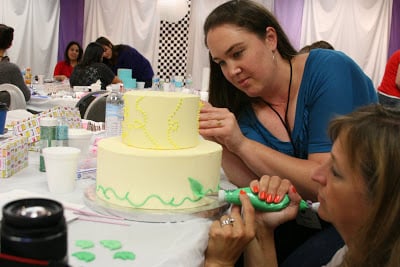 (Above) Here I am (in blue) working hard with Liz of Hoosier Homemade.
(Below)  Rachel, of Cooking with my Kid (on left), and Shelly of Cookies and Cups (right) working on their cake, which later won the title "Most Creative"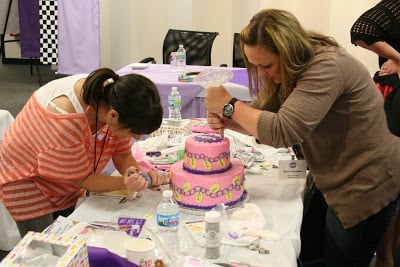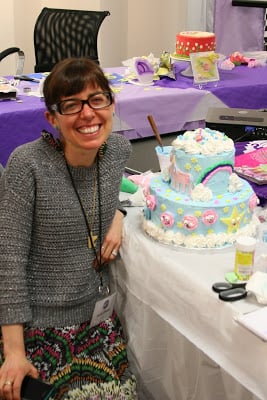 (Above) Jessie of Cake Spy with her group's cake.
(Below)  My group's finished cake (decorated by Liz of Hoosier Homemade, Carrie of Fields of Cake, and myself).  Our cake won the title "Best Overall Technique".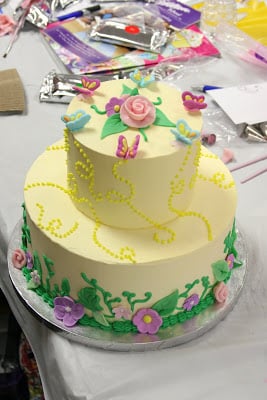 Part of our day included a great peek behind the scenes at Wilton, including tours of the test kitchen, the decorating room, photo studio, prop room and decorating school.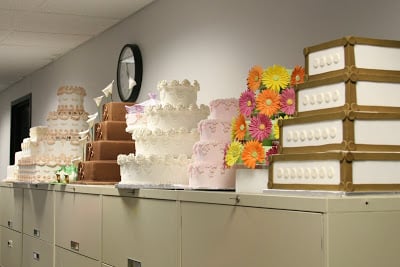 Have you ever seen an office lined with cakes on every surface?  =)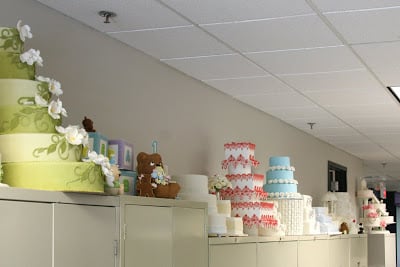 A peek inside the photo prop room… It's scary to realize I almost have as many cake stands as they do!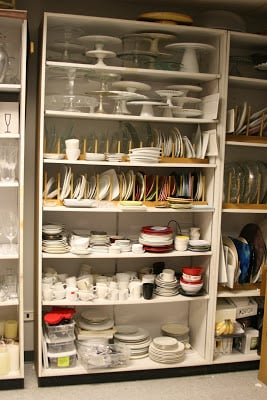 We rounded out the day with a trip to Wilton's annual tent sale.  The tent sale is open to the public, and if you love cake or cookie decorating and live within a few hours of Woodridge, Illinois I would highly recommend finding your way to the tent sale, which is held every June.
Need a cake pan… or 10?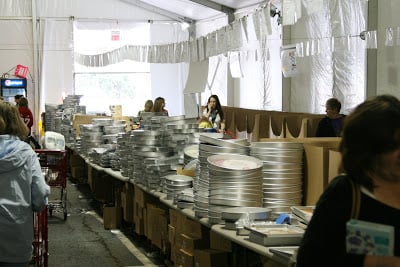 How about a cookie cutter… or 20?
I may have found a few things at the sale to stuff in my suitcase…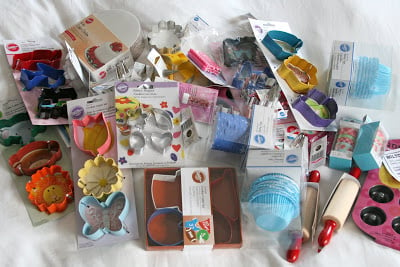 The day ended with a delicious dinner at Gordan Biersch, where I enjoyed a bit more time with some of the lovely ladies in attendance.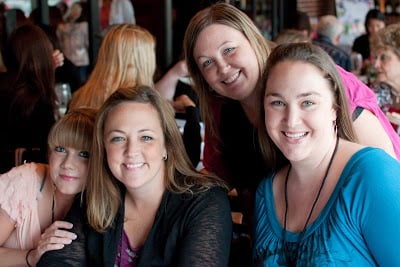 (Left to Right) Kristan of Confessions of a Cookbook Queen, Shelly of Cookies and Cups, Karly of Buns in my Oven, and me (Glory- Glorious Treats).
(photo thanks to Karly)
And a little shoutout to a couple lovely ladies I enjoyed visiting with, but didn't get a photo of…
Amy of She Wears Many Hats and Stacie of Cupcakes Take the Cake.
And thank you to Wilton for including me in this fun and enriching trip!