A couple months ago when I made some fun ribbon cupcake toppers (seen HERE and HERE), my brain started spinning with all the pretty ribbon toppers I could make for most any occasion.  I looked through my ribbon collection and found a pretty pink ribbon with the word "princess" on it.  The word was the perfect length to make a ribbon topper.  Don't you just love when things work out?  I thought if I was going to make princess cupcakes, it would be the perfect opportunity to try out a new frosting technique.
I have a couple of gorgeous friends in Australia who co-own a custom dessert business, The Cupcake Company.  These lovely friends,  Sharnel (who many of you know from My life- My loves) and Keren, have perfected a beautiful ruffle technique for frosting cupcakes.  I've marveled at the beautiful shape for some time, and after some tips from Sharnel, I gave it a try.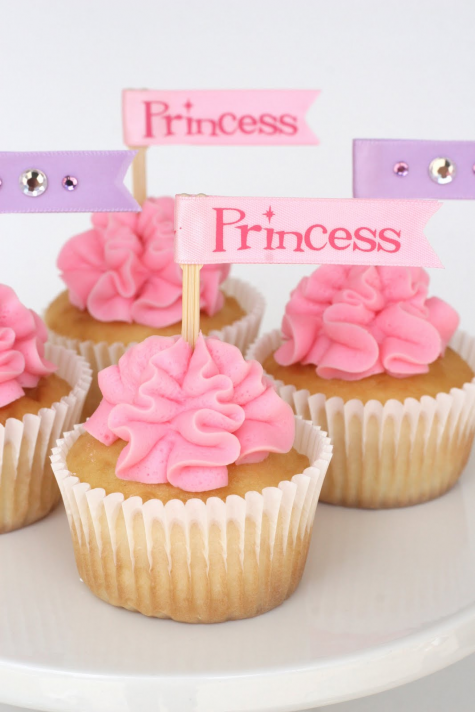 I was quite happy with the results, and I'm sure I'll be using this style again.
If you'd like to give it a try, you need a Wilton 2D tip (a large, closed star tip), a piping bag, and some yummy frosting (HERE is one of my favorites).
Simply hold the frosting bag straight above the cupcake, and give a good squeeze.  You can practice onto a plate and then just put the frosting back into the piping bag when you're ready to it try on your cupcakes.  You can also experiment with a tiny bit of side to side (horizontal) movement of the tip, to get a nice even "S" shape up the sides of the pile of frosting.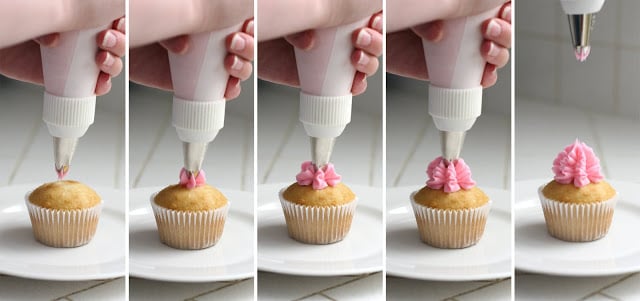 I added the princess ribbon toppers along with some lavender ribbon toppers.  I made the lavender ribbon toppers with a plain lavender ribbon, and then added a few self-stick scrapbooking jewels.
A bit more instruction on the ribbon cupcake toppers is  HERE, although they're pretty self explanatory… cut some ribbon and glue it to a stick  =)
Pink ruffled frosting with pink and lavender ribbon flags… a combination fit for any princess.