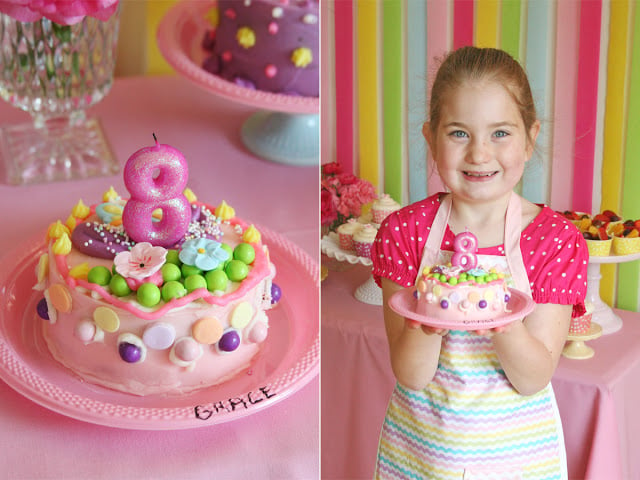 I have an extra fun post to share today, my daughter Grace's 8th birthday party!  Two years ago, I put together a fun Candy Birthday Party for her… it was one of my first blog posts, and will always be a special party to me.  We do "big" parties for our girls every other year (celebrating the "off" year with just one or two friends).  Grace is a girl after my own heart, and chose a "Cake Decorating Party" as this year's theme.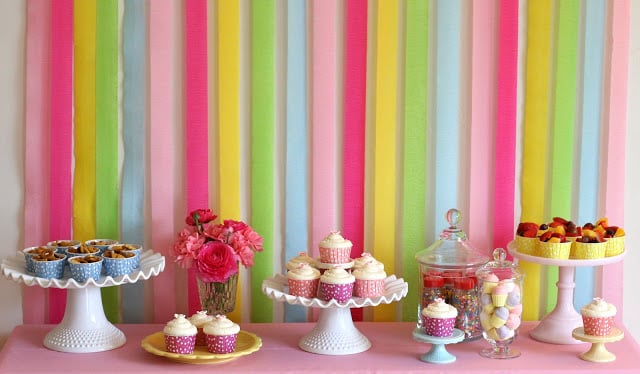 I prepared a small dessert and snack table for the girls to enjoy.  Chocolate cupcakes in cute polka-dot treat cups (from Shop Sweet Lulu) were frosted with vanilla cream cheese frosting (using a large round tip) and dressed with simple sugarpaste flowers.
I also filled yellow treat cups with fresh fruit, and blue treat cups (both from Shop Sweet Lulu) with chex mix.  A pretty little jar was filled with cute cupcake shaped marshmallows I found at Wal-Mart in the Easter candy section. A large jar was filled with containers of rainbow heart sprinkles which each guest took home as a favor.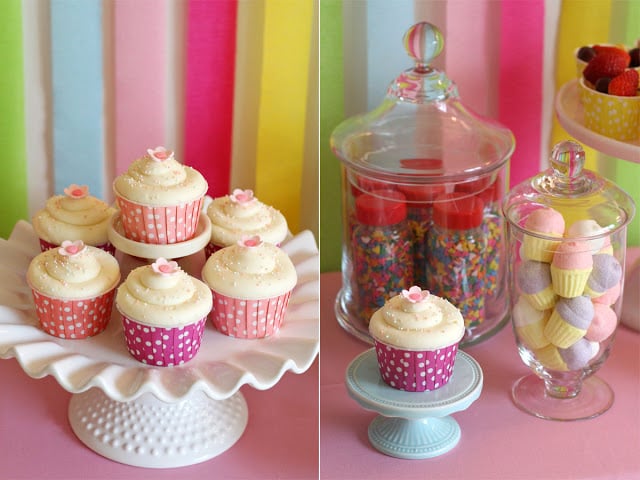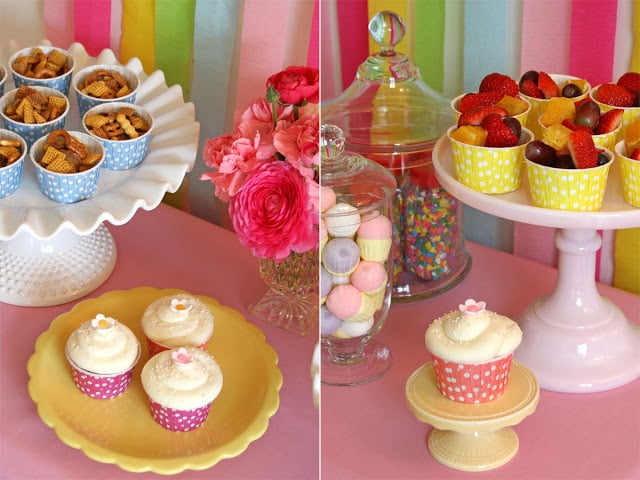 I baked and (plainly) frosted mini cakes for each guest to decorate as they please.  I baked the cakes in small (4″) pans and frosted them in either pink or purple vanilla buttercream.  I prepared several piping bags of icing, with assorted tips, for the girls to use to decorate their cakes.  I also supplied them with an assortment of candies, sprinkles and decorations to add to their masterpieces.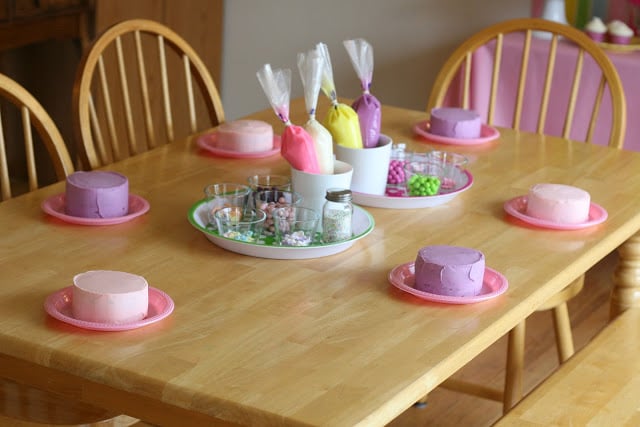 The girls decorated their cakes in shifts… while some were decorating cakes, the other girls were in the kitchen making mini pizzas with my husband. The pizza's, along with the fresh fruit cups, chex mix and juice completed the simple, yet well received menu.
It was so fun to watch the girls work on their cakes…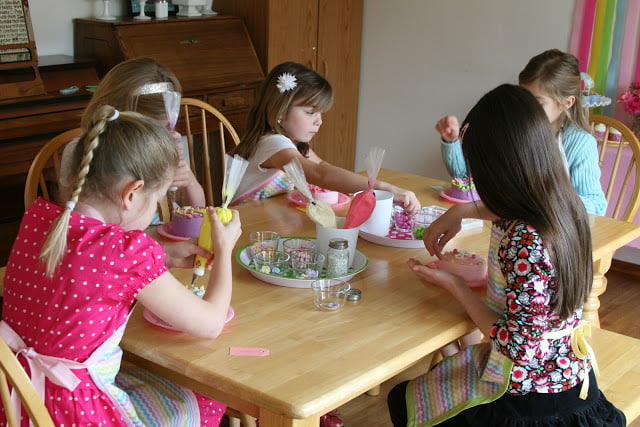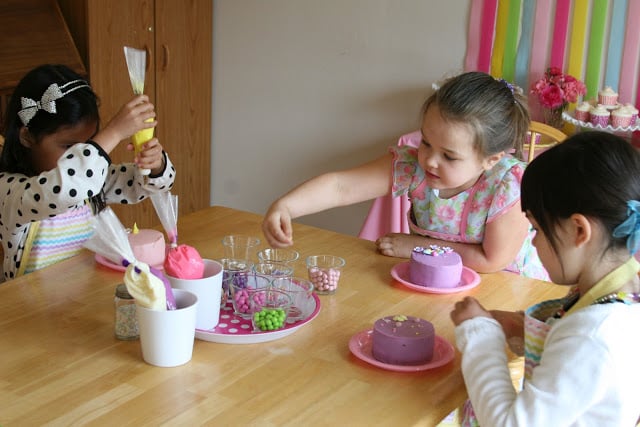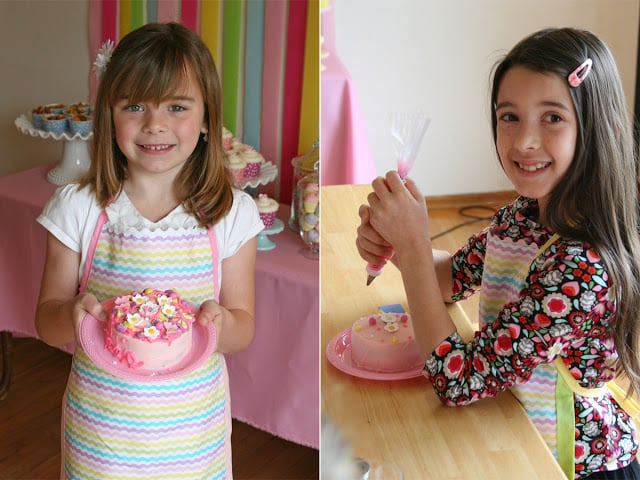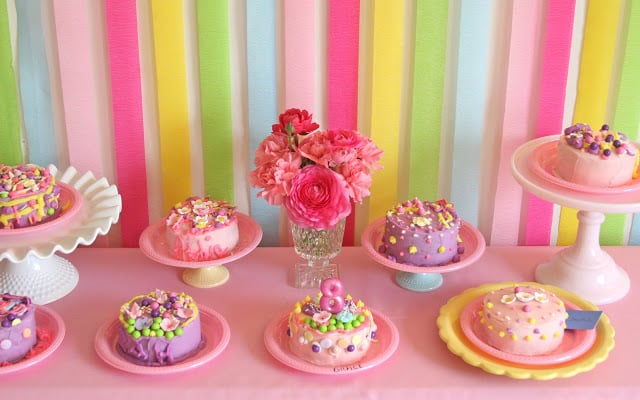 I loved seeing all the finished cakes!  Each one was so different, and showed a peek of their personalities as well  =)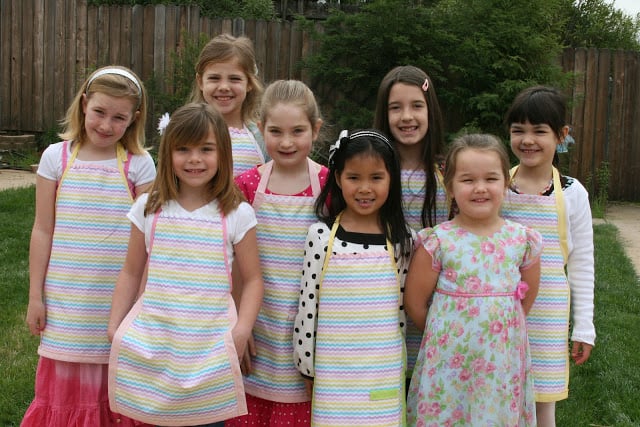 Along with a bottle of sprinkles (shown on the dessert/snack table), and the mini cakes themselves, each girl took home an apron that I made as a special favor.  I made each one a bit different, using different color trimmings.  I've posted the full tutorial for these Easy Sew Kid Aprons (here).
All set-up, styling and photos by (me) Glory Albin (Glorious Treats)
Additionally, I've include links within this post that will direct you to the recipes, techniques or supplies I've used.