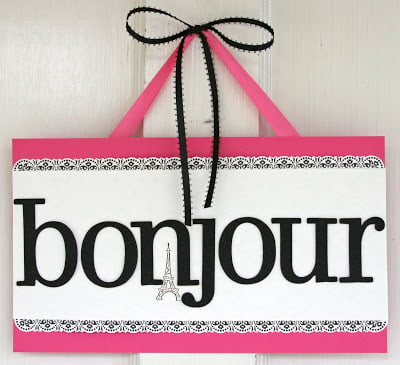 I've always had a love for French or Paris themed items. I've never been to France, so my ideas about the country or culture may be way off. But for now, I'll hold on to my idealistic dreams. A couple years ago I hosted a French Cafe themed party, and I've recently been thinking it would be a fun theme to play with again. The party I hosted was for my adult girlfriends, but I think this theme could be easily adapted for a fun and chic birthday for a girl of most any age (probably over 7). For me, the colors that always come to mind with a Parisian theme are pink and black.

With the theme and colors in mind, the first step for planning a party like this would be to search my house for items I already have that I may be able to use. Dishes, glasses, coffee cups, cake stands, vases, ribbon… anything pink, black, or white. From here I can better decide what items I may still need to buy.
-Make signs in french for your front door, the food, the bathroom, etc.
-Simple arrangements of pink flowers- I would suggest hydrangeas, roses, ranunculus, tulips, or gerbera daisies. A simple black ribbon around the vase could also be a nice accent.
-Coffee and/or sparkling pink lemonade
-A selection of pretty, bite sized dessert. A few simple suggestions would be madeleines or cream puffs (available at Costco), sugar cookies decorated with pink frosting or pink sprinkles.
Favors ~
-A beautifully decorated cookie with the guests initial (this could also serve as a place card).
-A small journal, or note cards with a beautiful design on the cover, in the party colors of pink or black.
-A small picture frame (Michael's craft store, and Aaron Brothers frame store both have a nice selection of small frames)
Below is the table setup for the party I hosted. You can see the way I used picture frames as both place cards and favors.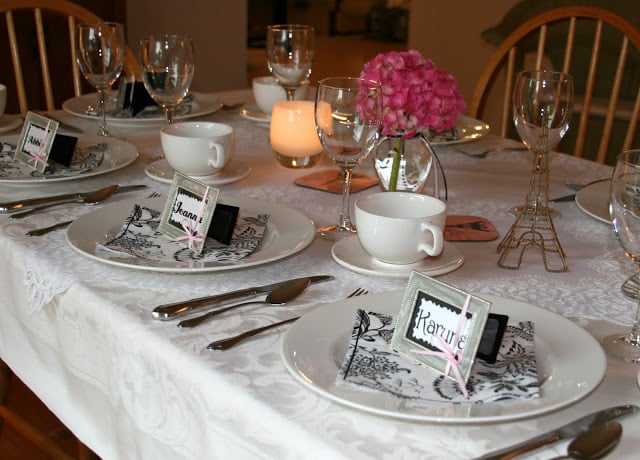 Photo details–
-Top of post- Bonjour door sign- Glory Albin
-Mosaic of pink sweets and black & white patterns (L to R)- Fleur de lis cookie- Glory Albin, Stripped napkin-
platesandnapkins.com
, Pink bow cupcake- Glory Albin, Damask pattern napkin-
platesandnapkins.com
, Pink and black initial cookie- Glory Albin
-Plate of sweets with Coffee- Photo and styling by Glory Albin, cookies made by my friend
Lisa
.
-French Cafe table setting- Glory Albin