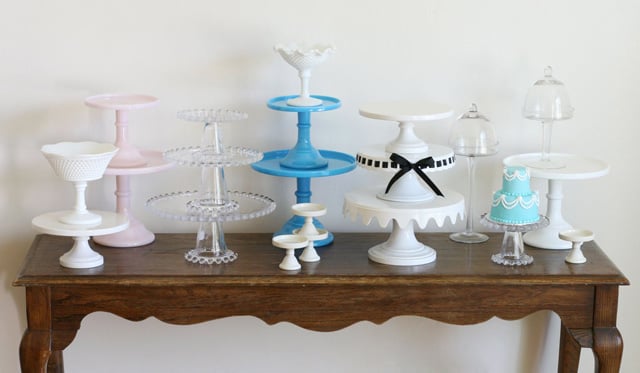 Oh Cake Stands how I love thee…
I can't quite pinpoint the day I feel in love with beautiful cake stands… I imagine it's pretty closely tied to me falling in love with pretty cakes and cupcakes!
I have a feeling many of you share the same love, so I thought I'd share some eye-candy today…
My gorgeous little collection of cake stands!  (My husband might take issue with the words "little collection")
OK, so I may have a bit of a cake stand problem….
And what a beautiful problem it is!
And to be fair, there are actually a few (or a dozen) that I didn't pull out.  But come on… how can I say no to any of these… it would be like choosing a favorite child (OK, maybe I'm being slightly dramatic!)
I'm thinking there may be a few of you out there with my same "problem"… anyone??
To answer the questions I get (on other blog posts) as to where to buy a specific stand…
I always try to link to the sources of my supplies when I post something new.  If I do not include any information on the "props" in a photo, it's usually because I've had the item for quite a while, and so it would be pointless to mention where I found it.
So, I'll add a few specific links here, and also lots of general sources…
The set of three white square stands (shown stacked) was from the Martha Stewart Collection at Macy's.  I don't see them on-line anymore, but Macy's does have some other pretty stands.
The silver cake stand with crystal accents, purchased from Home Goods, similar available from Amazon.
The tiny little cream/white individual cupcake stands I bought from a little store in Capitola, California, but they are available on-line from Shop Sweet Lulu.
The round blue stands (two shown stacked) and round light pink stands (shown stacked) are from Mosser Glass and are often available on Amazon, as well as from Shop Sweet Lulu.
Most of the rest of mine are from e-Bay, Home Goods, Marshalls & TJ Maxx
Other places to check if you're looking to expand your collection are Target, Crate and Barrel, Hobby Lobby, and Sweet and Saucy Supply.
Oh, and to answer one more potential question, "where do you keep them all?".  I recently had my handy hubby transform our hall coat closet into a cake stand closet… What?  You all have a "cake stand closet" don't you? =)