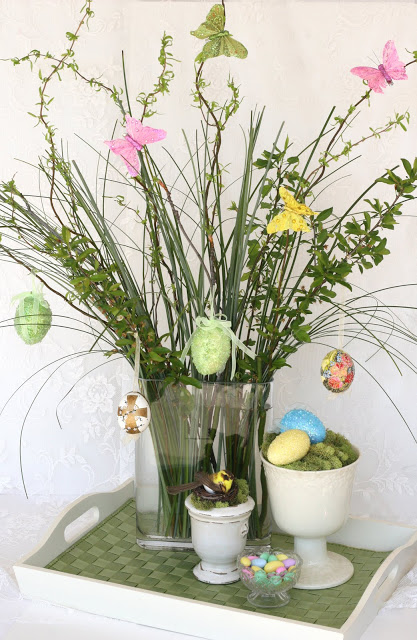 Happy Spring!  I know I still owe you a post on decorating cookies (to follow up on the sugar cookie recipe post), but today I just wanted to share a bit of spring decorating.  Last week I followed the links to the blog of one of my readers (Jennifer) and found this fun Easter arrangement.  I've seen many similar ones before, but for some reason this time I was extra inspired by it.
Yesterday, I was pulling the flowers out of the arrangements I made for Grace's Candy Party and thought I could rework it into a pretty new arrangement for spring.  I knew I already had two really pretty hand painted Easter eggs, so I went (to the garage) and got those.  Then I wandered around the house looking for white, cream or pastel colored containers.  Next, I went outside and looked in my front and back yard for some tree branches I could cut and add to the curly willow and bear grass that were left from the original arrangement.  We don't have a huge yard, but even the most humble of gardens usually contain several trees or bushes that could be trimmed a bit for this type of arrangement.  Once I had gathered the materials (vases, pots, linens and branches) that I already owned, I could then decide what I still need to buy.  I headed off to Michael's, and then was back home soon with the new items to finish my spring display.  I'd bought some glittery butterflies, a couple inexpensive beaded pastel eggs, a bag of moss (this variety is called reindeer moss), and a sweet little bird and nest.  Since the vast majority of the display was made from things I already owned, the total display cost me under $16.00.
This general look would be beautiful altered just a bit for a fairy themed party.  Replacing the Easter eggs with more butterflies, then adding some mushrooms, stones or a pretty little fairy perched on one of the moss pots and you'd have a gorgeous fairy party centerpiece.