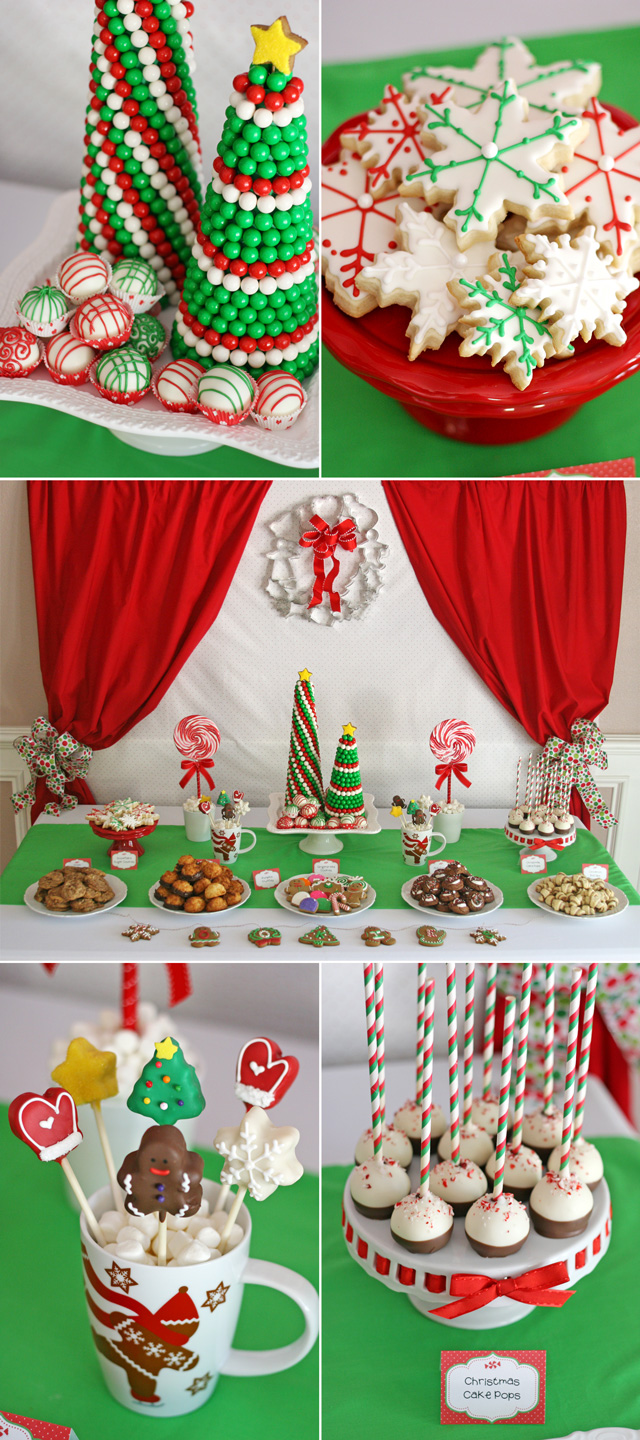 A Christmas Cookie Exchange Party is such a fun way to kick off the Christmas season!
Recently, my talented friend Bethany, of Auntie Bea's Bakery hosted a fun (and delicious!) Christmas Cookie Exchange and I was one of the lucky party guests!  Bethany hosted the party, and she let me help out with some of the fun set-up.  The night before the party I packed up my trunk full of some of my favorite Christmas dishes and props and then Bethany and I spent the evening setting up this fun party!
The guests were each asked to bring a plate of their favorite (homemade) Christmas cookies, and then at the party the guest would get to pack up a few of each of the cookies brought and leave with a box of lots of different cookies!   It's such a fun way to try new recipes and enjoy lots of different treats!
Over the next two weeks Bethany will be sharing the recipes for all of the yummy cookies that were at the party on her site, Auntie Bea's Bakery.  Be sure to bookmark her site and keep up with all the sweetness!
Now let's enjoy the party…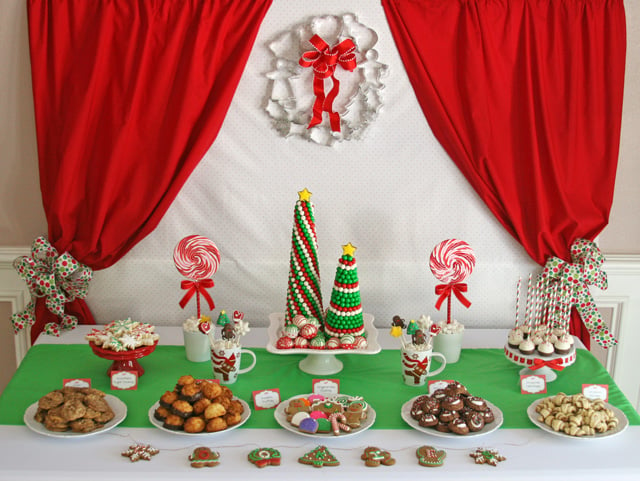 We used red fabric to create "curtains" as the backdrop for the table.  Bethany made a cute cookie cutter wreath (with cookie cutters from Karen's Cookies).  White dinner plates were set out and then filled with the cookies party guests brought (more cookies were spread out in the kitchen).  Bethany made several extra little treats, including cake pops and a sweet little gingerbread garland was placed along the front of the table as decoration.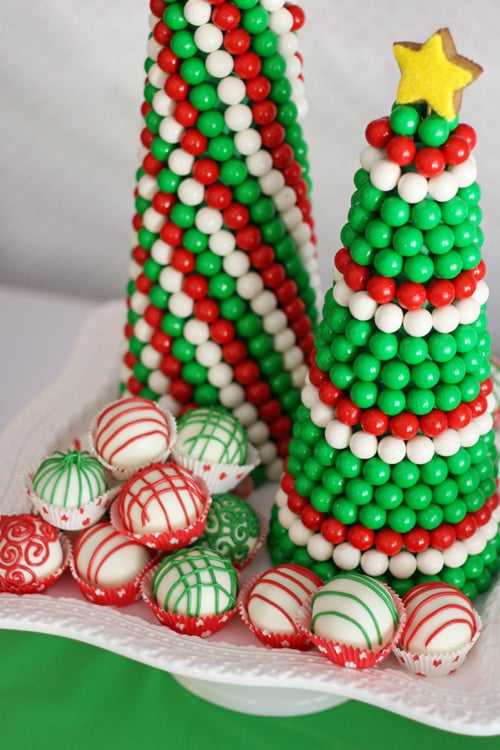 I made these festive gumball trees by hot gluing gumballs (I purchased last year from Wal-Mart on clearance) onto Styrofoam cones (from Michael's).  We added a simple cookie star (made by Bethany) to finish them off.
The pretty treats toward the front (pictured above) were one of the "cookies" brought by one of the party guests.  These were pumpkin spice truffles (cake balls).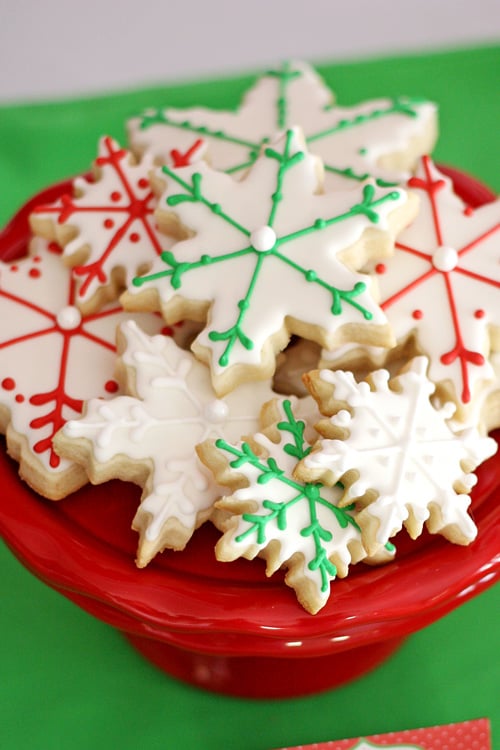 Perfectly gorgeous snowflake cookies, made by Bethany (Auntie Bea's Bakery).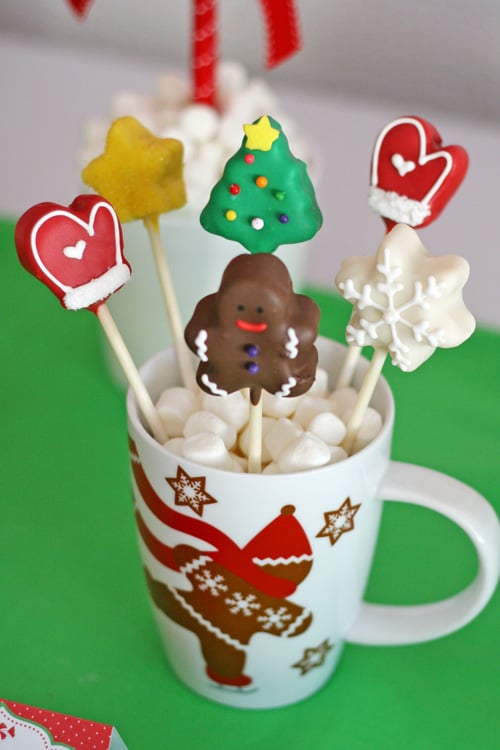 Bethany also made these super cute cake pops!!  She made the cake pop base (see Bakerella.com if you're not familiar with this process), and then pressed the cake/frosting mixture into a slab and used mini cookie cutters to create the shapes.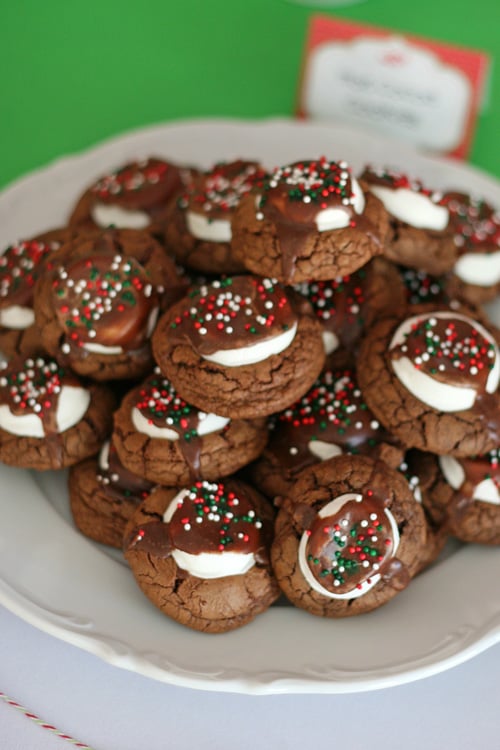 These cookies (above) were my part of the cookie exchange.  They are Hot Cocoa Cookies, and have quickly become my new favorite cookie!!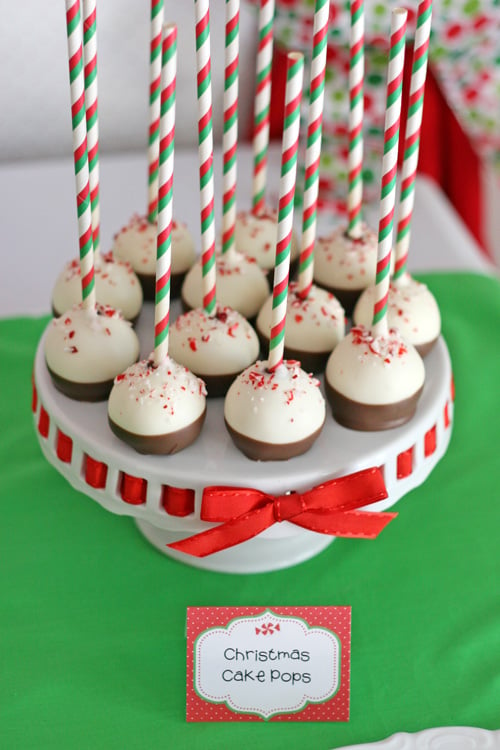 These Christmas Cake Pops (above) Bethany made were about the prettiest cake pops I've ever seen!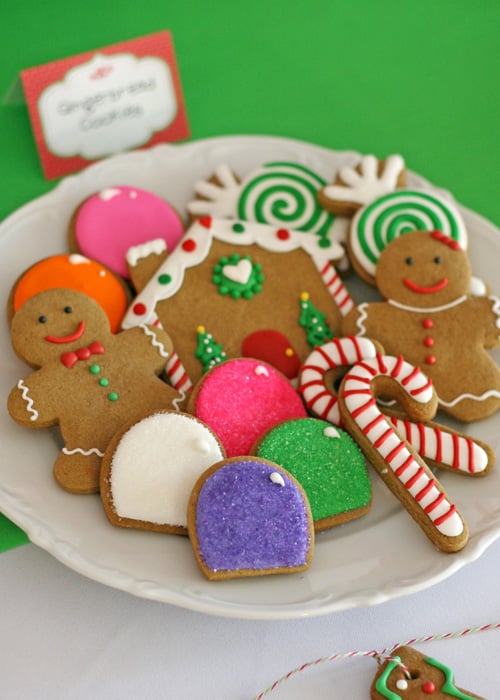 Some more cookie perfection (above) from Bethany!  What's a Christmas party without some gingerbread cookies?  =)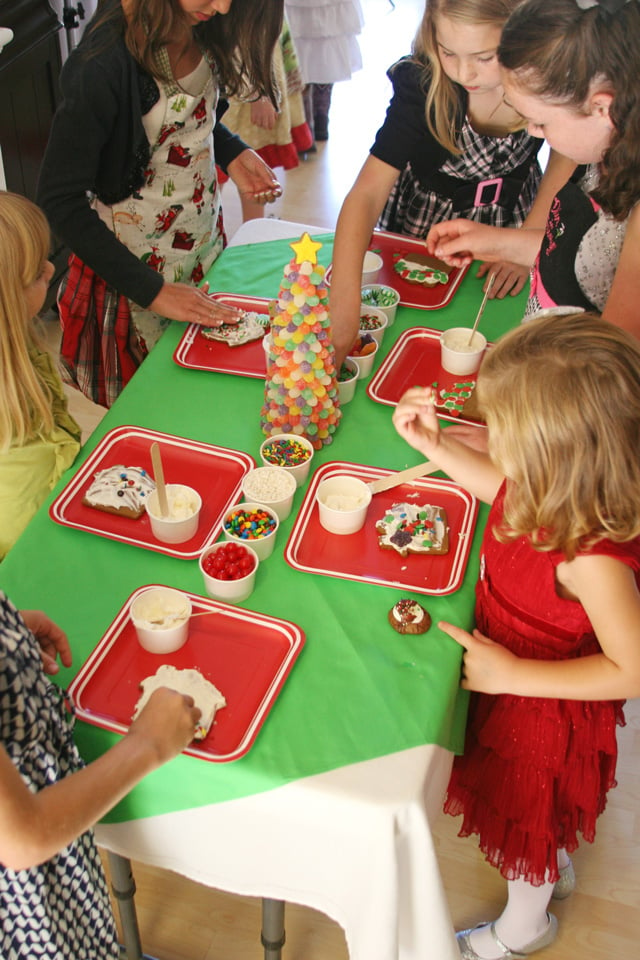 The young party guests had fun decorating their own little gingerbread cookies.  Bethany prepared some cute little gingerbread house shaped cookies, and then had a table prepared with lots of sprinkles and candies to decorate with!  Here's the Gingerbread House Cookie Cutter (from Karen's Cookies) and my Gingerbread Cookie Recipe.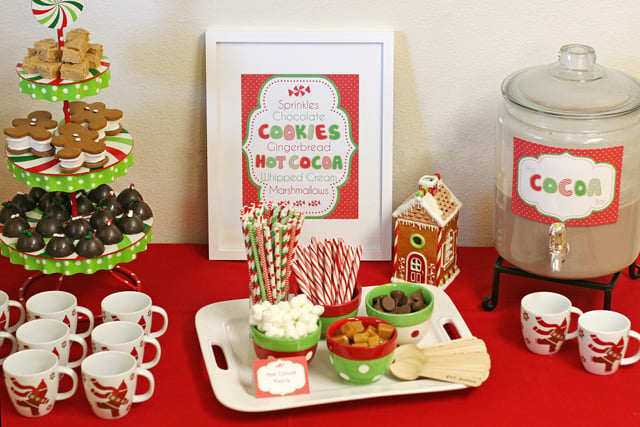 (Above)  In the kitchen, we set up a Hot Cocoa Bar!  Hot Chocolate, marshmallows, caramels, peppermint sticks and some pretty treats!  We used the kid-sized gingerbread man mugs I purchased (from Crate and Barrel) last year for my Gingerbread House Decorating Party.
A framed printable (from Swish Printables, available on her site free!) finished off the Hot Cocoa Bar perfectly!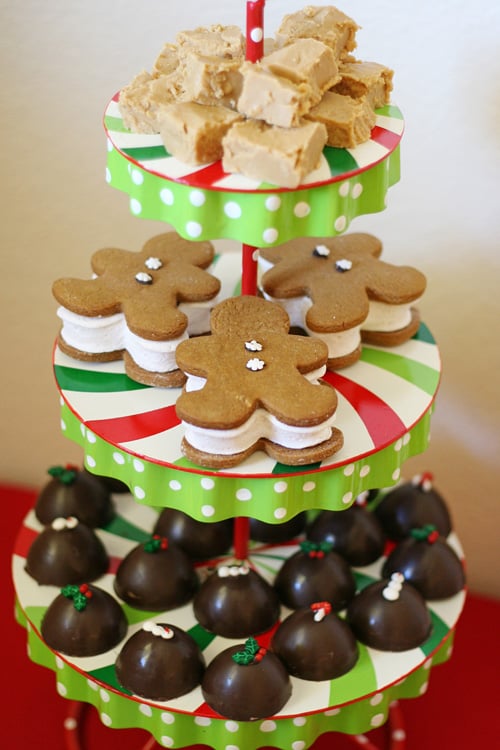 (Above)  Treats on the Hot Cocoa table include Maple Fudge (brought by one of the guests), Gingerbread Marshmallow S'mores (from Kimberley's Kitchen), and Chocolate Truffles (brought by one of the guests).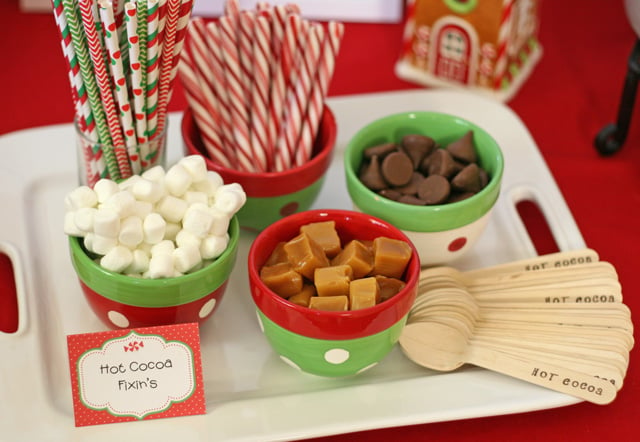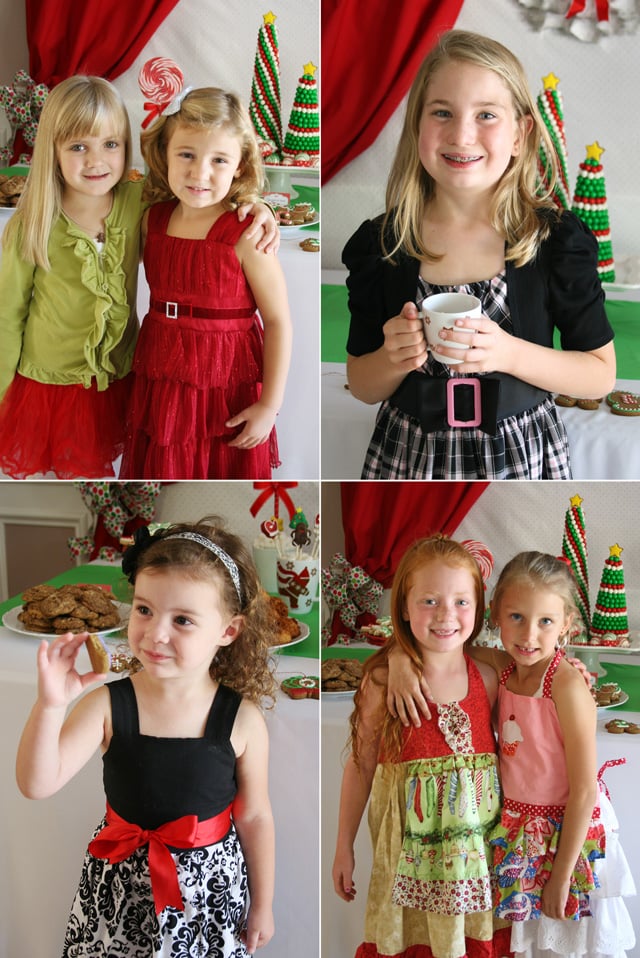 This Christmas Cookie Exchange Party was such a fun day for the little girls and the moms!  We all enjoyed more than our fair share of sweets and had a great day with friends!
Party details –
Party Host, concept, set-up and many of the delicious treats – Auntie Bea's Bakery
Photography, set-up help, props and Hot Cocoa Cookies – Glorious Treats (me)
Printables – Swish Printables