Mexican Riviera Cruise with Princess Cruises
As many of us are in the midst of winter storms, I'm sharing a little warmth and sunshine today from my recent Mexican Riviera Cruise with Princess Cruises.
This post is sponsored by Princess Cruises, but all images, text and opinions are my own.
I recently enjoyed my first Princess Cruise, along with a lovely group of bloggers from around the United States.  We were invited to experience the amazing cuisine Princess offers, including a tour behind the scenes in their main kitchen, and an evening with the head chef on our ship, the Ruby Princess.
The entire trip was truly a memorable and delicious experience!  =)
I hope you enjoy a little peek into my trip and are maybe inspired to add a Princess Cruise to your plans for this new year!
I have several recipes in the works inspired by my recent cruise, but for today I wanted to give you a nice little overview of the trip.
For today, I'm sharing FOUR big reasons I loved this Mexican Riviera Cruise with Princess Cruises…
1. The SEA ~
This may seem obvious, but truly one of the things I enjoyed most about this trip (other than the people I shared it with) was the beauty of the ocean.
I'm not sure if there is any better way to appreciate the sea than from a ship like the Ruby Princess.
There is simply something so magical and awe-inspiring about being surrounded by the ocean, as far as you can see in any direction!
Walking around on the upper decks, or simply enjoying the view from my own balcony, and looking out onto the open ocean is just about the most relaxing activity (or non-activity) ever!
I loved to watch the water trail behind the ship.  Fresh ocean air, a beautiful view… now I'm dreaming of going back!
If you've ever been to Cabo San Lucas you probably recognize these beautiful rocks!
This is one of my favorite photos I've taken in quite a while!  I love the different shades of blue and the way the sun is making the water sparkle.
The only way to get this view is from a from the water… like on a Princess Cruise ship.
I took this photo from my room balcony as we were sailing out of Cabo and on our way home (to California).
2. The SKY ~
Another thing that is extra special from the deck or balcony of a Princess Cruise ship is the sky!
In my daily life it's pretty rare for me to truly get to see and enjoy a sunrise or sunset.  From my house I do have a little sliver of a view west and can enjoy the sunset, albeit blocked by other houses on my street.  But it's pretty rare to get to see the full skyline!
During this cruise, I was careful to pay attention to the time, and made sure to be on my balcony or somewhere outside so I could enjoy the sunset!  Each night was different, and each was beautiful!
It's often hard to capture on camera the beauty of a sunset!  This photo might come close… but enjoying a sunset at sea is something that truly needs to be done in person!
It's pretty rare for me to ever see a sunrise (in most cases I prefer to be in bed at that hour!), but as we pulled into the Port of Los Angeles around 7am on the last morning of our trip, this was the view from my balcony.  It was simply stunning!  What a special way to end a beautiful trip!
3. The FOOD~
Were you waiting for me to get to the food?  Certainly one of the most memorable parts of a Princess Cruise is the food!
From amazing burgers at The Salty Dog Gastropub, to fine dinning at SHARE, to room service when you just want to stay in your pj's… there is truly something for everyone at all hours of the day!
One of my favorite indulgences on this cruse was a enjoying a beautiful cappuccino each morning on my own balcony.  It's really my favorite way ever to start a day!
And of course I enjoyed lots of incredible desserts while on board!
This is one of Princess Cruises signature desserts, the Princess Love Boat.  Rich, silky, chocolaty… and perfect!
This beautiful dessert is the Citrus Tart, available in chef Curtis Stone's first restaurant at sea, SHARE.
This gorgeous creation is Norman Love's Pistachio Dome.  I don't know that I've ever considered chocolate and pistachio together, but this is truly a spectacular dessert and I'm excited to experiment with the flavor combo myself!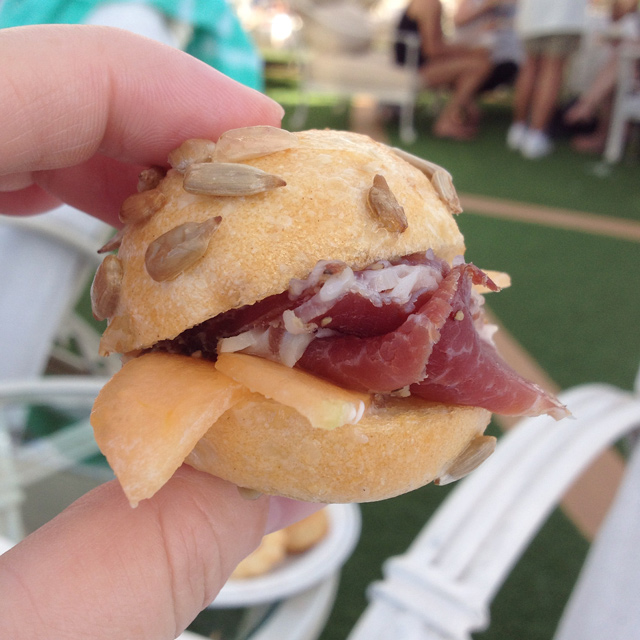 And after all those beautiful desserts, I will still mention that one of my favorite treats on the cruise was this Melon and Prosciutto Mini Tea Sandwich that was served as part of High Tea, available every afternoon on Princess Cruises.  The bread was so perfectly fresh and this filling combo was just so incredibly good!  It was a perfect little afternoon treat!
4. The INSPIRATION ~
The theme of Princess Cruises is "Come Back New" and I really think this is one of the most special things about vacationing with Princess.
For me, the combination of enjoying the sea, the sky, the food and experiencing fun places around the world is the perfect recipe to feel mentally renewed and refreshed!
As an artistic person, I find so much inspiration in the beauty of nature (especially seeing plants and landscapes that are different from where I live), the uniqueness in architecture around the world, and even just color combos and graphics that are different from where I live.
These colorful trinket boxes were in a open market in Mazatlan, Mexico.  I was instantly inspired by the beautiful colors and patterns and I want to try to create a set of cookies with some of this same feel.
This idyllic scene was found on one of my Princess Cruise excursions in Puerto Vallarta, Mexico.  I spent an afternoon here (Las Caletas Private Beach) and it's amazing what one afternoon on a quiet beach can do for your spirit!
Thank you Princess Cruises for helping me truly #ComeBackNew!
Book your own Princess Cruise and fall in love with the food, fun, and inspiration a beautiful vacation at sea can provide!
Disclosure – I'm sharing this post in partnership with Princess Cruises.  Partnering with brands I love allows me to provide you with high quality content at no cost to you.  I only work with brands I use and love.  All images, text and opinions are my own.