Salsa Cream Cheese Chicken Wraps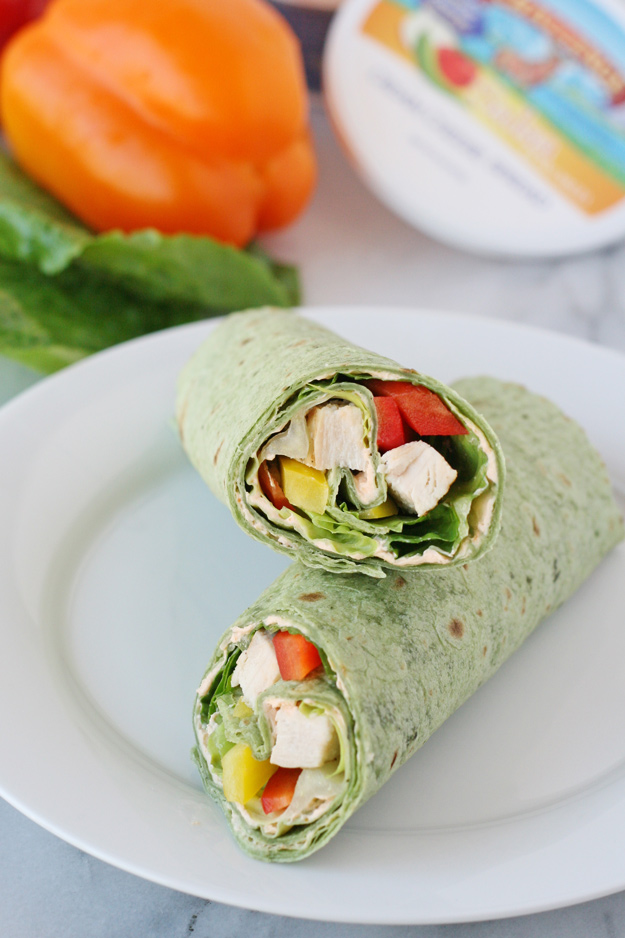 You might be a bit surprised to see these fresh Salsa Cream Cheese Chicken Wraps on a site packed with desserts!  =)
But with back-to-school season upon us I've been working hard to make sure my girls are getting some fresh, healthy and delicious goodies in their lunch boxes (along with a homemade cookie or two!).
These easy chicken wraps are great for lunch boxes, and would be equally perfect for a picnic, a ladies lunch, or sliced smaller (as pictured at the end of this post) for a party appetizer.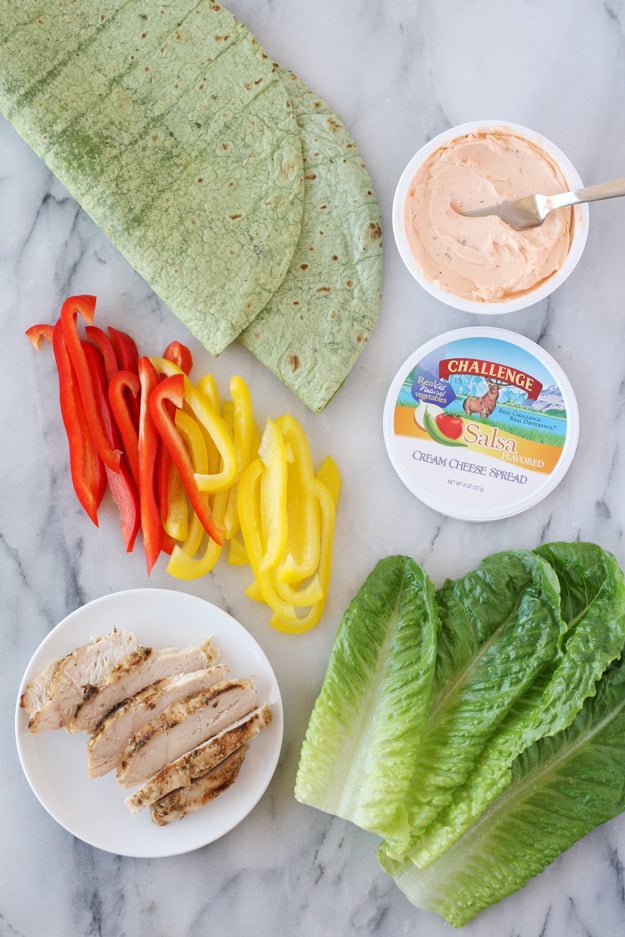 These delicious wraps start with a new products from Challenge Dairy that I just fell in love with… Salsa Flavored Cream Cheese!  It's a blend of cream cheese with fresh peppers, onions, jalapenos, garlic, herbs and seasonings.
Challenge prides itself on making fresh dairy products using only real ingredients, and you can really taste the quality!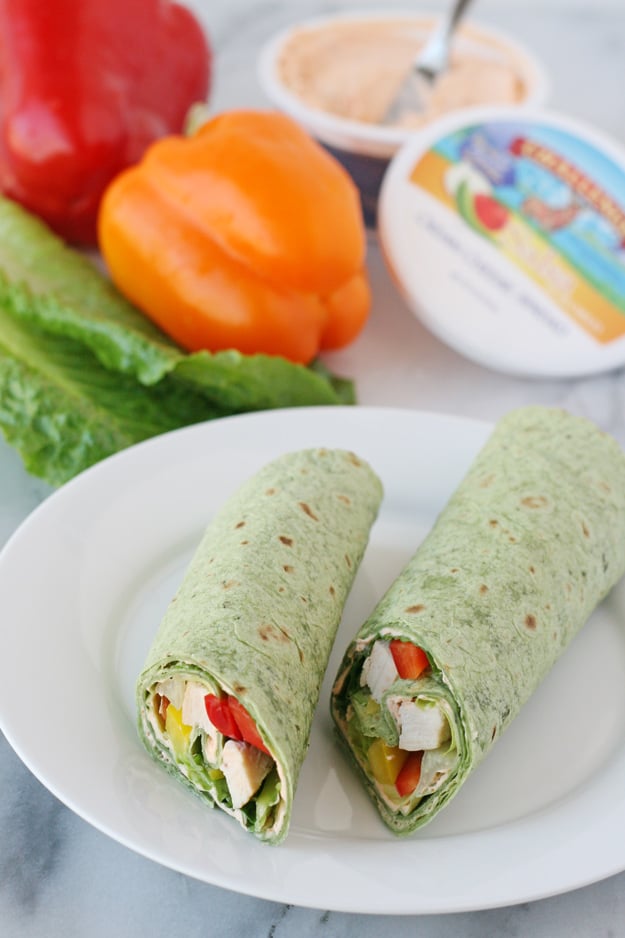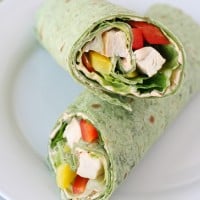 Salsa Cream Cheese Chicken Wraps
These easy Chicken Wraps are perfect for picnics, parties and lunch boxes!
Ingredients:
skinless chicken breast, seasoned and grilled
red, yellow and/or orange bell pepper
green leaf lettuce
large tortillas (I used spinach tortillas)
Directions:
1.  Season and cook the chicken (grill, bake or pan fry), rest then cut into thin strips. (This can all be done ahead of time)
2.  Thinly slice bell peppers and set aside.
3.  Spread a thin layer of cream cheese over the entire tortilla.  Add a few leaves of lettuce, then some strips of bell pepper and chicken.
4.  Roll tightly, slice as desired, and enjoy!  If you do not plan to eat it immediately, wrap in plastic wrap and keep in the fridge until ready to slice and/or serve.
This recipe could be easily adjusted based on your preferences, and what you have in the fridge. Feel free to replace the chicken with turkey, or even make a delicious all veggie wrap by adding cucumber, sprouts, kidney beans or black beans.
Recipe source - Glorious Treats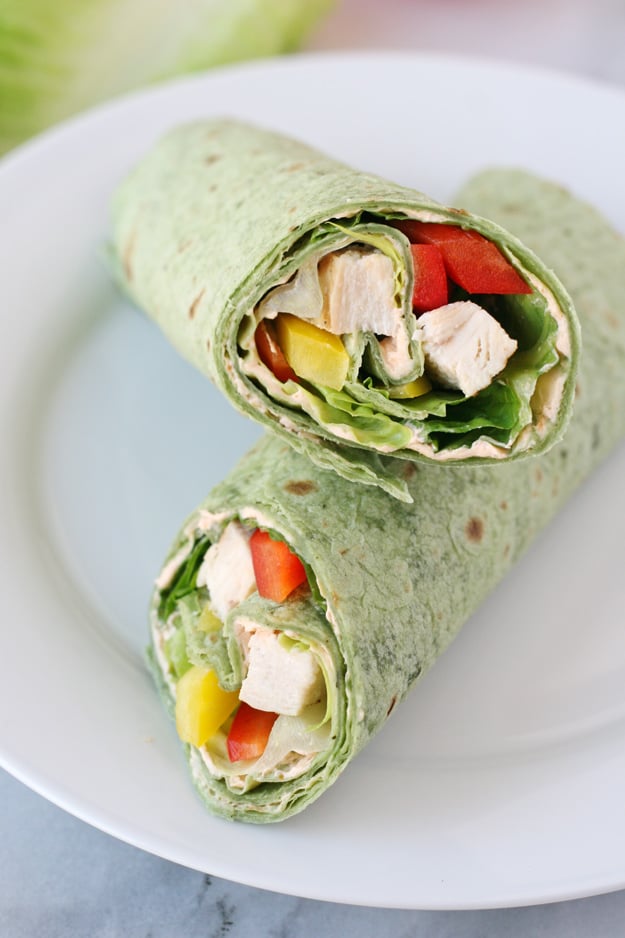 These Salsa Cream Cheese Chicken Wraps are equally delicious served as a meal, or sliced smaller as an appetizer!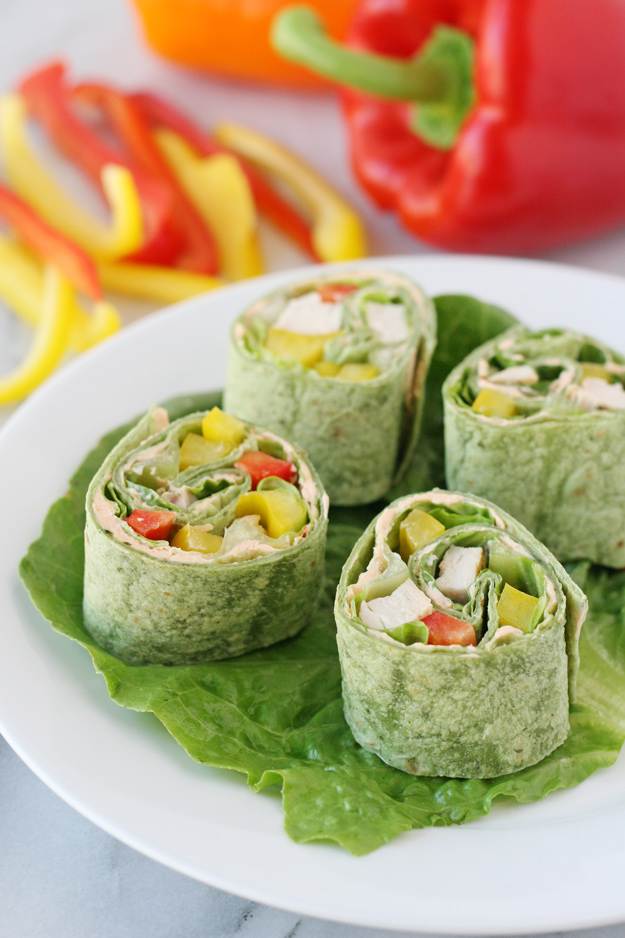 Wouldn't you love to see one of the delicious wraps in your lunch box?
I've made these for my own lunch two days in a row now and I'm already looking forward to making another one tomorrow!   They're so fresh, delicious and super simple to make!
Disclosure – I created this recipe as part of an ongoing partnership with Challenge Dairy.  Partnering with brands I love allows me to provide you high quality content at no cost to you.  I only work with brands I use and love.  All images, text and opinions are my own.