Chocolate and Wine Tasting Party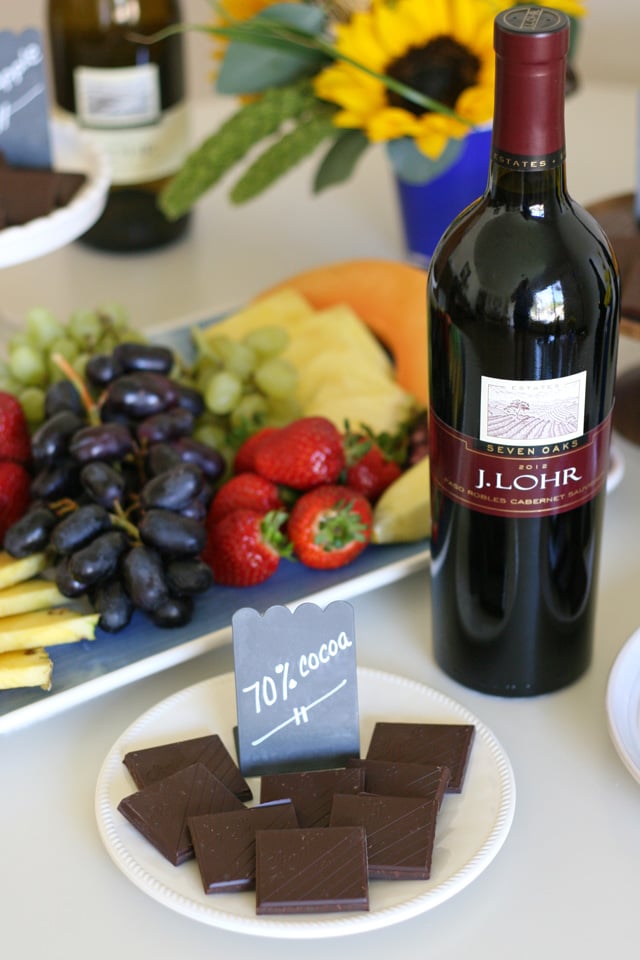 Fall is such a nice time to enjoy gathering with friends.  This time of year most people are back on a regular schedule with work and school, and the rush of the holiday season has not quite hit.
Hosting a Chocolate and Wine Tasting Party is a fun and surprisingly easy party your friends will love!
In my experience, when you ask friends if they'd like to come over for some chocolate and wine, the only question they will ask is WHEN?
And when chocolate the star of the party you don't need to worry about making any other dessert!  Just a few very simple appetizers and you'll be set!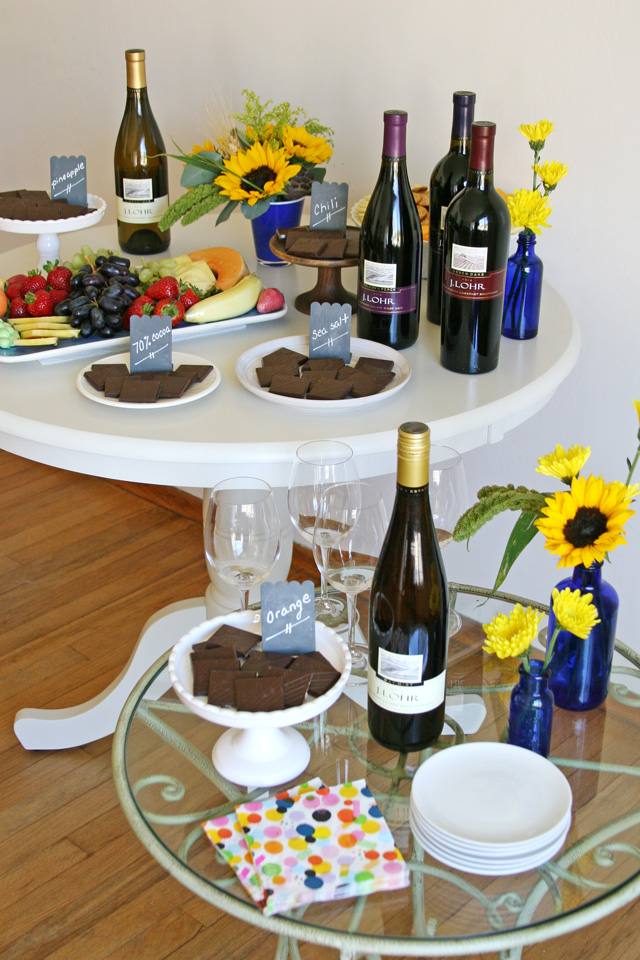 For this fun twist on a tasting party, I started with Lindt new EXCELLECNCE Dark Chocolates.
Lindt provided me with a selection of their EXCELLENCE Dark Chocolates as well as suggested wine pairings from J.Lohr.
I was really surprised how tasting the chocolate and wine together really elevated the flavors of both!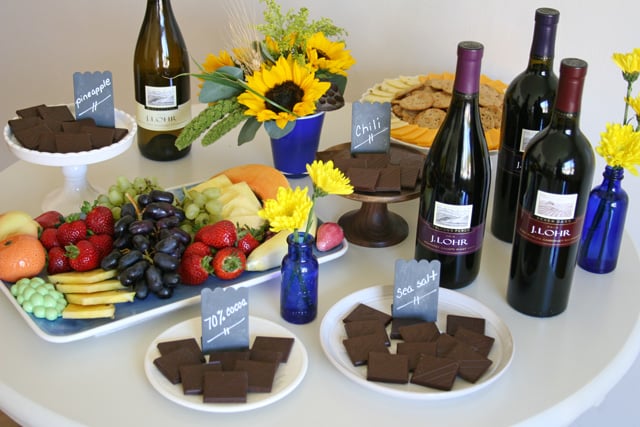 In addition to the Lindt Chocolates and J.Lohr wine, I simply prepared a platter of fresh fruit and a small cheese and cracker plate.
Certainly you could add a few more appetizers if you would like to create more of a meal.  I have a whole Pinterest board full of delicious Appetizers & Snacks where I'm sure you could find some delicious ideas.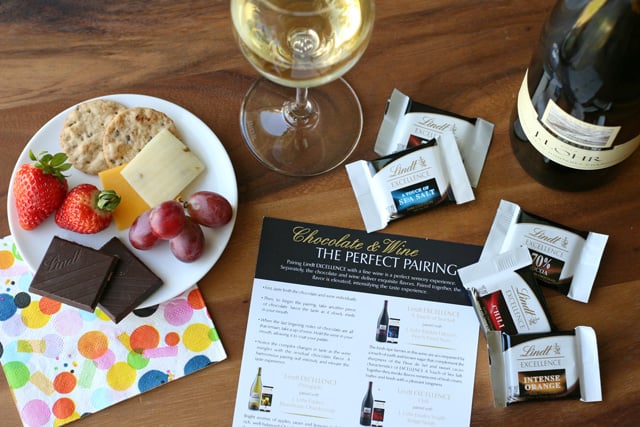 Lindt made the chocolate and wine pairing easy on me and my guests by providing cards describing the suggested pairings.
Lindt EXCELLENCE Pineapple paired with J.Lohr Estates Riverstone Chardonnay.  This well balanced Chardonnay paired perfectly with the naturally sweet pineapple and roasted hazelnut pieces in the chocolate.  This pairing provides a delightful finish of caramel and cream.
Lindt EXCELLENCE Intense Orange paired with J.Lohr Estates Bay Mist White Riesling.  Enticing notes of lychee, pear and orange are present in this bright and luscious wine.  It's the ideal match for the sweet citrus profile of the EXCELLENCE Intense Orange.
Lindt EXCELLENCE A Touch of Sea Salt paired with J.Lohr Estates Falcon's Perch Pinot Noir.  The fresh ripe berries in this wine are accompanied by a touch of earth and brown sugar that compliment the sharpness of the Fleur de Sel and sweet cacao characteristics of EXCELLENCE A Touch of Sea Salt.
Lindt EXCELLENCE Chili paired with J.Lohr Estates South Ridge Syrah.  This is an elegant red wine with rich fruit aromas and flavors.  Paired with sweet dark chocolate perfumed with premium red chili, this pairing create a spicy warmth that bursts onto the palate.
Lindt EXCELLENCE 70% Cocoa paired with J.Lohr Estates Seven Oaks Cabernet Sauvignon.  The wine's ripe aromas of blueberry and black plum match perfectly with the rich notes found in EXCELLENCE 70% Cocoa.
Each guest had their own favorite combination… and it was amazing to notice the different flavors that the chocolate and wine brought out in each other.
My favorite pairing was the light and fruity combo of Lindt EXCELLECNE Pineapple paired with the Chardonnay.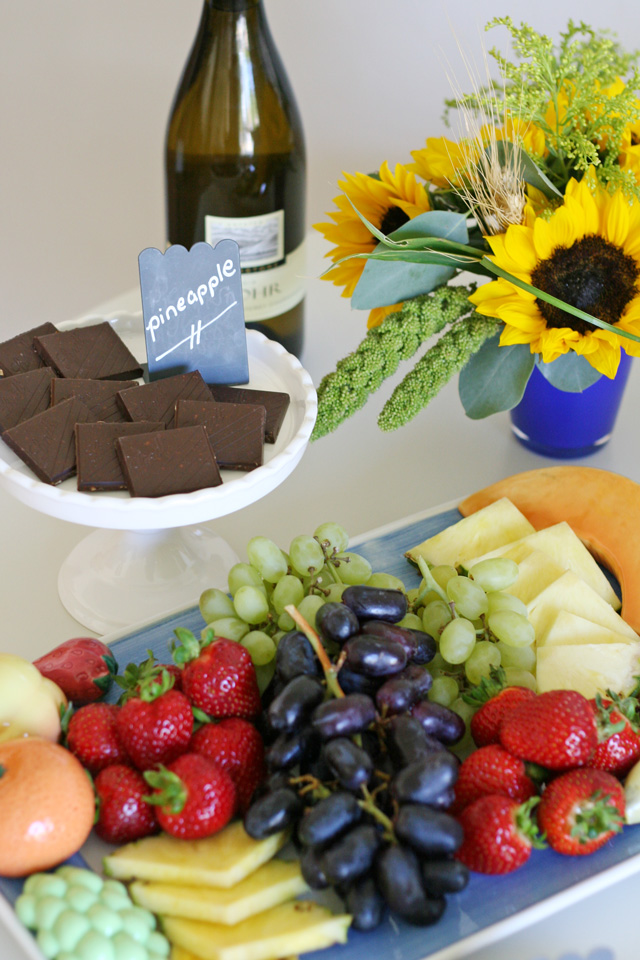 Lindt Chocolate wants to encourage you to host your own Chocolate and Wine Tasting Party!
Lindt has prepared a beautiful selection of EXCELLENCE Dark Chocolates for one lucky Glorious Treats reader to share with their friends (or keep for yourself… I wont tell!).
To win-  (Giveaway Closed)
Simply leave a comment below telling me, what's your favorite flavor of chocolate?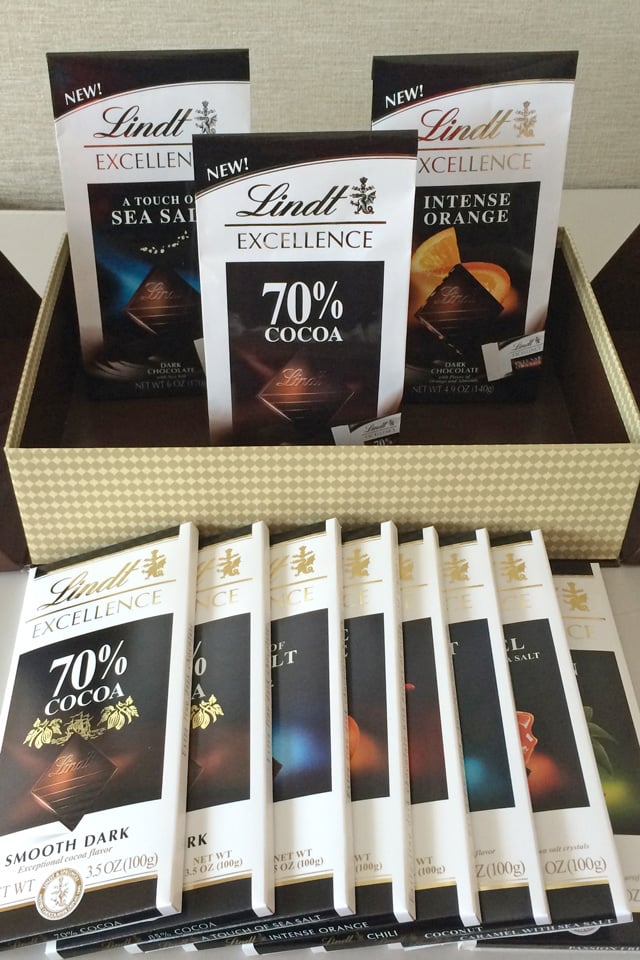 Giveaway details – Giveaway sponsored by Lindt Chocolates.  Giveaway open to U.S. residents 18 years old and older.  One comment per person.  Giveaway ends Sunday, September 21st at 9pm Pacific.  Comments must be left on this blog post.  If you are reading this post in an e-mail, click on the blog post title to view this post on-line.
*********************************** Giveaway Closed ***********************************
Winner #34 Sherill
Disclosure – I was provided products and/or payment in exchange for my time to create this post.  I only share products on my blog that I use and love.  All images, text and opinions are my own.