#SundaeFundae Smucker's Toppings Giveaway (Closed)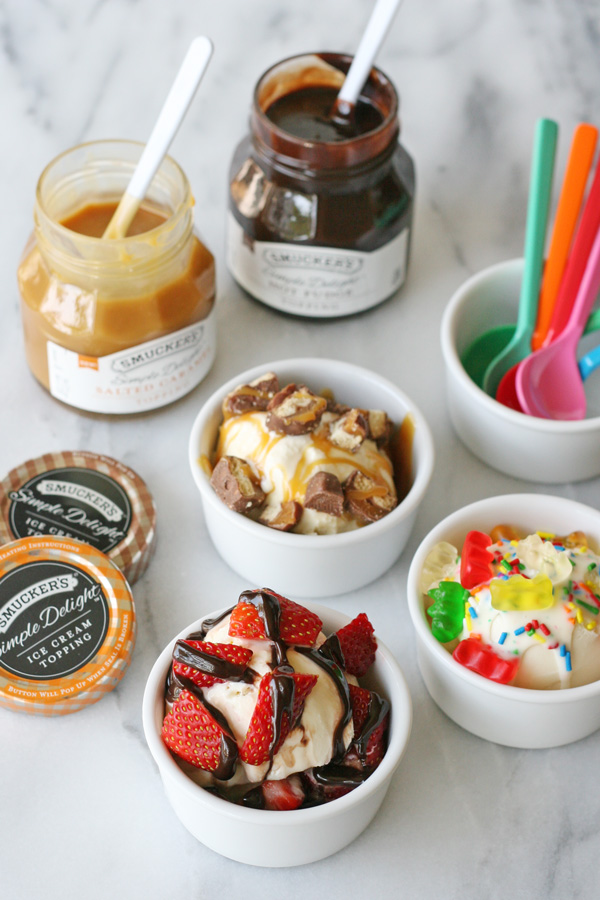 One of my favorite things about summer is… ice cream!!
Granted, I'm perfectly happy eating ice cream all year long, but it seems extra special in summer!
I know everyone in my house gets pretty excited if they see me setting out some fun ice cream toppings!
And Summer is the perfect time to host a simple ice cream party.  It's really about the easiest party ever, and everyone loves it!  All you need is some ice cream, a fun assortment of toppings and let everyone make their own creation!  Make it a Sundae Fundae!  =)
Some of our favorite toppings are… fresh strawberries, sliced banana, gummy bears, mini chocolate chips, toasted coconut, and sprinkles!
Then of course you need some caramel, hot fudge, and magic shell!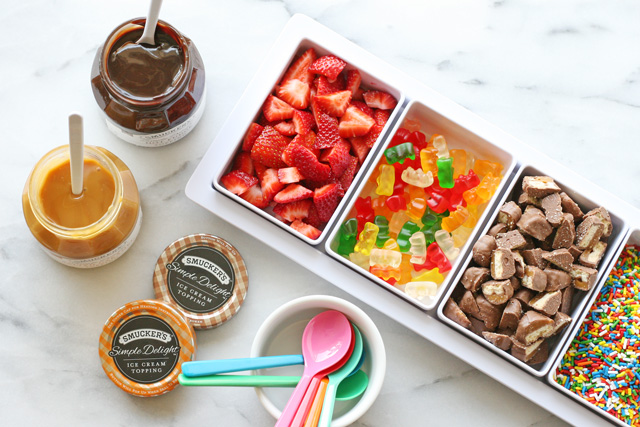 Smucker's recently launched a new line of quality toppings called Simple Delight.
These new Simple Delight toppings contain no added preservatives, artificial flavors, or high fructose corn syrup, so you can feel good about your indulgence!  So far I've tried the Salted Caramel and the Hot Fudge and they are both utterly delicious!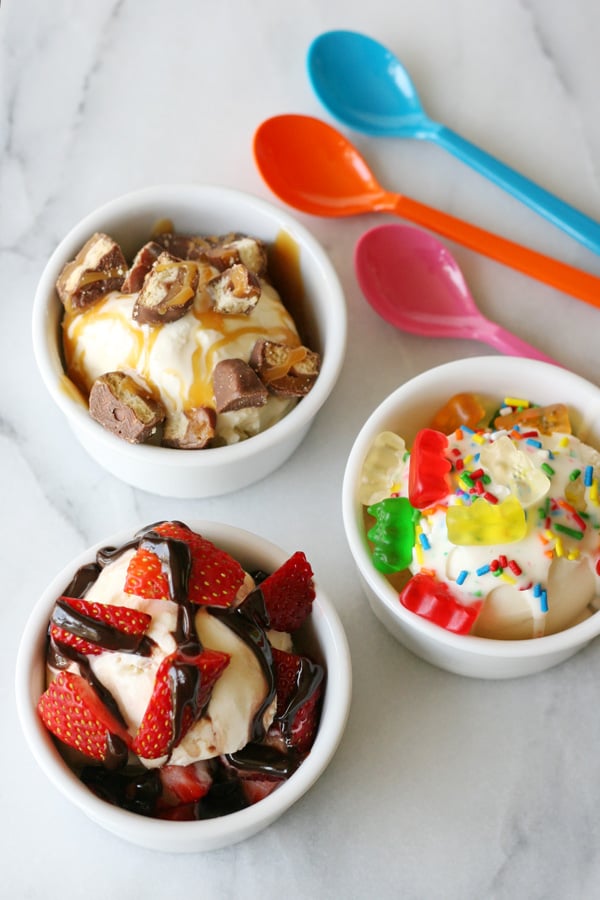 Here are my family's delicious sundae creations…
Caramel Coma – Vanilla Ice Cream, chopped Twix candy and Smucker's Salted Caramel Sauce.
Chocolate Covered Strawberry– Vanilla Ice Cream, fresh strawberries and Smucker's Hot Fudge.
Child's Delight– Vanilla Ice Cream, gummy bears, sprinkles and Smucker's Rainbow Sherbet Magic Shell.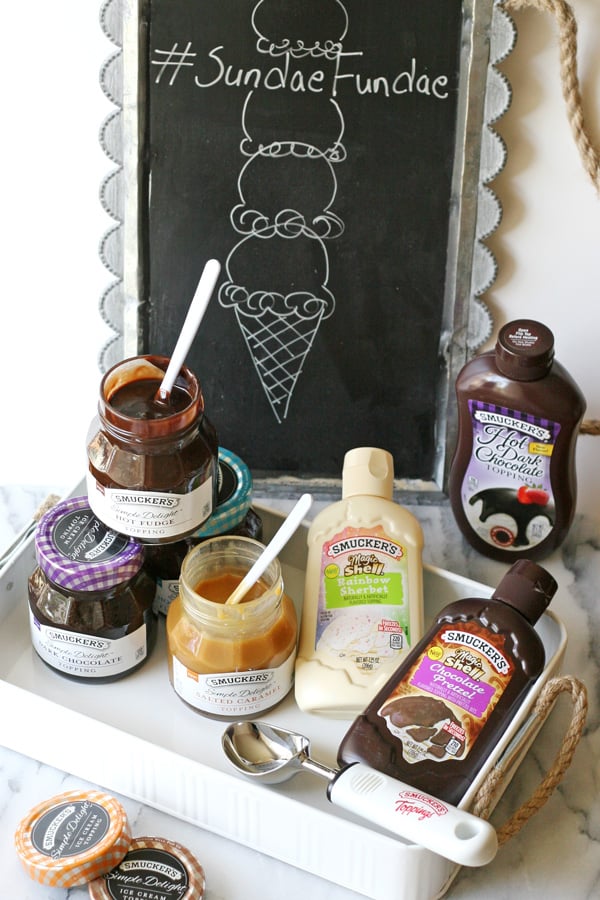 Would you like to have a #SundaeFundae and try all of Smucker's new toppings?
Smucker's is sponsoring an awesome giveaway to help you host the best ice cream party ever!
One winner will receive…
A $50.00 Visa Gift Card
Scallop Edge Hanging Chalkboard
West Elm Outdoor Metal Serving Tray
Branded Ice Cream Toppings Bowls + Scoops
All seven NEW Smucker's toppings flavors including:
Smucker's®  Simple Delight Salted Caramel Topping
Smucker's® Simple Delight Chocolate Coconut Flavored Topping
Smucker's® Simple Delight Dark Chocolate Topping
Smucker's® Simple Delight Hot Fudge Topping
Smucker's® Magic Shell® Chocolate Pretzel Flavored Topping
Smucker's® Magic Shell® Rainbow Sherbet Flavored Topping
Smucker's® Microwavable Hot Dark Chocolate Topping
To enter  (Giveaway Closed) to win this fun prize pack, simply leave a comment below telling me your favorite ice cream topping(s).
For a second entry, follow @GloriousTreats on Twitter and tweet "I want to have a #SundaeFundae with @Smuckers and @GloriousTreats"   Leave a second comment below with the URL of your tweet.
Details – Giveaway open to U.S residents only.  Giveaway closes Wednesday, Aug 13th, 2014 at 9pm Pacific. Maximum two entries per person.  Winner will be chosen using random.org.  Giveaway sponsored by Smucker's.  I have received products and/or payment to host the giveaway.  I only share products on this site that I use and love.
In addition, if you head over to the Smucker's site you can enter their #SundaeFundae promotion for a chance to win $5,000 toward a summer vacation!
************************************** Giveaway Closed **************************************
Winner – Comment #40, Sue