Lemony Lemon Bread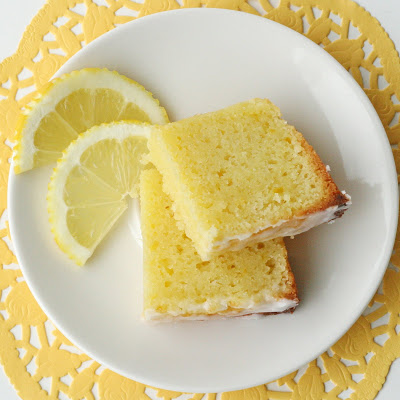 Lemon is such a perfect flavor to enjoy anytime of year, but it's sunny color is extra special as we head into spring.  This pretty lemon bread would be perfect for a ladies brunch, or simply to enjoy for a special weekend breakfast.  This recipe makes two loaves and freezes well, so you can enjoy one when you make it, and enjoy the other loaf at a later date.  This bread takes a bit of time to prepare, and requires at least 4 fresh lemons, but it is just as good (maybe better) the next day, so feel free to make it the day before you plan to serve it.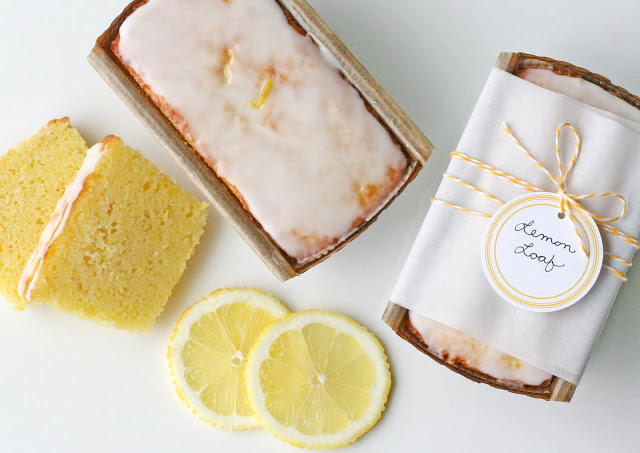 Lemony Lemon Bread
~ For the Lemon Cake ~
1 1/2 cups cake flour
1 1/2 cups all purpose flour
2 teaspoons baking powder
1/4 teaspoon baking soda
1 teaspoon salt
2 1/4 cups sugar
8 large eggs, at room temperature
1/4 cup grated lemon zest (from about 4 lemons)
1/4 cup fresh lemon juice
2 cups (4 sticks) unsalted butter, melted and cooled
1/2 cup sour cream, at room temperature
2 teaspoons pure vanilla extract
~ For the Lemon Syrup ~
1/3 cup fresh lemon juice
1/3 cup sugar
~ For the Lemon Glaze ~
2 cups confectioners' sugar
4-6 Tablespoons fresh lemon juice
Making the Lemon Cakes (Recipe yields two 9″x5″ loaves)
Preheat oven to 350*F.  Spray sides and bottom of pans with non-stick cooking spray.  Line bottom of pans with parchment paper and spray the paper as well.
Sift both flours, baking powder, baking soda and salt together in a medium bowl.
Blend the sugar, eggs, lemon zest and lemon juice in the bowl of an electric mixer and mix until combined.  Slowly add the melted butter, while mixing.  Add sour cream and vanilla and mix until just combined.  Use a rubber spatula to fold in the flour mixture, one third at a time, until all the flour is combined.  Do not overmix.
Divide the batter evenly between the prepared pans.  Bake in the center of the oven for 20 minutes, rotate the pans, reduce the oven temperature to 325*F and bake another 30-35 minutes, or until toothpick inserted in the center of the loaf comes out clean.  Let cool in the pans for 15 minutes.
Meanwhile, make the Lemon Syrup ~
In a small saucepan over medium heat, heat the lemon juice and sugar until the sugar is completely dissolved.  Once dissolved, continue to cook for 3 more minutes.  Remove from heat and set aside.
Line a half sheet pan with parchment paper and invert the baked and (mostly) cooled loaves onto the pan.  Use a toothpick to poke holes in the tops and sides of the loaves.
Brush the tops and sides of the loaves with the lemon syrup.  Let the syrup soak into the cake and brush again.  Let the cakes cool completely, at least 30 minutes.
(The soaked, but unglazed loaves will keep well, wrapped in two layers of plastic wrap and frozen, for up to 6 weeks.)
Make the Lemon Glaze ~
In a small bowl, whisk together the confectioners' sugar and 4 tablespoons of lemon juice.  The mixture should be thick but pourable.  If the mixture is too stiff, add up to another 2 tablespoons lemon juice (a little at a time) and whisk again.  Pour the glaze over the top of each loaf and let it drip down the sides.  Let the lemon glaze harden, about 15 minutes, before serving.
The glazed loaves will keep for up to 3 days, wrapped well in plastic wrap, at room temperature.
Recipe Source ~ Baked, New Frontiers in Baking
As with most food, the presentation is my favorite part!  I baked one large loaf (9″x5″), but then used the remaining batter to make two smaller loaves in some pretty (paper) baking pans (from Garnish), perfect for sharing with friends and neighbors.  I wrapped a piece of parchment paper around the small loaves (when the glaze had set), and then tied the paper with perfectly matched twine (from The Twinery).  I also used The Twinery's free printable labels (found here) to label the bread before sharing with friends.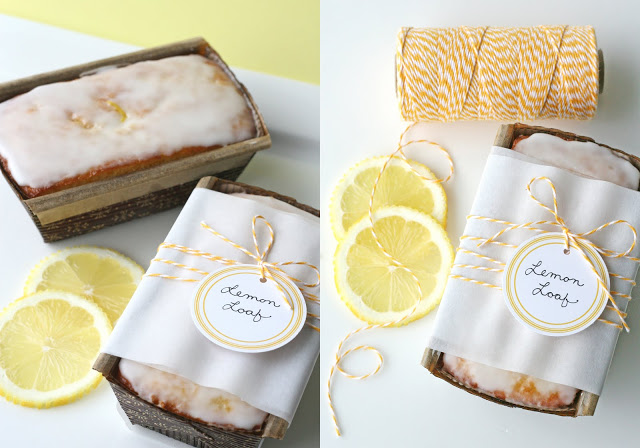 Happy Baking!