{Party Planning} Ladybug Party Ideas and Inspirations
About a week ago I showed you
these
cute polka-dot plates and ladybug magnifying glasses that I've bought as the beginnings of a ladybug themed party. I'm planning on a ladybug theme for my youngest daughter's next birthday (which isn't until next January… yes, I know that's a bit ridiculous!).
I thought I'd show you a few of the other ideas I've been gathering with the ladybug theme in mind. I'm planning on using this theme for a birthday, but I've seen the ladybug theme also work beautifully for a baby shower (especially perfect if the baby's gender is unknown).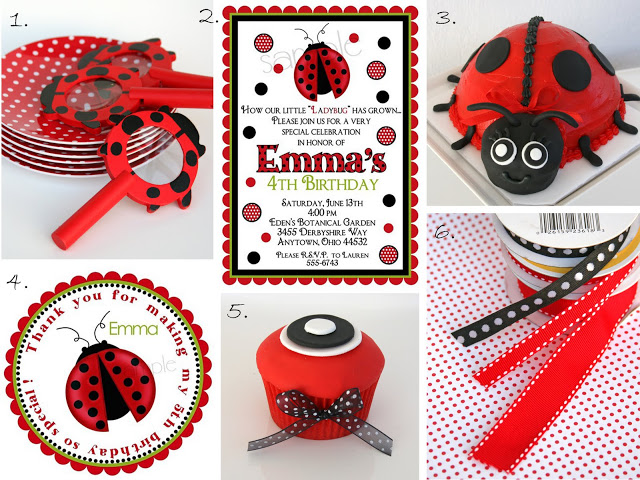 (Above)
1. Polka-dot plates and ladybug magnifying glasses (bought at Target)
3. Ladybug cake I made last year for a ladybug themed baby shower.
5. Red and black cupcake (by me).
6. Ribbon (bought from Michaels).
2. Cupcakes (by me)
3. Ladybug cookie on a stick (by me)
5. Scrapbooking paper, stickers and ribbon (all bought at Michael's)
6. Ladybug cupcake (by me)
7. Polka-dot napkin, from
Plates and Napkins
All photos by Glory Albin or used with permission.
When planning a party, I love to start with a strong color scheme (two or three main colors). Then decisions on invitations, decorations and food can all be made with the color scheme in mind. I considered using a bit more girly colors (pink, purple, yellow), but of course it would be more difficult to find ladybug items in those colors. Also, there is something just so clean and classic about red and black.
I have a really exciting post planned for next week that has something to do with the adorable invitations and stickers at the top of this post, so be sure to check back in on Monday!
Do you have any fun ladybug party ideas to share? Share your ideas and links in the comment section and I'll be adding my favorites to the list below.
~Ladybug party ideas~
HERE is an amazingly adorable and well thought out birthday party by Hissyfits Photography.
HERE is a cute ladybug themed engagement party from Jacki Fo