A while back I posted Almost Too Easy Chocolate Mousse, which is simply a store mix, dressed up.  I've been feeling guilty for never posting a "real" chocolate mousse recipe, although most of you seemed grateful for the quickie version!  So if you're feeling extra domestic, then here is a "real" chocolate mousse that is light (in texture), delicious and still quite easy.  This delicious chocolate mousse recipe can be made several hours in advance, and refrigerated until ready to serve.
Chocolate Mousse-
2 eggs
1/4 cup sugar
1 cup heavy whipping cream, or half and half
~plus~
1 1/2 cups heavy whipping cream
6 ounces semisweet chocolate
A few chocolate cookies, crushed (optional)
Directions:
* Beat eggs with an electric mixer on high about 3 minutes.  Gradually beat in sugar.
* Heat 1 cup whipping cream in a saucepan, over medium heat, just until hot.
* Gradually stir about half of the hot cream into the egg mixture.  Then add egg/cream mixture to the saucepan.  Cook over low heat about 5 minutes, stirring constantly, until mixture thickens (do not boil).
* Remove from heat and add chocolate.  Stir until chocolate is melted.  Cover and refrigerate about 2 hours, stirring occasionally.
* When chocolate mixture has chilled, beat 1 1/2 cups whipping cream in a chilled bowl with an electric mixer.  Beat on high until stiff.  Fold chocolate mixture into whipping cream.  Pipe or spoon mixture into cups.
* Serve immediately or refrigerate until ready to serve.  Top with crushed chocolate cookie crumbs, if desired.
Makes 8 (moderate sized) servings.
Recipe source:  Betty Crocker's New Cookbook (1996).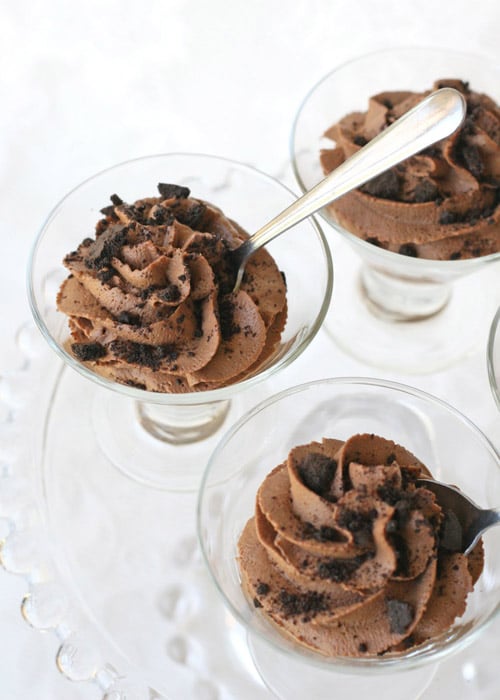 Enjoy!